Denon AH-D1000 Full Review
Nothing is worse than having an "epiphany" type moment with a particular song/album just to have your significant other ask you to turn it down. Frankly, I don't care what time you have to get up. This sounds so good I just can't help but want to crank it. Worse is living in an apartment or condo with less than understanding neighbors. It is times like these that you simply MUST have a good set of cans. Headphones should be a staple to every audiophile's collection… at least a decent pair. Now some of the higher end brands are so hard to drive that you'll need to invest in a headphone amp… and once you start down that path you are treading dangerously close to the dark side. Headphone enthusiasts seem particularly vulnerable to snake oil and audio voodoo. You must step carefully.
Denon is trying to break into this very competitive market with a new group of cans that range in price from $150 to $700. While many an enthusiast has $700 lying around, most are stretching to afford the $150 AH-D1000s. The AH-D1000's are an "on ear" (supra-aural) model that is priced right for someone that wants quality but doesn't have unlimited funds. At $150, they definitely are above the impulse buy price range and elevate the purchase to one of "bang for buck". Let's see if they measure up.
Build Quality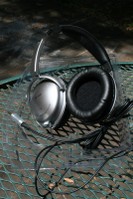 The three C's of cans are Comfort, Comfort, and Comfort. They could be the best sounding headphones on the market but if it is painful to wear them then they are pretty much useless. Before I get into the Comfort (save the best for last) let's discuss the other aspects of build quality. The AH-D1000 comes in two colors; black and silver. The review sample was silver. They are a closed design – for the uninitiated that means that the headphones are covered completely so that as little sound escapes (or enters) as possible. On the other side of the coin is an "open" design which is "porous" allowing sound to pass freely in and out of the headphones. Each design has their own advantages and disadvantages (the discussion of which is beyond the scope of this review).
The silver cases are plastic with an extremely soft foam material ringing the driver housing. The driver itself is covered with a soft, black, "velvet like" material so that any incidental contact by your ear will not be unpleasant. The "cans" rotate freely about 60 degrees and slightly toward the front of your head. They expand down about an inch and a quarter which gives you plenty of adjustment for an adult sized head (before you ask, my head is 23" around my forehead). There may not be enough adjustment to fit an extremely large or small head though. The top of the head pad is extremely soft and comfortable. The phones grip your head fairly tightly but I never really felt "constricted" or uncomfortable.
The cable that is attached to the Denon AH-D1000 is 1.5 meters long (plenty long enough for typical use) with a provided 3.5 meter extension (for a total of 5 meters for the math impaired among us.) This should be long enough for use in a home theater if you wanted to keep the missus blissfully unaware that you are playing Gears of War at 3am. The cable is a tiny bit thicker than the one on my Sennheiser HD 202 "reference" cans and is definitely softer. As cables are generally the first thing to go on headphones, this one seems fairly sturdy though only time will tell if it stands up to long term use. I would have liked to see a removable cable (for easy replacement if damaged) but that may be asking a bit much at this price point.
Editor's Note: Just because I used the word "reference" doesn't necessarily mean "reference quality." In this case it means "cans I own and am intimately familiar with that I refer to for comparisons." I bought these cans YEARS ago, long before I even had a real home theater. I needed something to listen to movies on planes off my laptop and I wanted something other than ear buds. They were the most expensive ones at the store I was in at the time but they are far less costly than the Denon's under review. They are expected to perform at a lower level.
Now, I've alluded to the fit but let me stop beating around the bush. I've used a number of different headphones in my time and I can unequivocally say that these are among the most comfortable I've ever used. They are a little tight for my head but I can wear them for literally hours without fear of discomfort. They are extremely light which helps insure long term wear with minimal discomfort. They are supposed to be "on-ear" but for me, they are mostly "around ear". That, more than anything, probably contributes to my experience of comfort. The Sennheiser's are actually "on ear" for me and after an hour (at the most two) I can't wear them. My ears literally feel bruised. The Denon AH-D1000 can be on my head all day long and I'd be just fine.
Listening Tests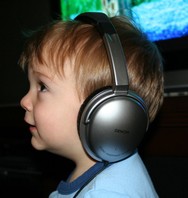 One of the benefits of the closed design is the attenuation of outside noise. Well, in the case of the Denon AH-D1000's, this isn't really the case. There seems to be very little insulation or sound deadening materials. Of course, with music playing, you'll have a hard time hearing others. But if you play a song over your normal speakers and alternately listen with the headphones on and off (nothing going through the headphones) to see how much noise they block, you'll notice a bit of attenuation of the highs and an overall "muffled" sound but that is about it. Don't expect to put these on and fall asleep on a plane as the noise of screaming babies and snoring… well… me if I'm on the plane with you (yes, I'm that guy) is completely blocked out. You're going to need something playing to drown out the outside noise.
Comparing cans is a bit of a tricky situation – especially since it is so hard to level match them. So let me start with the obvious (i.e. things that anyone would notice right away, level matched or not). The stereo separation of the Denons was FAR superior to my reference cans. Now I know this makes no sense since the speakers sit right on your ears but multiple tests made it abundantly clear that my first reaction was correct. It was much easier to identify pans, sounds/voices anchored in one side, and imaging overall. There is a much more focused and unified soundstage. Sounds that were supposed to be anchored in one side were. It was amazing how much of a difference I was hearing. Usually, such a difference is reserved to the discussion of cables by audiophools but in this case, it really was real.
For just about everything else, I need to level matching the cans in order to truly tell the differences (loudness really does effect your perceptions of quality). Using my trusty Rat Shack SPL meter, I placed the mic directly on the center of the driver. With the Rives Test CD 2 set to a 1000k flat test tone, I did my best to level match to two. Since the efficiency of the headphones is different, my measurements averaged a 10dB difference between the two (with the Denon's being less efficient). Some might say that this indicates the need for an external amp but I'm not convinced. I was using the adapter in order to use the headphone output on my Denon AVR-3805 (which is LOADS better than the output on my laptop) and I was easily getting plenty enough sound for hearing damage. Now there are a whole bunch of crazy kids out there that will claim that I didn't have it loud enough, but my ears are at least 50% of my income right now. I'm not going to damage them just to prove a point. Headphones can be very dangerous as it is quite easy to turn them up too loud (either accidentally upon start up or slowly as you increase the volume incrementally during a listening session) so care is always warranted in their use.
The bass extension on the two sets was quite similar though it was easy to identify a bass hump on the reference set as opposed to the fairly flat response of the Denon AH-D1000s. I felt that there was a bit more "tactile" bass (subsonic) with the Denon (they claim a frequency response down to 8 Hz) but that is hard to tell without measurements. Regardless, it is the linearity of the bass that is important and the Denon's were, by far, the more linear of the two. While linearity is important for all playback, it become more so for vocals and music. If you have a hump or dip in your frequency response in the range of a particular voice or where a good deal of the music resides, you'll find yourself either wincing or adjusting the volume when you get to that particular track/location in the CD/movie. With the Denon AH-D1000's, I never really felt the need to adjust the volume because of imperfections of the frequency response. Everything presented very smooth and controlled… exactly the way it should be.
One thing I noticed with the reference set was that at high volumes the highs became shrill and painful (this is what happens when you don't level match the two sets before testing). When the two sets of cans were properly level matched it once again became obvious that the Denon's were far superior. They could go much louder before I got anywhere near "shrill" or "painful". I don't think I'd actually ever consciously or purposefully listen to anything that loud. The drivers in the AH-D1000's could clearly take a lot more power before starting to distort. I imagine with an external amp, you'd be able to increase the volume ever more without distortion.
As to the more "subjective" (not that the rest of this review isn't) portion of this review. There was a "fullness" to the Denon' that was clearly lacking on not only the reference cans but also many of the speakers I've reviewed (comparing cans to speakers isn't really fair so I'll leave that statement alone for now). I attribute this to a flatter frequency response but others might say they are "warmer" or "more laid back". Whatever adjectives you decide to use, let me say this: I thought my old cans were pretty good. One of the better that I've heard (I still like them). But the Denon AH-D1000s are clearly in a different league. Flatter bass, fuller sound, less distortion at high volumes… it all adds up to a listening experience that is far more enjoyable than I ever expected. I'll miss them. They make for a very, very good listening experience. And what more, exactly, are you expecting?
Recommendations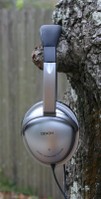 I have very little to complain about with these cans. My complaints are of such a trivial nature as to be nitpicky to the extreme. While in the wide world of headphones, $150 isn't that much, for many it is a substantial investment. I'd be pretty miffed if I had to replace said investment because of a short in the cord. A replaceable cord would be a nice addition. Also, I like there to be some sort of physical cue as to the proper wearing orientation (other than the L and R on the sides). Some design cue that lets you know by the shape how you are supposed to wear them.
Conclusion
I have no illusions about the Denon AH-D1000 – they are an upper end entry level headphone. But as such they are probably better than any set of headphones 90% of the people out there have ever heard. They are comfortable, they are priced right, and they sound great. If you want quality but don't want to have to break the bank to get it. You can look no further than the Denon AH-D1000.
Denon AH-D1000
MSRP: $150
Denon Electronics
100 Corporate Drive
Mahwah, N.J.  07430-2041
About Denon Electronics
Denon is a world leader in the manufacture of the highest quality home theater, audio and software products.  Denon is recognized internationally for innovative and groundbreaking products and has a long history of technical innovations, including the development and first commercialization of PCM digital audio.  Denon Electronics is owned by D&M Holdings Inc.
About D&M Holdings Inc.
D&M Holdings Inc. (TSE II: 6735) is based in Tokyo and owns the Denon, Marantz, McIntosh Laboratory, Boston Acoustics, Snell, D&M Professional, ReplayTVâ, Rioâ and Escientâ brands. Denon, Marantz, McIntosh and D&M Professional are global industry leaders in the specialist home theater, audio/video consumer electronics or professional audio markets, with a strong and long-standing heritage of manufacturing and marketing high-performance audio and video components.  Boston Acoustics, with its signature Boston Sound,™ is a leader in premium loudspeakers for home and audio markets.  Snell is a super premium speaker brand. The ReplayTV, Rio and Escient brands represent award-winning technologies in digital home entertainment. Additional information is available at www.dm-holdings.com.
The Score Card
The scoring below is based on each piece of equipment doing the duty it is designed for. The numbers are weighed heavily with respect to the individual cost of each unit, thus giving a rating roughly equal to:
Performance × Price Factor/Value = Rating
Audioholics.com note: The ratings indicated below are based on subjective listening and objective testing of the product in question. The rating scale is based on performance/value ratio. If you notice better performing products in future reviews that have lower numbers in certain areas, be aware that the value factor is most likely the culprit. Other Audioholics reviewers may rate products solely based on performance, and each reviewer has his/her own system for ratings.
Audioholics Rating Scale
— Excellent
— Very Good
— Good
— Fair
— Poor
| Metric | Rating |
| --- | --- |
| Build Quality | |
| Appearance | |
| Treble Extension | |
| Treble Smoothness | |
| Midrange Accuracy | |
| Bass Extension | |
| Bass Accuracy | |
| Dynamic Range | |
| Performance | |
| Value | |
furrycute posts on April 27, 2007 18:01
Not much interest in cans around here...

Is there going to be a review of AH-D2000, the next higher up model? I am very curious to see how this Denon stacks up against the Sony MDR-SA5000.
Kitsum posts on April 26, 2007 12:03
Are those made in China? All of my cans come from Europe, as i find them excellent HQ designs, but other mnfs might be up to the task now days.
kleinwl posts on April 25, 2007 08:37
It is hard to get a feel from the article how much better or worse these are than other headphones. For example, I have a pair of Sennheiser HD280 pros (closed) headphones and have been thinking of upgrading to HD650s (open). The HD280 is a very flat response (designed to be monitor headphones) with 32db of sound proofing... however the bass response leaves much to be desired, -10Db at 1KHz.