Using the EarSet 2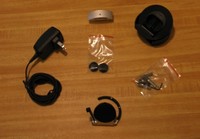 The EarSet 2 looks different from every other Bluetooth headset I've seen to date. While it looks bulkier than most, it doesn't feel that way. I found getting the unit placed just right on your head (so that the microphone is pointed toward your mouth) took a little practice and normally two hands. The six different modifications on the over-ear hook means that it will fit your ear but it might take some finagling to do so. Pointing the mic at your mouth doesn't seem a prerequisite for proper functioning (though it is for the best sound) but it looks kinda stupid if it is pointed anywhere else.
Operation of EarSet 2 is fairly straightforward. There is an indicator light on the headset (on the ear side of the hockey puck). If the light is:
Off – Power is off

Slowly flashing green – The unit is ready for use

Rapidly flashing green – The unit is in use or there is a call coming in

Slowly flashing red – Battery is dieing (less than 5 minutes of talk time remaining) but the unit can still be used

Rapidly flashing red – The unit is in use or there is a call coming in and the battery is dieing (less than 5 minutes of talk time remaining).
Aside from the Bang & Olufsen designed ring tone (which is high pitched and tends to be noticeable no matter what else is going on), there are beeps which will indicate different things depending on the situation:
One beep-
(While talking) Volume limit (up or down) is reached

(During incoming call) Call rejected

(At standby) Redial call started
Two beeps-
(Rising tone) Call audio on (usually means you just answered a call

(Falling tone) Call audio off (you just hung up)
Repeating beeps-
(Three beeps repeated every 30 seconds) Battery low

(One beep repeated every 1.5 second) Microphone muted
Pressing the button (these functions may or may not work based on your phone):
Up – increased the volume

Down – decreases the volume

In for a short period –

(When a call is coming in) Answers

(During a call) Hangs up

During standby) Voice dialing/Voice commands

In for a longer period –

(When a call is coming in) Rejects call

(During standby) Redials last number
It is pretty amazing all the things you can do with just one little button. My only complaint is that you can't use call waiting from the headset. You have to go back to the phone. The single operation button works very well. There seems to be just the right amount of resistance so you can change the volume without accidentally hanging up on someone. The button itself is on a VERY thin piece of plastic that just scares me. One wrong move and it looks like it will break. I'm sure it is sturdier than it looks but it was the first thing I noticed about the unit. Perhaps if it was made from aluminum I'd feel better about it.
From a comfort level, I'm not crazy about the EarSet 2. I've used a number of different types of "ear bud" type headsets and I haven't really found any of them to be all that great. The best, in my opinion, are the inner ear models that use some sort of molded plastic to secure the bud within the ear. The EarSet 2 speaker is just a little too big to go in your ear so it tends to find pressure points and irritate them. I found that the best way was to use the ear hook to squeeze the unit on your ear rather than using it to push the speaker in your ear. I found that I could only wear the EarSet 2 for a couple of hours before I had to remove it because it would start irritating me.
This only exacerbated the other problem – the unit is non-reversible. You have to choose the ear you'll use when you buy the unit. Now this, I truly don't understand. I can think of a number of ways that this unit could be made reversible. The only thing I can think is that the designer didn't want to compromise the integrity of the design by adding the required hardware to make the unit usable with both ears. When the speaker would start irritating me, I couldn't help but wish that I could switch ears. Plus, though I preferred to wear it in my right ear, I also carry my son with my right arm. Invariably (like 3-5 times a day) I'll pick him up and he'll make some sort of random (and most likely violent) motion that will cause my ear and his head to collide at a relatively high velocity. The black, smooth hockey puck wouldn't hurt his head but the speaker would send stabs of pain through my ear. In the EarSet 2's favor, regardless of the abuse it took, it never fell off my head.
The charger doubles as a carrying case, table stand, and wall mountable stand. Honestly, this is the sort of design flexibility that I like to see in a high priced product. The charger/case is circular and perhaps a bit too bulky for the back pocket of your jeans (unless you are trying to fit in with the Skoal crowd) but it fits perfectly in a jacket pocket. When you are toting around a $250+ headset, you aren't going to want to put it down without some protection. While the table and wall mounts are more gimmicky than useful, I like that they are options. In my case, a wall mount might actually work. I generally just grab the headset and go. It stays on until I get back.
The talk and charge time seem to be right on. I've left the headset off the charger for very extended periods of time with the unit on (purposefully) and I never saw any red flashing lights. I think you'd have to really abuse this thing to use up all the batteries.