Backbeat Pro Overview & Build Quality
Earphones are now a ubiquitous part of music. With the introduction of the MP3 era, music is more and more making its way into your ears via earphone. Whether you're a jogger, frequent flier, or you just want to play your tunes in the library while you research a paper, earphones are becoming a defacto standard method getting the music from our iPods into our ears.  With that, it's a wonder how many people are actualy satisfied with the standard earphones that come with our MP3 players. For the most part, these phones are very basic. While they reproduce your music, they do it the same way a $299 home theater-in a-box will play back surround sound in your living room – they get the job done, but you can do far better.

Altec Lansing has been known as a manufacturer of both pro audio and consumer audio loudspeakers and equipment for many years. Purchased by Plantronics in 2005, Altec Lansing's pro line develops such products as powered speakers, ceiling speakers and full-range speakers. Their consumer line, under which fall their Backbeat line of earphones, includes comprehensive line of headphones, computer speakers and  home audio products. Altec Lansing's Backbeat line of earphones begins with the $30 Classic model and extends through the Plus ($50) and Titanium ($80) models – each of which extends the frequency response and build quality further than lower models. We were interested when we discovered they had expanded their Backbeat line of earphones to include a new "Pro" line that promises musician-quality earphones that will satisfy professionals and consumers alike. I know a lot of musicians – many of whom aren't even deaf yet – so I set out at once to see if these earphones were a marked improvement and worth their $99 asking price.

Build Quality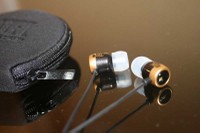 The Backbeat Pro earphones are very similar in design to the rest of the Backbeat line except that they provide a more cylindrical body shape, giving the balanced armature drivers more room to work. The Backbeat Pro speakers are gold and black, giving them a more professional look. Some people like to match their headphones to their iPods – with green, red, pink and blue colors. I'm a tad less aesthetic about my earphones and would rather they simply bring forth better sound.

The Backbeat Pro earphones come with a zippered neoprene case (made out of the same basic material as the tips that come with the earphones.) I like these cases since it makes portability and protection of the earphones much better – especially when you're tossing them into the front pocket of a carry-on. There are three pairs of extra ear tips, including small, large and dual flanged for extra noise isolation. The small ear tips are probably only suited for children. I have a very small head and the medium size tips (on by default) fit perfectly, though I opted for the dual flange tips for best isolation and bass response. The earphones come with a translucent cord that displays the interior wires' shielding and exists in a joined side-by-side configuration. The cord terminates into a 3.5mm plug that is gold-plated and suitable for all known MP3 players.

We found the included cord to be relatively stiff for its size, allowing us to support the earphone without flopping over (our stiffness test). The finish looks durable and each earphone has a left/right designation on the back side for easy identification.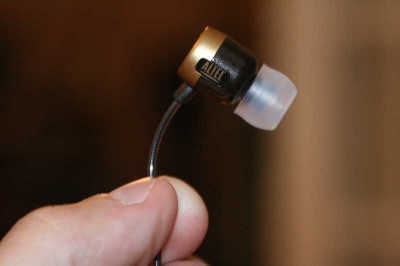 See also:
cwall99 posts on July 10, 2009 08:19
Nice review. I've never liked the ear buds that came with my iPod nano shuffle, but I never really liked listening to it. My youngest son, on the other hand, would probably love these, especially if the bass is as pronounced as the review states.

And any time you're listening to Steely Dan, I'm in with that so I can really visualize (auralize???) the tracks you mentioned and the review gives me a good feel for that.

I know it's possible to graph frequency response curves for speakers, but can you do the same for headphones? It doesn't seem that outlandish to wonder, but, then again, I'm not a very technical guy.

My son, though, goes through a set of ear buds about every 6 months, so I'm wondering if it'd be worthwhile to spend this much money on a pair. Oh, wait, a build quality rating of 3... probably be ruined in pretty short order. I guess I'll have to pass.

Thanks.