tSc TST2 Setup and Measurement

I set up the TST2's on either side of the Diamond Case Theater Tech TT-400 Credenza with the side firing woofers pointed out. The speakers were powered by my Denon AVR-2307CI with SeymourAV 500 watt ICE Block 5001 monoblocks. A Denon DVD-3910 universal player did source duties with cabling from Impact Acoustics and Blue Jeans wiring everything together. While I never did get the speakers to sit as solidly as I'd have liked, they didn't seem like they'd tip over without major effort from one of my kids. The TST2's were one of the few speakers that I felt really sounded better with minimal toe-in. While they didn't sound bad pointed directly at me, I felt the soundstage gained huge benefits in width with a more straightforward orientation. The off axis response of the TST2's seemed to be good enough that having them toed in only slightly gave me all the performance of a more direct orientation with the addition of soundstage width.
One thing I'm going to remind you is to check the five way binding posts on the back of the speaker. While there is an included jumper bar, a few of the terminals were loose and needed to be tightened. This, if uncorrected, could have caused vibration and extraneous noise. More than one Audioholic has spent countless hours trying to track down a buzz just to find out it was a loose binding post. Don't become a statistic.
Measurements & Testing
For laboratory measurements I used the Sencore SP395A FFT Audio Analyzer and a Sherbourn 2/75B amp, I measured the TST2's in-room on- and off-axis frequency response with 1/12th octave resolution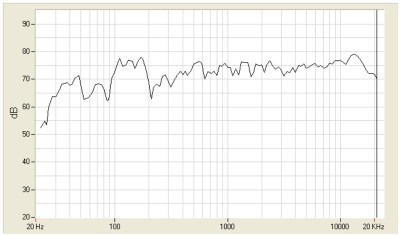 TST2 1 Meter Frequency Response (1/12th Octave) On Axis
Note - this is NOT a 1 watt measurement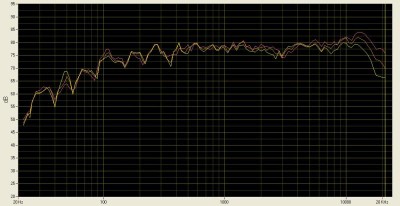 TST2 1/2 Meter Frequency Response (1/12th Octave)
Pink - On axis, Orange - 15 degrees off axis, Yellow - 30 degrees off axis
Overall the frequency response of the TST2's was extremely linear especially considering the price point. Honestly, I was stunned. No obvious boosts in the upper or lower frequencies was present that so many speakers in this price range and above tend to deliberately do for that wow effect on a showroom floor.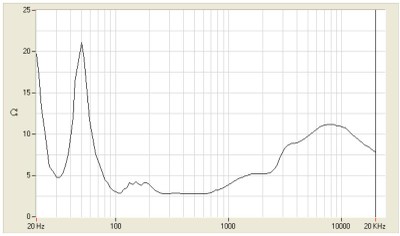 TST2 Impedance
The Sencore consistently measures impedance one ohm low. While the specs say that these speakers are 8 ohms, I measured 4 ohms at the terminals. Given the high efficiency of these speakers, I'd consider them an 8 ohm load. tSc employed a zobel network for the tweeter to pad down the response and smooth out the impedance curve. You can see by the impedance minima that these speakers are tuned around 30Hz which is what the manufacturer claims and about what we measured in our frequency sweeps.
See also:
PetProfstit posts on January 31, 2011 19:05
Dzieki za ciekawy blog
mcghee33 posts on November 08, 2009 20:01
Can anyone who has already purchased the 2's or 3's give me some feedback on them. Obviously the review by Tom gives me an idea of how the tst2's sound but I am curious as to weather the tst3's are worth the extra money. At the moment you can refurbished 3's for 30 dollars more than the 2's.
ace0001a posts on June 18, 2009 15:49
gliz;583922
untill they make them more stable I will not be buying any, three spikes is not enough
Yeah at first I really didn't think they would be stable, but they turn out to be more stable then you'd think. I too would prefer 4 outriggers, but it's actually fairly stable as it is with TSC's TST series of speakers.
If you even have a twinge of wanting these speakers, I highly recommend them. They definitely can't be beat for the price and with a 30-day trial, you really have nothing to lose.
gliz posts on June 18, 2009 09:06
untill they make them more stable I will not be buying any, three spikes is not enough
ace0001a posts on June 01, 2009 09:34
tdamocles;574787
I noticed in the article that it said that the tweeters broke up at high volumes. Could someone who has these speakers comment on if they keep their composure when watching movies with loud explosions? Do they break up in this case?
My interpretation of this from the review here and other customer responses here and elswhere is that it doesn't seem to be a major issue. Surely if it was, you'd read more complaints about it. I'm still waiting for my TST3s to arrive and have been told by TSC that they should be shipping them in the next week or so. I think it's safe to assume that the tweeter break up only happens infrequently and at fairly high volumes that is louder than what many people set theirs at when listening to music and movies...otherwise like said, you'd read more complaints about it. You've also got to keep in mind that in a review, it is necessary to be nitpicky and I'm sure the detail about the tweeters breaking up at high volumes goes along those lines. I currently own Paradigm Monitor 7 V1s that I bought over a decade ago that the TST3s will be replacing. I remember back in the early days when I first got the monitor 7s that I would occassionaly hear some tweeter breakup at high volumes. After using them for a while, I didn't hear it anymore and basically realized things like that can happen during the "break in" period. Also, this thread has been a bit quiet lately and I think those owners and others who posted earlier here have either lost interest or are really busy.