tSc TST2 Build Quality
Some great things come from unexpected places. I had never heard of The Speaker Company (tSc) before a listener of AV Rant asked me if I thought they were good speakers or not. Honestly, when I looked at the price tags on the speakers I was dubious. Instead of dismissing them out of hand simply because of their low price tag, I instead decided to ask for a review sample. There are two things I like about reviewing budget gear - first and foremost, I know I'm reviewing something that is in the bulk of our reader's price range. People get excited about things they can afford. I get excited about being able to give them good recommendations. The second is that I love a deal. LOVE IT! Nothing makes me feel better than buying something for $100 or $200 that compares to name brands many times that price. When you are reviewing expensive stuff, those deals are hard to find. But down in the lower price ranges, there are diamonds in the rough everywhere you turn.
First Impressions and Build Quality

When the TST2s arrived, I was both impressed and disappointed. I was impressed because the boxes were so heavy. Usually budget gear is light and in this case heavy (especially with speakers) tends to indicate quality. I was disappointed because the boxes were thrashed.
Completely.
In tSc's defense, the delivery had been attempted over the holidays and I was out of town for the first two attempts so they were returned twice to the shipping company's storehouse. That being said, while the speakers were double-boxed, the foam packing end caps had disintegrated. Also, the middle of the speaker was only protected on two of the sides with foam. When the boxes were moved, the speakers and packing flopped around inside. Upon inspection (which the driver insisted I do before he left so that I could refuse delivery), there was a little damage to the vinyl wrap here and there but nothing substantive. Nothing that would make me think that performance would be affected. In that, the packaging was a success I suppose.
As I said, the speakers are heavy, much heavier than I expected for the price point. At 50+ pounds, they are a bit of a bear to move around. They are rear ported near the bottom, have dual binding posts for bi-amping, and are vinyl wrapped in wood grain black except for the front which has a sort of plastic finish. The front of the speaker sports an MTM driver configuration with two 5.25" aluminum drivers and a 1" closed-cell foamed polypropylene HiCell dome tweeter. There is a 10" side firing paper coated woofer. There is a single pair of plastic outriggers for the front of the speakers which need to be installed manually with two screws each. The back has a single threaded insert for a jester hat style carpet spike. The spike attachment points on the outriggers are slightly recessed so that it matches up with the rear insert. There are little rubber gloves (for lack of a better term) to cover the jester hats presumably for placement on hardwood or tile floors. I have carpet so that is not an issue.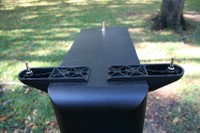 I am generally not a fan of the three point contact of these speakers. I never could get the speakers to sit right on the ground. While leveling them on an uneven surface was a bit easier, they always seemed to wobble from side to side a bit. A fourth connection point would have helped this. On top of this, even through the threaded inserts seemed to be matched between the outriggers and the one on the bottom of the cabinet, they weren't. I had to grab my level and place it in top of the speaker. It seemed that the speaker was leaning back a bit. Both of them were like this but one was a little worse. This was definitely messing with the imaging and the speakers tightened up a bit when I leveled them. I would definitely suggest that all new owners take this precaution.
The top of the speaker has a piece of glass that is supposedly black. It may be tinted black but it is not opaque. This is obviously an attempt at a cheaper "gloss black" finish. Generally it works. In most light, at most angles, you can't see through the glass. However, at times you can. The grill is flush at the top and meets up seamlessly with a raised lip at the bottom. Personally, I think they look better with the grill off (I love me some aluminum drivers). The grill is integrated well into the design and looks good on.
The fit and finish of the speakers I would classify as acceptable. The front baffle doesn't quite line up with the rest of the cabinet and the gap between the glass top and the cabinet could be tighter but overall it is quite nice. One of the disadvantages of using a vinyl wrap is how delicate it is. It tears if you look at it wrong. The vinyl wrap (where it wasn't damaged from shipping) was very nice and the edges were perfectly aligned.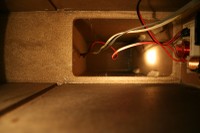 Taking the speakers apart, I was quite impressed with the build quality of the cabinets and the quality of the drivers and crossover. All the drivers are magnetically shielded and the 5.25" woofers feature plastic baskets which is an improvement over cheaper stamped designs typically found in speakers at this price point. The 10" woofer has a stamped basket. All the drivers have large magnet structures (the 10" woofer alone probably accounted for 1/3 of the weight of the speaker). The cabinet was constructed out of 5/8" MDF. The top drivers were encased in their own box with a generous amount of polyfill. The bottom portion formed an L utilizing the space behind the driver box to increase bass response. There was minimal polyfil in this compartment with a single piece running the length of the wall opposite the side-firing woofer. This could be a problem as air movement could cause wires to rub or vibrate against the unprotected walls of the cabinet. The crossover was a complex network consisting of over a dozen parts most of which were high quality. I did note a few iron core inductors that I'd prefer to be air core for improved sound quality via reduced saturation effects but at this price point, can one really be this picky? All of the drivers in this speaker system are magnetically shielded which is a real bonus for those placing these speakers in close proximity to a computer hard drive or an old fashion CRT tube (for those of you still living in the 1980's).
See also:
PetProfstit posts on January 31, 2011 19:05
Dzieki za ciekawy blog
mcghee33 posts on November 08, 2009 20:01
Can anyone who has already purchased the 2's or 3's give me some feedback on them. Obviously the review by Tom gives me an idea of how the tst2's sound but I am curious as to weather the tst3's are worth the extra money. At the moment you can refurbished 3's for 30 dollars more than the 2's.
ace0001a posts on June 18, 2009 15:49
gliz;583922
untill they make them more stable I will not be buying any, three spikes is not enough
Yeah at first I really didn't think they would be stable, but they turn out to be more stable then you'd think. I too would prefer 4 outriggers, but it's actually fairly stable as it is with TSC's TST series of speakers.
If you even have a twinge of wanting these speakers, I highly recommend them. They definitely can't be beat for the price and with a 30-day trial, you really have nothing to lose.
gliz posts on June 18, 2009 09:06
untill they make them more stable I will not be buying any, three spikes is not enough
ace0001a posts on June 01, 2009 09:34
tdamocles;574787
I noticed in the article that it said that the tweeters broke up at high volumes. Could someone who has these speakers comment on if they keep their composure when watching movies with loud explosions? Do they break up in this case?
My interpretation of this from the review here and other customer responses here and elswhere is that it doesn't seem to be a major issue. Surely if it was, you'd read more complaints about it. I'm still waiting for my TST3s to arrive and have been told by TSC that they should be shipping them in the next week or so. I think it's safe to assume that the tweeter break up only happens infrequently and at fairly high volumes that is louder than what many people set theirs at when listening to music and movies...otherwise like said, you'd read more complaints about it. You've also got to keep in mind that in a review, it is necessary to be nitpicky and I'm sure the detail about the tweeters breaking up at high volumes goes along those lines. I currently own Paradigm Monitor 7 V1s that I bought over a decade ago that the TST3s will be replacing. I remember back in the early days when I first got the monitor 7s that I would occassionaly hear some tweeter breakup at high volumes. After using them for a while, I didn't hear it anymore and basically realized things like that can happen during the "break in" period. Also, this thread has been a bit quiet lately and I think those owners and others who posted earlier here have either lost interest or are really busy.