Thiel CS2.7 Floorstanding Loudspeaker Preview
Summary
Product Name: CS2.7 Floorstanding Speakers
Manufacturer: Thiel
Review Date: August 28, 2012 08:00
MSRP: $TBA (not cheap)
First Impression:

Pretty Cool

Specifications

Three way design

Coaxial/coincident driver with anodized aluminum tweeter/midrange cones

8" woofer

High quality crossover with 6dB per octave synthesized slopes (phase correct)

Bent plywood enclosure

Passive radiator

If the CS2.7 uses the same coaxial driver as the CS3.7:

Midrange: 4.5" with wave-shaped aluminum diaphragm, 3" diameter voice coil, 115 g (4 oz) neodymium magnet, copper pole sleeve, short coil/ long gap design with 6 mm Xmax, die-cast chassis
Tweeter: 1" aluminum dome, 64 g (2.3 oz) neodymium magnets, copper pole sleeve, short coil/ log gap design with 3 mm Xmax, coincidently mounted with midrange
Executive Overview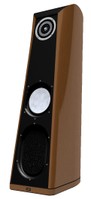 If you are legendary speaker manufacturer Thiel, just announcing a new speaker is enough to get people talking. You don't have to release specification, price, dimensions or anything else. Just a picture and a caption, "Look what we've been up to," and BAM! Instant press. But we here at Audioholics want to provide a little more to our readers than a rehashed press release, we want to give you the details. That's why we immediately contacted Thiel to find out more about their new CS2.7 Floorstanding speaker. While we wait for them to get back to us (they said it would be a few weeks before they'd have the final specs), here's what we know so far.
The CS2.7 was inspired by the CS3.7 flagship model. It has a coaxial driver up top and a woofer near the center of the front baffle. A coaxial driver is one where the tweeter is mounted in the center of the midrange. Both of these drivers feature anodized aluminum cones. The woofer, from the pictures (which may be high quality renderings), seems to feature an aluminum cone as well. All the drivers utilize a short-coil / long-gap and copper stabilized motor system to ensure ultra-low distortion. This keeps the voice coil within the magnetic field at all times. The coaxial driver features a very large ring magnet drives the midrange, while 5 neodymium magnets drive the tweeter.
One thing we haven't seen before is the type of cabinet used with the Thiel CS2.7. Eschewing the traditional MDF or the more recent bamboo cabinets, Thiel decided to go with curved plywood. Normally associated with contemporary furniture, curved plywood was a favorite the Eames' and has practically become a cliche in the world of high end furniture. Still, one can't deny appeal nor how beautiful it looks when stained. Molded plywood is also incredibly inert and resistant to vibrations. The plywood is laminated in your choice of hardwood veneer and features the characteristic sloped back baffle and clean edges.
We know that the enclosure sports a front-mounted passive radiator. We also know that the woofer is 8" though we don't know the dimensions of the coaxial driver. The crossover promises "very fine quality components" such as "high quality capacitors and pure copper air-cored inductors". One thing Thiel has been known for is their focus on phase. Using the crossover, Thiel uses their 6dB per octave synthesized slopes to ensure the entire speaker is phase correct. They also correct for relatively small irregularities in driver response which they say are on such a small scale, most loudspeaker manufacturers are content to dismiss them entirely.
Conclusion
Thiel have a reputation for high quality speakers and the CS2.7 Floorstanding speaker looks to continue that tradition. Building on the CS3.7, we expect the price of the CS2.7 to be closer to the $12k mark set by the CS3.7 speakers rather than the $4k price per pair of the CS2.4. The Thiel CS2.7 Floorstanding speakers start shipping in September so ask your local dealer if they'll be getting a pair in if you'd like to hear them. While likely to be out of the price range of many consumers, those discerning audiophiles with deep pockets will likely view them as a deal.
For more information, please visit www.thielaudio.com.
haraldo posts on September 18, 2012 17:16
I find it strange that this speaker does not catch more interest, if there is one speaker to audition within the next year, this is it....

The top model CS 3.7 was the culmination of a whole lifetime of speaker design for late Mr Jim Thiel, he spent a lifetime learning what he did so he could make his ultimate statement, the CS 3.7 became som good that it immediately obsoleted all the more expensive models.

CS 2.7 uses the exact same mid/tweeter as the 3.7, there's years upon years upon years of research behind the drivers, cabinets, crossovers and... well everything in these speakers.

It seems like noone in this forum cares about time/phase coherence and in my opinion Gene and all the others is wrong about this, it may take a long time to actually learn to appreciate the beauty of a time/phase coherent speaker. In my case it was > 1/2 year until I realized the full potential, but for me it's probably no way back

Speakers must be phase/time coherent, this may be the speaker of the year if you ask me
scott911 posts on September 05, 2012 10:37
As per their facebook page - cones are Aluminum.
Lots of pictures also with various species of wood, I doubt they're renderings.
scott911 posts on September 05, 2012 10:30
This brand's approach to audio really resonates with me - and I'm happy to hear of THIEL progress with a couple new products this year.

I'm lucky enough to own what may now be the little brother of this new speaker - the 2.4CS.