Tekton Design Pendragon Floorstanding Speaker Preview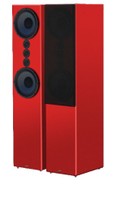 Summary
Product Name: Pendragon
Manufacturer: Tekton
Review Date: September 30, 2012 21:15
MSRP: $2500/pr
First Impression:

Pretty Cool

Specifications

Dual 10" transducers
3 x 1" tweeter
200 Watts
98dB 1W@1m
8 Ohms
Frequency Response 20Hz-30kHz
Height 54" x Width 12" x Depth 16"
Executive Overview
There are some speaker companies that almost everyone has heard of; Bose, JBL, and Yamaha are such companies. On the other side of the spectrum is Tekton, but they appear to be carving out a reputation and building an online following, especially thanks to the Pendragon.
The Pendragon floorstanding speaker sells for $2500 a pair and is a 2-way design equipped with two 10" drivers and three 1" tweeters. The three tweeters are stacked vertically like in a line array design. One of the reasons to stack three tweeters on top of each other is to reduce acoustical interference of having multiple drivers sharing the same bandwidth, the other is to increase output capability, of which we are sure this speaker has plenty. And with a rated sensitivity of 98dB@1W/1m it isn't going to take much to drive them to extreme volume levels. The claimed frequency response is 20Hz-30kHz, but most manufacturer supplied frequency response measurements are generous in their low frequency extension. Still, with a large 54" high x 12" wide x 16" deep enclosure and two 10" drivers this speaker is obviously designed with dynamics, high output, and bass in mind. But, we wonder just how well integrated those larger bass drivers are with the tweeters. Since the manufacturer doesn't give any information about crossover frequencies and slopes, this is something that would have to be determined via listening and measuring. We are guessing the crossover point is between 1k to 1500Hz to integrate the drivers properly and to produce a more uniform power response.
On the rear of the speakers are two rear-firing ports and one set of 5-way binding posts. The speakers come in a standard satin finish and without grills, but cabinet veneers and grills can be added for an additional cost. The drivers are mounted flush on the front baffle making them pretty exposed to curious children, so it would be nice to see the grills included in the cost of the speaker.
Tekton's website does not reveal too much additional information about the Pendragons other than what we already covered. For example, information on driver material, weight and baffle thickness is absent, crossover frequency, power handling, etc. It would be nice to see Tekton update their website with more detailed information about the design of each of their speakers.
If you think the Pendragons are right for you but aren't 100% positive, Tekton offers a 30-day return policy, but we were unable to find what the stipulations of the return policy are. If you decided to take them up on their return policy you would likely have to pay for return shipping, which would hopefully be less than the $200 shipping charge it will cost you to get a pair of Pendragons to your front door in the first place. If you like the general design, Tekton does have a number of different speaker offerings ranging from $600 to $5000 per pair.
Conclusion
Internet forums are great at building buzz around certain speakers and gathering fan boys who claim that the new speakers from X brand are the greatest thing to hit audio since we grew ears. Of course the only formal review found on these speakers right now reads more like a press release than a real hardware review. So, the jury is still out until 3rd party objective measurements can be seen and real consumer experiences shared.
On the surface, the design of the Pendragon looks interesting but the stacked tweeters and transition of crossing over large bass drivers to high frequency units raises some concerns. Generally we like the sound of speakers that offer more cone area for the midrange in an MTM style driver topology such as this. Though this design philosophy isn't new, and falls in line with what we've seen from some speaker manufacturers. For example, I couldn't help but think about Klipsch RF-7's dual 10" drivers when I saw the Pendragons for the first time, or the stacked tweeters that Axiom likes to use. Still, we are always excited when companies push the envelope and are happy to see another internet direct company working to offer potentially good speakers for a reasonable price. Let us know what you think in the comments and please share your listening experiences if you have any for this model or any other Tekton loudspeakers.
For more information, visit: Tekton Loudspeakers