Salk Listening Tests and Conclusion
When reviewing speakers, I go through a particular ritual. I hook them up and just start living with them for a while. This satisfies the "break-in" crowd that believes that speakers need some sort of break-in (like new shoes I guess). I'm not one of those people. I always note my first reaction to the speakers to compare with my final evaluation. In this case, my first reaction was a raised eyebrow in surprise at what I heard. My first blush was a good one - a rare feat in my book. The official review was done with both a Denon AVR-2307CI powering a Rotel 1085 and the Emotiva RSP-1/RPA-1 combo. The Salk speakers seemed to play well with both combinations. Any mid-fi receiver should have no problems powering these speakers.
My next step is usually to put on a couple of albums with side to side pans to determine placement and toe-in. That done, I grabbed my trusty Rives Test CD II to determine if these claims about their bass response was all hooey or had a basis in reality. As I stuck the CD in and started it playing, I gathered together the stuff I'd need for the evaluation - paper, pen, laptop, etc. Much to my shock, I heard a low rumble. The first track on the CD is a 20Hz tone and I was hearing something from the SongTowers! Shocked, I turned around and checked it out. Sure, some of it was a bit of port noise (only really discernable from up close) but much was actual sound. The volume was low (probably 20dB lower than the rest I was about to play) but it was there. The second tone was 25Hz and the volume increased dramatically. On the fourth tone (40Hz) the speakers really hit their stride. Bass extension - oh yeah.
But extension isn't what it is all about. Plenty of speakers can honk notes at you without any hint of musicality. My reference speakers are the RBH TK-5CTs (cousins to the EMP 30T) which retail for under $1000. The TK's have served me well and have held up against speakers way above their price range. One thing they have going for them is a side-firing 8" woofer which provides a tremendous amount of bass. Sure the prices are different as are the sizes (the RBH's are about 75% the size of the Salks) but both tout their bass response. Plus, I can't have two speakers in the house and not compare them.
Yello - The Eye

I hate that I use this album so much but I do. It just has what no one else does - tons of tracks that use phase variance to simulate sound moving around the room. I often (and did in the case) use this album when determining placement and toe-in. There are also a lot of tracks that have a good amount of bass (and bass sweeps) as well as rich female vocals. The SongTowers did well with this material presenting a good amount of bass extension while keeping a richness to the sound that was quite evident. At first I thought the RBH's beat out of the Salk speakers in extension but decided that I was hearing more boom and not lower notes. The Salk speakers seemed more natural in their bass notes than did the RBH TKs. The overall presentation was very lifelike (for the type of electronic music it is) without being overly bright. The soundstage wasn't the widest I've heard but it was sufficiently large for the space.
Lorna Hunt - All in One Day

The first track on this album is a very good song for female vocals as and has a nice deep kick drum. Starting with the drum, I was surprised at the realism. At a high volume, the bass was both lifelike and tactile. The SongTowers seemed to have very little problem pushing out a lot of bass without any sign of strain or port noise. Lorna's voice on this track tends to be a bit fatiguing and the Salks didn't hide this. Not only that, but her vocals were extremely forward. Like "in your lap" forward. Something about the range of her voice seemed to put her very far forward in the soundstage (more so than I have ever heard before). The effect was a little strange and at times unnatural.
Rusted Root - When I Woke

This album is absolutely brutal to speakers - tons of percussion and instruments all playing over the top of each other. Add to that, a male and two female singers in most songs. Many speakers will degenerate into a muddy mess when presented such challenging material. Not only did the Salks stay together, but they presented a more coherent picture than I have ever heard before. I was not hearing things I didn't know I wasn't supposed to not hear (confused? It makes sense, believe me). Where I was used to a "full" sound, I now recognized it as a "muddy" presentations on lesser speaker systems. The Salks had an unbelievable separation between each and every note. You might be thinking I just could have said they were "detailed" and left it at that. Well, sure, but what fun is that?
Bang & Olufsen Vol. XIII - The Sound of Perfection
Yet another album I use way too much in reviews. Here, I was looking for a number of things including female versus male vocals and detail. Once again I noticed that female vocals were closer to me in the soundstage than the male vocals (not as bad as before but still noticeable). I also noted a number of instruments that were much more lifelike than I was used to. There was a kick drum that had the exact right note, a high hat with just the right cling, and more. I also spent some time comparing the performance of the RBHs to the Salks. I hate to put down the RBHs but I have to say in comparison to the Salks they were muddy. There, I said it. Of course, remember the RBHs are less than half the price of the Salks so I would have hoped they would perform worse (even though in the past they compared favorably to higher priced speakers). I also compared the bass on the RBHs to the Salks and found that I honestly thought they sounded remarkably similar. The RBHs seemed a little boomy at times but the Salks seemed a little weak at others. I kept scratching out my notes and adding new ones just to change my mind the next moment. I did think that the linearity of the Salks was better and their bass detail was better at lower volumes. On the high end, it was no comparison. The Salks crushed the TKs in detail - there was just so much more there with the Salks. That being said, I still think the RBH's are a great value at their price. I also think that the Salks are an equally good value at their price point. Since the TK's received (at my recommendation) the Audioholics 2007 Product of the Year Tower speakers under $1k award, this is high praise indeed.
Conclusion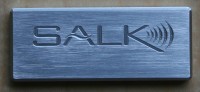 While I rarely gush over speakers as much as I have the Salk SongTower QWTs, please note that they are not without their imperfections; just like the imperfections I could find on a supermodel if anyone would ever let me close enough to inspect one. The imaging is very good, the bass very deep and linear, and the detail is amazing. Female vocals sometimes come off as too forward, the soundstage is not as wide as I'd have hoped, and the speakers themselves are pretty large. Overall, though, the Salks are a very, very good speaker in a very, very pretty package. With the option of choosing your own veneer and upgrading drivers, there is a pair for everyone.
Salk SongTower
$1695 ($1895 as tested)
Salk Sound
2700 Long Winter Lane
Oakland, MI 48363
(248) 814-8062
www.salksound.com
The Score Card
The scoring below is based on each piece of equipment doing the duty it is designed for. The numbers are weighed heavily with respect to the individual cost of each unit, thus giving a rating roughly equal to:
Performance × Price Factor/Value = Rating
Audioholics.com note: The ratings indicated below are based on subjective listening and objective testing of the product in question. The rating scale is based on performance/value ratio. If you notice better performing products in future reviews that have lower numbers in certain areas, be aware that the value factor is most likely the culprit. Other Audioholics reviewers may rate products solely based on performance, and each reviewer has his/her own system for ratings.
Audioholics Rating Scale
— Excellent
— Very Good
— Good
— Fair
— Poor
| Metric | Rating |
| --- | --- |
| Build Quality | |
| Appearance | |
| Treble Extension | |
| Treble Smoothness | |
| Midrange Accuracy | |
| Bass Extension | |
| Bass Accuracy | |
| Imaging | |
| Soundstage | |
| Dynamic Range | |
| Fit and Finish | |
| Performance | |
| Value | |

lost33 posts on March 05, 2009 20:02
Hey Bob!!!

haahaahahahahahahahaha!

Zip, zero, nadda....

and I just got done listening to the RAVE 2008 reference tracks disc and once again I had the 'ususal' ethereal experience with many of the tracks on this disc...

And for those that really like and search for really great recorded material to test you speakers:

1. Stravinsky Firebird Suite Eiji Oue Minnesota Orch...the SongTowers make listening to classical music a JOY.

2. Your Joy - Chrisette Michele --- WOW what an awesome recording of someone I have never heard of..the presentation is like she is there in the middle of the soundstage ..like the speakers are GONE....absolutely stunning!!

3. Mars - Dean Peter...what a wonderful surprise..so full on all kinds os esoteric sounds...from very low amplitude to WHAMO....this will make you smile for sure..

4. Surf's Up! Brian Wilson,,,Holy Crap This kind of simple music never sounded so great.....just another WOW...

5. Bizet - Carmon Fantasie Anne-Sophie-Mutter, Vienner Phil - James Levine
I never really liked classiscal music and now I have realized I have missed out on alot....and look forward to listening a lot more...oh did I also say its really sound great on the SongTowers!

6. La Grange....dang its GOOD..

Many thanks to lonewolf42 for oepening my eyes up to lots of new stuff!!

What a great combo....great material and great speakers and so little time!!

Hope some of you look into some of those cited tracks...and enjoy!!

All the best
Alex
BoB/335 posts on March 05, 2009 03:46
I was just going to ask you how much you were getting paid for that.
lost33 posts on March 04, 2009 20:35
Hello,

I purchased a pair of SongTower QWT's with the dome tweeter sight unseen and unheard.

I have had them for 2 weeks now.

I have been amazed each and everytime I listen to them. They are the best speakers that I have heard in this price range. We did listen to most of the fine speakers in this price range, but due to Nuance search for his perfect speaker I was convinced this speaker, design etc was somthing special.

The entire experience from talking to many forum members and with Jim Salk himself was a really nice cordial one. Jim really likes to make his customers happy and has gone out of his way to answer everyone of my calls and emails..imagine sending an email to the owner of other high end speaker CEO's!! Matter of fact I just emailed Jim and in less than 10 minutes he emailed me back. What a real nice person!!


That said I have modest electronics and a rather small listening room and have spent a day or so playing with toe-in and seperation distance. I also have a 58" plasma piece of glass in between them. I was worried about the soundstage and imaging etc...

Well I am very happy to say the overall experience with the SongTowers have been close to a 10 out of 10. By careful placement making sure the speaker fronts are well in front of the plasma HT screen the imaging has been fantastic...I have always walked away just amazed at what relatively small speakers lilke these can do with all sorts of material....classical, guitar, rock, etc...and vocals WOW do they do these well!!

The soundstage is absolutely amazing in my listening room and I was so worried that this room would not be a good one!!! Happy, happy!!

I have played many of the audiophile RAVE discs and demo discs that have some extremely great recordings and I just cant tell you how well these speakers reproduce this material. Garbage in is still garbage out...but with well recorded material is sent to these transducers, its magic.

The sound of instruments is very accurate, the drivers in this speaker have to really good to allow this to happen, the response is very quick, I guess those small 5" drivers can move very fast and the drum / percussion is really tight and wonderful. Heck even FM radio sounds better! Different but better.

The ONLY thing that these speakers can not really do well is reproduce those really low end 'rollers'.....those things that go really low, below 30HZ I would say, those low growling thhings like you hear in FLIM and the BBs material and the old Edgar Winters "Frankenstein" cut at the end where the synths go down to the bottom of what we can hear....

That said 95% (guess) that we (I) listen to the Songtowers produce muscial base that is wonderful....Duende and Diana Krall cuts have bass violin that is so dang accurate and tight it like they are right there in the room....its THAT GOOD.

If your on a budget, have a smaller room, and think you would never find a set of speakers that would be 'world class' in this size / price range....look no further!!

The SongTowers are what Jim descibed to me as the 'perfect storm' of a speaker, the sum of the parts is exceptional.

All the best
Alex

NOTE: I am not getting paid by Jim or anyone to say these things...
They are that good!!
Swerd posts on February 27, 2009 18:34
BoB/335;529956
I ran across this thread while looking for reviews on Song Towers as I am contemplating purchasing a pair.

Seems I read somewhwer that the hole resembling a port at the rear of a ST is a "vent" and not a port and can therefore be placed close to a wall at the rear. Is that true?
Yes, that's true. Someone asked that in the thread where I posted my ST listening impressions.
Dennis Murphy answered
[forums.audioholics.com].
Others (including myself) have also tried the same thing and heard similar results. This is the opposite of the usual conventional wisdom that has it that placing speakers closer to the wall behind them makes them sound boomy or muddy, and that moving them away from walls decreases the boom. Apparently this feature is also seen in other speakers with transmission line cabinets.
BoB/335 posts on February 27, 2009 13:26
I ran across this thread while looking for reviews on Song Towers as I am contemplating purchasing a pair.

Seems I read somewhwer that th hole resembling a port at the rear of a ST is a "vent" and not a port and can therefore be placed close to a wall at the rear. Is that true?