TK-5CT Measurements & Analysis, Conclusion
TK-5CT Impedance / Phase
 As can be seen in the plot, the RBH TK-5CT tower is roughly a 6 ohm speaker.  Given its moderate sensitivity and dip to 4 ohms in the mid bass region, it is advisable to use an amplifier that can safely handle low impedances and put out an honest 100wpc or more.  The phase response is extremely linear, maintaining  +-30deg within the entire audio band demonstrating the designer really knows what he is doing to make a speaker that can consistently perform well regardless of what type of amplifier is powering it.  Based on the saddle point centered around 38Hz, the manufacturer does seem to be conservatively rating the systems bottom end response.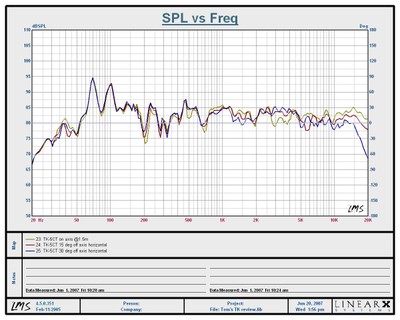 TK-5CT In Room Frequency Response (1/12th Octave Resolution)
Yellow – on axis
Red – 15deg off axis
Blue – 30deg off axis
The TK-5CT towers exhibited a very linear frequency response on and off axis.  Notice the on axis plot doesn't reveal a tweeter level deliberately set to high as we often see in budget towers to win over that "wow" effect.  There also is not smiley face response where the midrange is recessed to hide speaker deficiencies.  This helps explain why Tom enjoyed both on and off axis listening with this speaker system.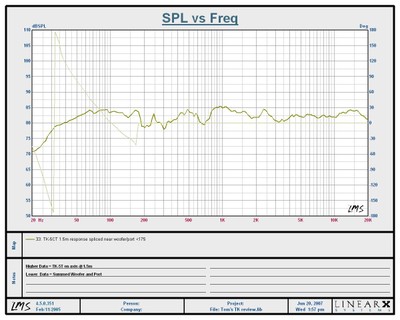 TK-5CT Spliced nearfield (woofer + port) response
To get a better idea of speaker performance and take the room out of the equation, we measured the nearfield woofer + port response and implemented 1/3 octave smoothing above 200Hz.  As you can see, this speaker is tonally neutral, without overemphasis in any frequency spectrum.  The 3dB point does appear to be around 45Hz but with a very gradual and smooth roll off of around 10 dB/octave below that.

Recommendations
I've got very little to say for recommendations for these speakers. At this price point, everything feels like nitpicking. The spikes seem a little cheesy (though they are functional) and I'd like to see dual binding posts at the back (though they probably aren't needed). For $800, I'm looking at way more speaker than I have any right to expect so I should just shut my trap.
Conclusion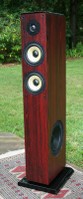 A big part of me was hoping I'd hate these speakers. Always the one to be critical, I'd relish the thought of going against the grain over here. It'd help give us that "fair and balanced" look that would placate some of our dissenters. But the fact is, and I can no longer deny it, that RBH makes great speakers. So, what do you do when you get a great set of speakers in for review? What do you do when politically it would make sense to slam them or be overly critical and nitpicky? Well, if you are swayed by polls and what the people on the forums are going to say about you, you slam them and never look back. But if you've got some integrity, you bite the bullet and get ready for the slew of, "You guys are just RBH fan boys," comments. Everyone knows Honda makes good cars. You just have to drive one to realize it. The same is true of RBH. You just have to hear one to know. And now that I've heard one – I'm convinced. Finding a dealer may be a problem for some (not everyone is Internet Direct you know) but at this price, for this performance, if you've got the opportunity, you owe it to yourself to hear these speakers. They are the new King of the Hill for budget towers.
RBH Sound TK-5CT Floorstanding Loudspeakers
MSRP: 800/pair
 RBH Sound
382 Marshall Way
Layton, Utah 84041

General phone & FAX
Toll-free: (800) 543-2205
Local: (801) 543-2200
FAX: (801) 543-3300

About RBH
Though RBH Sound isn't yet a household name that people relate to as they do Sony TVs or Kenmore Refrigerators, they are one of the oldest speaker companies in the USA still run and operated by the original founder - Roger Hassing.  In 1976 RBH Sound produced its first loudspeaker.   RBH soon began to OEM for McIntosh, (back in the days of Gordon Gow), providing cabinets for their speakers.  This set the stage for doing a superb job since McIntosh didn't worry about how to cheapen the product, but to make it better and, at least at the time, class leading in performance.   Later on RBH Sound began producing loudspeakers for a retailer in LA called Northridge Audio.   They didn't advertise or market these products to avoid a conflict of interest with their other OEM customers (i.e. McIntosh, Parasound, Fosgate, etc). People nonetheless sought them out because of their high performance, which lead to a good success story and response for their products.  Over the years RBH Sound was successful at helping other companies in achieving their goals. Based on their strong engineering background and sourcing ability, they took it upon themselves to enter the market under their own banner.
The Score Card
The scoring below is based on each piece of equipment doing the duty it is designed for. The numbers are weighed heavily with respect to the individual cost of each unit, thus giving a rating roughly equal to:
Performance × Price Factor/Value = Rating
Audioholics.com note: The ratings indicated below are based on subjective listening and objective testing of the product in question. The rating scale is based on performance/value ratio. If you notice better performing products in future reviews that have lower numbers in certain areas, be aware that the value factor is most likely the culprit. Other Audioholics reviewers may rate products solely based on performance, and each reviewer has his/her own system for ratings.
Audioholics Rating Scale
— Excellent
— Very Good
— Good
— Fair
— Poor
| Metric | Rating |
| --- | --- |
| Build Quality | |
| Appearance | |
| Treble Extension | |
| Treble Smoothness | |
| Midrange Accuracy | |
| Bass Extension | |
| Bass Accuracy | |
| Imaging | |
| Soundstage | |
| Dynamic Range | |
| Fit and Finish | |
| Performance | |
| Value | |

sheedoe posts on February 21, 2009 17:42
I bought the Tk series speakers based on Tom's review. I love the TK-5CT. I admire Tom for comparing these speakers to almost every other speakers he reviews, even the ones that are 5x its price. It gives me a prospective of where my speakers stand. I would love for Tom to to do a review of the Monitor Audio RS6 speakers. They have been highly rated in many pro reviews. And since its in the price category of the TKs, it'd be a great comparison. Tom are you listening??
DFCall posts on February 08, 2009 23:08
Thank you for the review, and posts of the RBH TK-5CT. I have a family room with a corner entertainment center, as I think many do. The space on the sides of the cabinet is too narrow for subs, and when I place the subs behind the cabinet it's OK for movies, but seems muffled and not engaging to the music. On some bass passages the cabinet resonates, which is fine for movies, but is a show stopper for music. Because, the speakers have to set on the sides of the cabinet I have not been able find speakers that could provide decent soundstage and imaging.
I found a pair of the RBH-TK-5CTs on eBay. I am familiar with the RBH speakers, but not the TK line. After reading the review and posts I went ahead and bought the TK-5CTs. Yes, the finish is cheesy up close; however the speakers look nice unless you are examining them closely, and they have a good WF.
For the first time I am getting a great sound stake, imaging, and harmonious bass out of this corner. If you have a corner entertainment center that is a real challenge for music, look at the RGH tower speakers.
nova posts on September 21, 2008 10:14
They will still be available, they just won't have the RBH name. You should still be able to get the F300T with the Destination Audio name or the EF30T from EMPTek.

As for what's going to replace it in the RBH line????
Biggiesized posts on September 21, 2008 01:14
From what we understand, RBH TK is being discontinued, however the same engineers that made that great speaker are bringing to market some very interesting products for EMP...

WHAAT?! Say it ain't so!

What are they planning to bring to the market that will be SUPERIOR to the TK series as well as cheaper?
bans25 posts on June 14, 2008 10:17
If anyone knows where I can get one rosewood TK‑5C I may be interested!

Also is there any wall mounts that work with the TK‑5Cs?

So far I have been impressed with the sound on this $900 package !