RBH TK-5CT Set-up and Listening Tests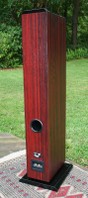 Attaching the bases took little time and a small wrench made short work of the carpet spikes. With my carpet, I decided to just set the speakers up on their bases without attaching the spikes while determining the proper placement. Even though we here at Audioholics don't recognize speaker "break-in" as a real physical phenomenon, we understand that many people do. More to the point, "ear" break in is a very real phenomenon and "encouraging" people listen to their speakers for a number of hours isn't such a bad plan. Most companies like to quote 40-60 hours while RBH suggests only 10-15. I interpret this in one of two ways: 1) RBH doesn't really buy into the whole "break-in" but has to put it in there because many of their customers expect it or 2) they DO believe in break-in but they believe that their speakers are of such high quality that they don't need that much. Either way, RBH is at least getting closer to the Audioholics recommended break-in time of 2 minutes than any other manufacturer I've come across – and that should be commended.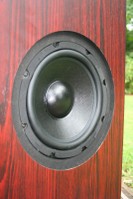 The side firing woofer really needs a little room to breath so I suggest you point it out rather than in. If you've got furniture that the speakers are flanking then this is imperative but even for your dedicated home theaters with projection screens and no furniture up front, then having the woofers pointed at each other can cause some cancellation effects (two drivers firing in phase can do that). You'd risk negating some of that bass that you paid good money for. Also, the speakers are rear ported so you'll want to give a little room behind the speaker to let it breathe. Even at high volumes I never had any problems with port noise.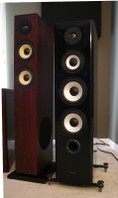 I experimented a lot with toe in and was amazed at the results. In no position did the TK-5CT's sound bad. Imaging was good whether the speakers were pointed straight forward or directly at me. But, of course, that isn't all that amazing; lots of speakers can claim that. What WAS amazing however was the difference I experienced when the speakers were pointed directly at me versus any other position. In this configuration I experienced a significant increase in the clarity and presence of the music WITHOUT any deleterious effects that normally come with on axis listening. So many times in the past I've reviewed speakers that sound great off axis (pointed away from me) but when I point them directly at me they become bright and fatiguing. Not so with the TK-5CT's. Much like an electrostat, I found that having the speakers pointed directly at me gave me a very small but very clear sweet spot. However, unlike electrostats, having them toed out a bit didn't destroy the soundstage as much as it just widened and diffused it. In my opinion, for critical listening by yourself, pointing the speakers directly at you will increase your enjoyment but in a group (or for non-critical listening) you'll find that the TK-5CT's perform far above average if you point them straight out or with a slight toe in. This makes for a very versatile speaker.
Listening Tests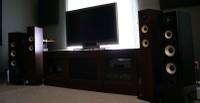 Floorstanding speakers have gotten, to a certain extent, a bad rap. So many times you come across people that have "towers" that won't go low enough to really be considered "full range." For the uninitiated, this means that they've set their receiver for "large" or just forgone the purchase of the subwoofer thinking that they don't need it. More often than not, this is a grave mistake. It is always with a bit a trepidation that I throw in a test disc and examine the "useable" bass of a tower as I'm often forced to report that they should be set to "small" and that you'll still need to fork over cash for a sub. For the first time, I don't have to say that. At $800 a pair, I can't believe I'm about to say that I heard real useable bass as low as 25Hz and strong output from 31.5Hz and up! Now that all of you are back from checking the specs on the introductory page, yes, RBH rates them down to 45Hz. The speakers were placed at least 2 ½ feet from the side walls and 2 feet from the back so NO I didn't corner load them to get this result. Obviously the room is playing a factor here and I can't guarantee that you'll have the same results but in my room, I can EASILY go without a sub for 99% of the music out there. Of course, I still want a sub for movies but if you have the option of sending just the LFE of the mains to the sub (essentially running them as "large") then you can safely do that. It may even help smooth out the bass response in your room.
CD: Yello – the eye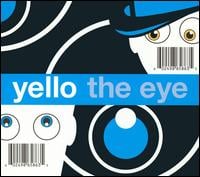 While I usually just pop in this album for a few seconds to check out the imaging of the speakers in question, I ended up spending a lot more time than I normally would. My reference speakers, not so long ago, were right in the price range (without the upgraded finish) of the TK-5CT's and have long been considered a performance leader in this price bracket. This seemed to be a very good comparison set and I wanted to do it justice. Imaging by both speakers was very good with a slight edge given to the TK-5CT's. And by slight I mean ever so slight. It was a close match. The separation seemed a little clearer, the soundstage a little larger, and overall the imaging was more 3-D than my reference speakers. I spent a lot of time switching back and forth in order to come to this conclusion so you know it was a close race. With the TK's pointed directly at me, the imaging tightened up even more and became more present handedly beating my reference set which became fatiguing in the same configuration.
CD: Bang & Olufsen Vol. XIII – The Sound of Perfection
Listening to Track 1 and Track 4, the most noticeable difference between the TKs and my reference speakers was the bass. Out of all the comparisons I did, the difference in the bass was the most noticeable. Tighter, cleaner, deeper and more lifelike all describes the TK-5CTs. The clarity in the lows and lower midrange was significantly better than what I was used too. I was quickly convinced that not only was I standing in the presence of full range speakers, but I was standing in the presence of full range speakers for $800! I still think that price is somehow wrong and that when the accounting department over at RBH gets wind of it, there's going to be hell to pay. For someone that is used to working with a sub (even one as capable as the Axiom EP500), running full range speakers takes a little getting used to. You don't have to worry about crossovers, placement, or any of that. You just plug in the speakers and walk away. There is something about that lack of action that I find strangely comfortable. I also think that running the speakers full range added a dimension to the music that a sub just doesn't seem to provide. Not that a sub can't provide it but it takes a lot of sub (or perhaps lots of subs) to provide the deep impact for movies while remaining clean and tight up near the crossover point. The TK-5CT's won't give you that gut shaking bass during explosions but it will give you bass deep enough for most music at insane listening levels.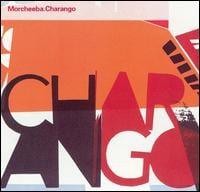 Using the Emotiva Reference Audio Series RSP-1 and RPA-1 along with the Denon 3910, I pushed the TK-5CT's as hard as I dared. I was amazed to find that the top end of the speakers seemed to have no limit (yes, I know they have a limit but this is a subjective listening test). When the tweeter on my reference speakers began to break up and distort, the RBH tweeter held firm and kept its composure. The highs of cymbals, strings, and snare drums stayed crisp, clean and lifelike at volumes I thought impossible. Overall, I found there to be a very airy and lifelike quality to the highs. Sounds seemed to float and hover all around me. Just when I thought one more decibel or one more hertz would push the TK's past their limits, they would take all that and more. For $800, these are some pretty amazing speakers.
sheedoe posts on February 21, 2009 17:42
I bought the Tk series speakers based on Tom's review. I love the TK-5CT. I admire Tom for comparing these speakers to almost every other speakers he reviews, even the ones that are 5x its price. It gives me a prospective of where my speakers stand. I would love for Tom to to do a review of the Monitor Audio RS6 speakers. They have been highly rated in many pro reviews. And since its in the price category of the TKs, it'd be a great comparison. Tom are you listening??
DFCall posts on February 08, 2009 23:08
Thank you for the review, and posts of the RBH TK-5CT. I have a family room with a corner entertainment center, as I think many do. The space on the sides of the cabinet is too narrow for subs, and when I place the subs behind the cabinet it's OK for movies, but seems muffled and not engaging to the music. On some bass passages the cabinet resonates, which is fine for movies, but is a show stopper for music. Because, the speakers have to set on the sides of the cabinet I have not been able find speakers that could provide decent soundstage and imaging.
I found a pair of the RBH-TK-5CTs on eBay. I am familiar with the RBH speakers, but not the TK line. After reading the review and posts I went ahead and bought the TK-5CTs. Yes, the finish is cheesy up close; however the speakers look nice unless you are examining them closely, and they have a good WF.
For the first time I am getting a great sound stake, imaging, and harmonious bass out of this corner. If you have a corner entertainment center that is a real challenge for music, look at the RGH tower speakers.
nova posts on September 21, 2008 10:14
They will still be available, they just won't have the RBH name. You should still be able to get the F300T with the Destination Audio name or the EF30T from EMPTek.

As for what's going to replace it in the RBH line????
Biggiesized posts on September 21, 2008 01:14
From what we understand, RBH TK is being discontinued, however the same engineers that made that great speaker are bringing to market some very interesting products for EMP...

WHAAT?! Say it ain't so!

What are they planning to bring to the market that will be SUPERIOR to the TK series as well as cheaper?
bans25 posts on June 14, 2008 10:17
If anyone knows where I can get one rosewood TK‑5C I may be interested!

Also is there any wall mounts that work with the TK‑5Cs?

So far I have been impressed with the sound on this $900 package !