RBH Sound 8300-SE/R Introduction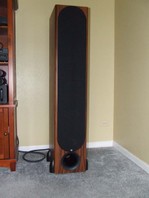 RBH Sound has been around since 1976, quite some time, but has really only marketed products under their own name for the last decade or so. In that relatively short time, the former OEM component manufacturer to a number of prominent brands has built a reputation for high quality loudspeakers and relatively reasonable prices. They have also built up something of a small, loyal following as their name reaches further into the audio mainstream.

Personally, I have never had a chance to audition any RBH speakers, so I was enthusiastic when Gene asked if I would like to get my hands on a pair of the new signature series 8300 towers for a review. Gene is obviously a strong supporter, so I was happy to have a chance to hear for myself if this speaker company, which has earned strong praise among some reviewers, actually lives up to the reputation.

The 8300 SE/R speakers were recently introduced at the 2009 CES and represents near statement/reference quality loudspeakers for RBH Sound. Aside from some of the T Series modular speakers and the limited edition T-30LSE, the 8300 SE/R represents what RBH Sound is really all about, what they think speakers should sound like, without the compromises required to hit a market price point. At $9,700 per pair, the 8300 SE/R loudspeakers are not cheap, but they are far less pricey than where some loudspeaker companies mark their high-end products. Diminishing returns dominates at these prices with little gained, objectively, between large price differences such that as long as a speaker performs well, it often becomes more about subjective preference for voicing and very subtle minutia than about any concrete gain from spending more or less money leaving ardent audiophiles to argue nuanced subtleties until their dying breath. There will be many fine sounding loudspeakers available for top dollar; it becomes a matter of if ones wallet can keep up with ones preferences.

So, we will now see how the 8300 SE/Rs perform, both objectively as well as subjectively.
Design and Construction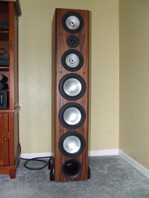 An imposing loudspeaker system that will command attention, to say the least, the nearly 4'-8" 8300 SE/R towers will stand out in just about any room. So it is a good thing that considerable care was put into the cabinet construction to produce furniture quality finishes because these speakers will not be hidden from view easily.

The Signature Reference Series loudspeakers are available in 30 wood veneer finishes in combination with black or white grille colors, with the review pair finished in South American Rosewood matched with black cloth grilles. The slender, rectangular towers feature radiused vertical front corners, semicircular grille ends and a large flared tuned port on the front, exposed below the grille. The grille frame appears to be composite construction with a 3/8" MDF layer backed with a layer of 1/8" plywood and has six metal lugs to attach it to the towers. Around the back of the 8300 SE/R speakers are dual gold plated binding posts to allow bi-amping or bi-wiring.

The basic design of the 8300 SE/R is that of an MTM over three woofers. Trifle if you want, but tweeter, woofer, subwoofer or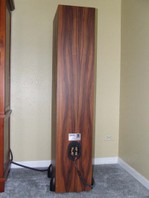 tweeter, midrange, woofer: same thing. The former attempts to suggest a two-way design with the additional of lower frequency drivers included while the latter is a nomenclature that is more commonly used with three way designs. In a two-way design, the lower frequency driver is referred as a woofer but also does the duty of the midrange as well because it isn't coming out of that other, tiny driver above it. Most two-way designs are small and with the limited bass extension coming from such speakers, it suggests that the driver would be more aptly referred to as a midrange anyways. Coupled with the fact that the majority of two-way designs are relegated to lower end models in a product series with three-way speakers, which in turn are commonly based on the two-way designs where all of a sudden the two-way woofer is now called the midrange, I think that any nomenclature quibbling really is moot.

Either way, the subwoofer/woofer and woofer/midrange drivers are both based on RBH's proprietary aluminum cone design. The three 8" subwoofer/woofers are standard dynamic driver designs while the two 6½" woofer/midrange drivers have fixed phase plugs, which is also part of the upgrade from the base 8300 SE model loudspeakers. The other upgrades between the SE and the SE/R versions include using an upgraded Scanspeak 9500 liquid cooled, silk dome tweeter rather than a standard 1" soft dome tweeter and an upgraded crossover network tuned to the other improvements, all of which is said to both increase power handling and improve sonic clarity.
RBH claims that the ported 8300 SE/R is tuned to hit an impressive 22 Hz, a bass extension that few dedicated subwoofer designs actually hit. The large diameter tuned port is dimpled, presumably to raise the critical velocity that helps prevent those untoward noises that occur after the transition from laminar to turbulent airflow. This is an important consideration for any loudspeaker design that is intended to move a lot of air at low frequencies.
Stability for the slender towers, which turned out to be better than I initially suspected, mainly due to the speaker weight, can be improved by using the mountable metal feet that widen the base in the short direction. Each tower comes with four black, machined metal feet shaped like a half bullet with a leg that forms an L bracket that wraps under the speaker. The brackets are lined with a thin layer of foam to protect the wood finish and are mounted with three wood screws each to the underside of the speakers. There are internally threaded screw holes located towards the outer radius that accept either carpet spikes or domed rubber feet for use on various other surfaces, both of which are included.
Taking out several drivers, I found the cabinets filled extensively with foam and fiber batting. There is acoustic foam adhered to the sidewalls and each chamber between internal braces is stuffed with fiber batting. The cabinets are standard ¾" HDF with an internal stiffener plate between each driver and the port. The woofers are isolated from the midranges and tweeter with a solid stiffener plate that forms two chambers, while the rest of the stiffeners have a large circular hole that allows acoustic coupling.

The RBH manufactured woofers and midranges have sturdy cast baskets. Each woofer basket supports a 4¼" diameter motor while each midrange supports a 4" diameter motor. Both of these driver types are mounted with machine screws into flanged threaded metal inserts embedded inside the cabinets. The outsourced Scanspeak tweeter utilizes a 3" motor and the assembly is mounted to the cabinet with wood screws.
The crossover is mounted to the back, just below the speaker inputs. The only thing that is clearly visible when pulling one of the woofers out is a large, tightly wound inductor coil. Thus we had to request a photo of the entire crossover from RBH Sound.

The choke on the woofer is a 6 mH low DCR and has a power rating of 500 Watts with low saturation. The electrolytic caps are used in the high pass on the mid range. Two each 400 µF 100 V caps are used in series for a net 200 µF 200 Volt rating. The poly caps for the tweeter and midrange bypass are located underneath the electrolytics and are not visible in the picture.
GranteedEV posts on January 10, 2011 17:10
sorry to be bumping such an old thread but the SX thread got me digging this up and I just had to respond, especially since Def Tech Guy has since auditioned a few more speakers since then as well:
gene;660312
Good like finding a 200uF poly cap that is of reasonable size and cost that can fit in the crossover. Bypassing electrolytics is a great compromise to this problem as most manufacturers tend to do. They placed two 400uF 100V caps in series which halves the total capacitance, but doubles the working voltage to accommodate high power amps without blowing up. The bypass cap is a very high end Solen which again isn't clear in the photo.

The choke on the woofer is a 6 mH low DCR and has a power rating of 500 Watts with low saturation so again you simply apply a absolute that all iron cores must be bad.

For midrange drivers and tweeters I tend to agree but using them for bass drivers where the values often get large are an understandble application. A choke this value in an air core would be much larger and have more resistive losses thus you would lose damping which is critical for the bass frequencies. So if the steel core isn't distorting or saturating, then why change it to something costlier, larger and potentially less performing?

He was implying that a passive crossover this low is a no-no, period. That you should either go active or cross much higher in a 3-way.
Every listening session I have heard on these speakers is far from sloppy bass.
Yes, but your perception of sloppy bass may be a bit different from TLS guy, who finds that only critically damped transmission lines etc can really reproduce real life instruments of classical music. You
seem
to prefer a bit more punch...or dare-I-say-it.. bass coloration compared to the "dry bass" he prefers and certainly seem to have a different taste in music...
My T30-LSE towers for example utilize no passive crossover at all in the bass drivers and this is from the same company. It all depends on the product design and how well the system plays as a whole. Every design is different and you have to do what is right for that particular application.
His complaint was about the application itself... a very low crossed passive crossover.
haraldo posts on December 20, 2009 07:46
Not for want of trying... so far they won't let us review anything.

Looks like they're afraid to get a fair review

I kind'o always wanted statement speakers, and the RBH Sound Signature Reference 8300-SE/R looks like a quite fair bet
AcuDefTechGuy posts on December 18, 2009 14:06
Adam;662182
Looks like AcuDefTechGuy has a pair of the BP7000SCs. Maybe he'd be willing to lend them to the cause.
majorloser;662184
Just send Gene yours since DefTec won't.
R----------I-----------G------------H-----------T.
Yeah, that would be right after I get some flagship RBH or B&W 800Ds.
gene posts on December 18, 2009 13:54
thanks guys but why bother to give press to a company that clearly doesn't want it from us? I'd rather work with companies that appreciate our review style. Take Yamaha for example, I ripped them apart in the "Trading amplifier quality for features" article as well as the video issues I found in the Z7 review, and they are one of our biggest advertisers and E-store partners. It speaks volumes for their integrity and faith in their products and services. I wish more companies operated like them.
nibhaz posts on December 18, 2009 13:27
gene;662177
yes I even called their Marketing Manager to offer him to enter his product in Tom's floorstading speaker faceoff and he declined saying nobody wins in a faceoff but the speaker that got 1st place. He also said we tend to nit pick too much about product performance and rely too much on how things measure.
I'm sorry Gene, but are you sure you didn't call the Bose marketing department?
That sounds like a line right out of their play book!
Sorry AcuDefTechGuy!