Paradigm S6 - Build Quality and Setup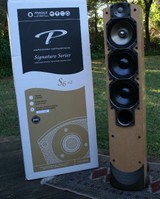 Some speaker companies need no introduction. There are few names that are as associated with speakers as Paradigm. We've been itching to get a review from Paradigm for a long time and, like two ships passing in the night, we've missed many an opportunity. This opportunity was almost missed because the shipping company incorrectly transposed my address to their shipping label. Now if my across the street neighbor had known exactly what they were trying to deliver so many times, perhaps he would have signed the paper "John Doe" and locked his door for a few months. Thanks to his integrity the review pair finally made it to my door and I was able to unpack these beauties.
First Impressions and Build Quality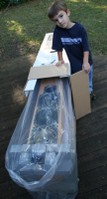 There are two schools of thought on speakers: they should either disappear into a room or become the centerpiece of it. The S6's are definitely aiming for the latter. The boxes arrived on the back of a flat bed truck (these have previously been unwilling to travel down my street - kudos to the driver for not being a wuss) and were plastic-wrapped to a pallet. The driver unwrapped them and I helped unload them from the truck. Each speaker is individually boxed so I carried in one speaker while he used a hand cart for the other (so much for the "not being a wuss" comment). Heavy? For one speaker yes. But not so much that I couldn't carry it the 25 yards or so down the driveway and into the house.
The packaging was more than adequate with the box corners supported with edge braces, top and bottom foam endcaps that look like they had been grown there (a perfect fit), and a plastic bag around the speaker to keep out the elements. The grill was packaged separately in a box supported by the endcaps so as to not bump into and possibly mar the exquisite finish on the speakers. The bottom of the box was bowed a bit (probably from the weight of the speaker) which made it a little unsteady. Some sort of bottom cap of wood or heavy cardboard might help alleviate this problem. As it was, the speakers were unsteady when standing up to the point where I was afraid they would fall over if not attended to closely. They didn't fall over but it seemed like they might.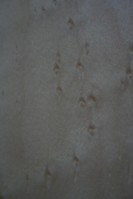 Editor's note on the ubiquitous cotton sock
High end gear (and some not-so-high end gear) seem to go hand in hand with the cotton sock. For some reason audiophiles have come to associate them with quality. Everything seems to be wrapped in one these days. Personally, we fail to see the benefit of the sock. It makes the equipment (especially heavy gear like speakers) impossible to manage because of the lack of friction and more often than not the cotton leaves small particles all over your gear. The plastic bag, while lacking that "cool" factor has some distinct advantages like not mussing up your gear with lint and protecting it from the elements (very important when your gear is getting shipped to places like Florida). Hurray for Paradigm for resisting the temptation.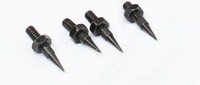 I broke open one of the boxes and noticed immediately the absolutely gorgeous bird's eye maple finish and knew that these speakers were not meant to be hidden behind an acoustically transparent screen. Getting the first speaker out was a bit of a chore until the paper fell out of the box that told me to open them from the bottom. Note to Paradigm, directions like that should be placed outside the box. Inside the grill box there was a set of carpet spikes that you can install before you tip them over. I've seen these same carpet spikes included with speakers at a fraction of the cost of the S6's. They are very hard to adjust and don't have much length on them. I'd like to see a higher quality spike preferably in some sort of outrigger setup for these speakers. At this price point, it doesn't seem out of place.
Build Quality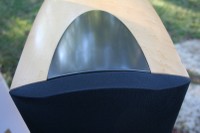 The fit and finish on these speakers is beyond reproach. I went over them with a fine-toothed comb and couldn't find a single blemish. Everything fits together perfectly with no visible misalignments or QC issues. The grill matches perfectly with the front baffle though I wouldn't mind seeing chrome binding posts or magnets rather than the plastic binding studs. While sturdy, the tight fit made me concerned about removing the grill multiple times. Even the veneer looked perfect. Whatever quality control methods they are using should be emulated by other manufacturers.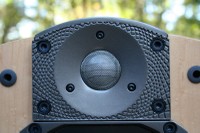 The front of the speaker sports two 7-inch mineral-filled polypropylene cone woofers, a single 7-inch cobalt-infused pure-aluminum cone midrange with a solid aluminum phase plug, a 1-inch pure-beryllium dome tweeter (see the specifications for all the technical stuff), and a front mounted port just below the drivers. There is a nice Paradigm logo plate on the bottom which is covered by the grill which sports the stylized "P" in the same location. The front of the baffle has a very industrial look with the drivers sporting thick metal mounting plates that seemed in stark contrast to the clean lines everywhere else on the speaker. With the grill on, the speaker once again took on an elegant shape and form. This is going to be a judgment call on your part on whether the speaker looks better with the grill on or off. Despite the internal webbing of plastic on the grill, I found very little if any difference sonically between listening with the grill on or off.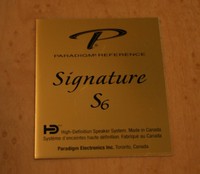 The rear of the speaker has a small gold plate that highlights the speaker make and model (and delineates it as a "high definition" speaker). The dual 5-way binding posts are of the highest quality with a gold plated jumper between them and the serial number at the bottom. You have the option of bi(buy)-wiring or bi-amping these speakers if you wish. Rapping on the side, the top two three quarters of the speaker felt secure and inert though I did detect some resonance near the bottom (below the port). Opening them up (want to have a stressful afternoon? Go after a $5k pair of speakers with a screwdriver) I was very pleasantly surprised at the attention to detail. Each of the screws sits in a little rubber sleeve, each driver has a rubber gasket underneath, and at select points there is a layer of rubber tape applied to the front of the speaker. All this works to ensure that any and all mechanical noise that could take place is completely controlled. The crossover uses high quality components including air-core inductors, high-power ceramic resistors and polypropylene capacitors. All the interior wiring is 12-gauge silver-plated copper.

The drivers are all magnetically shielded with the midrange and tweeter completely enclosed in their own plastic backbox. The backboxes have small fins on the back which may be used for cooling or just to look cool. The baskets are all cast and each driver is heavier than it looks. The port is flared at both ends and there is a piece of felt glued to the back of the enclosure behind it and along the polyfil on the sides most likely so that you see black if you look through the port rather than MDF or white polyfil. There is a central brace that runs the full length of the height of the 3/4 inch MDF enclosure. I couldn't find any additional bracing. Every additional space was stuffed to capacity with white polyfil to the point that it was almost impossible to get my hand in there to search around for bracing.
Set-Up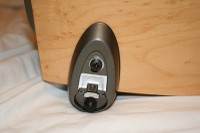 Unless you have a very even floor under your carpet, I'd suggest forgoing the spikes at first if you plan on using them. They are nigh impossible to adjust and the last thing you want to do it to have to pick the speaker all the way up every time you want to adjust it. Better you stick with the rubber nubs and find your preferred placement first and then install them. Just mark their location on the carpet with a bit of tape so that you know exactly where you had them. If it were me, and I had invested $5k on a set of S6's, I'd probably drop a few hundred more for a set of aftermarket outriggers like the ones from Soundocity. They'd make your life a lot easier. Paradigm has obviously thought of this as the foot mounts are completely removable with a single screw.
While my comparison speakers are woefully inadequate (from a pricing standpoint), my electronics are way up to snuff. The Emotiva Reference Audio series RSP-1 processor and RPA-1 amplifier represent not only top of the line quality but also top of the line value. An analogue only solution, this setup requires you to have a quality transport with top notch DACs. Enter the Denon DVD-3910. Combined, there is nary a speaker that cannot be driven into the ground or a critic that can complain that I didn't use adequate electronics for a review. Want to criticize the review? Look elsewhere because the electronics were not at fault. The speakers were wired with Blue Jeans Cables and all interconnects were courtesy of Impact Acoustics.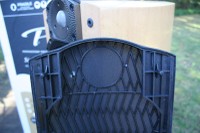 I played around with the toe-in of these speaker a bunch but finally ended up with a moderate toe-in that had the speakers pointed about a foot or two off each shoulder (or just over the armrests of the double center seat of my home theater couch). One thing you hear about Paradigm speakers is that they are bright. I can categorically deny that this is the case. Even with the speaker pointed directly at me, I felt no sense of fatigue or strain at normal listening levels. Unfortunately, many times these rumors start about an early design that has long since been abandoned or (more likely) from people with bad rooms that insist on blaming their speakers instead of the hardwood floors, concrete and brick walls, and complete lack of furniture and passive room treatments. My room is moderately treated with a few DIY panels at the first refection points, behind the listening position, straddling the rear wall, and behind the front speakers. My couches have high backs which practically eliminates slap echo. While many of the placements are more for aesthetic rather than sonic reasons, the benefits are easily discernable.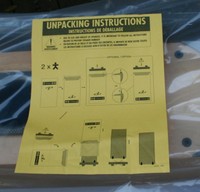 Paradigm, like more and more speaker manufacturers since we debunked the myth of speaker break-in, is recommending a short break-in period of a few hours. Usually I scoff at such hooey but in this case I found it quite beneficial. I didn't time anything but I started listening to the speaker directly after hooking them up and they sounded… weird. Tons of bass with no midrange. It just wasn't right. I decided to let the speaker sit in my system for a few days of normal use (Xbox 360 Halo 3 sessions with the occasionally Lego Star Wars II game with my son, TV and movie watching at normal listening levels, etc.) before going back to them for some critical tests. This definitely helped which I think was more than just breaking in my ears. I believe that the same could have been done by playing some music at a fairly loud level for 15 minutes or so but that's not what I did.