Performance 6 Listening Tests and Conclusion
In setting up the listening sessions I calibrated the system and set the Mordaunt-Short speakers to Large, forcing all information to be sent to the main speakers and bypassing the crossover and subwoofer. As I mentioned, in finding the best position and angle for the Performance 6 loudspeakers I tried a number of tests, but settled on having them toed in slightly more than I am accustomed to, but not such that they were facing me directly (which seemed to narrow the soundstage quite a bit.) Once I was finished I noticed a very pleasing image that was wide and robust. I would recommend listeners take their time and get these speakers perfect as the toe-in seemed to dramatically affect the listening experience.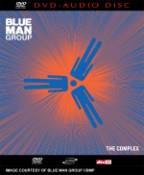 Blue Man Group- The Complex (96kHz/24-bit)
 "Sing Along", the third track on the Blue Man Group DTS disc was the first song on the album that I felt had the detail and finesse to let the Performance 6 loudspeakers shine. The vocals were clear and came through with every nuance, including some of the slight wavering and modulation that appears near the end. The effect was one of having the group on a stage in front of me, several feet beyond the speakers and slightly elevated. The low end was firm and punchy, though I think that when the Performance 9 subwoofer is released the added low end will only make what I heard better. What I felt important to note was how the Performance 6's 6.5" woofers never sounded overextended or flabby. In contrast, the low end was the perfect compliment to what I perceived to be one of the cleaner high-frequency systems I've heard this year.". I closed my eyes and the room-filling chorus of this song made it hard to believe that I was listening to just two loudspeakers. There is an ever-so-short pause in the song, near the end where a sound not unlike a cross between a chirping bird and a record scratch is left bare in the left channel... or was it mixed into the left surround (wait a second, there is no left surround!) The vocals by Tracey Bonham in this song are a fantastic source by which the incredible sound of the Performance 6's vented tweeters are left vulnerable. The tonality of her vocals are strong, yet crisp, with a top end that would be easily compressed or distorted by lesser drivers. The Vented ATT system didn't crumble under pressure- the results were more than impressive. This is one of my favorite songs on the album, simply for its effective use of so many diverse elements.

Jeff Wayne' s Musical Version of the War of the Worlds (SACD 2.0)
This SACD is a 2005 remix of the original 48-track analogue recordings and represents quite simply an incredible milestone in recording engineering and production. There are a myriad of points along the story line which present excellent recorded material with which to perceive a loudspeaker' s range and capability. Track 2 of Disc 1 features an introduction by Herbie Flowers that has all the detail of an intimate live performance 舑 drifting from an off-center, raw, almost purposefully sloppy plucking, to a smoother bass line centered in the immense soundstage. At the completion of the transition, a reverberant metallic grating effect begins which, in two-channel mind you, filled the room. It sounded like multi-channel. As this SACD also has a 5.1 mix, I had to double check to ensure I was listening in 2.0. The imaging and soundstage on these speakers is nothing short of astonishing.
Track 4, "Forever Autumn", performed by Justin Hayward of the Moody Blues, gave me a good mix of guitar, drums, and a smooth male tenor vocal. I found that I could really drive the Performance 6 loudspeakers to high SPLs. I went as high as 95dB at the listening position (and didn't care to go further) without losing definition or having the clarity of the top-end distorted or rendered crispy. Instead, the vented tweeters and 4" midrange seemed to be able to take on a hefty load and serve it up on a silver platter for my ears to enjoy.
On Disc 2, track 5, "Brave New World", you'll get treated to another intimate musical interlude by David Essex (of Godspell fame) which heralded an honest vocal line, complete with breaths and throat noises. The impression was that the Performance 6 speakers had melted away (taking the wall behind with them) leaving only a live performance. The sound was so clean it had me trying to discern the mics and equipment used during the recording engineering process.

Seal IV (DVD-Audio 88.2kHz/24-bit 2.0)
While not as deep and enveloping at all times as Jeff Wayne's Musical Version of the War of the Worlds , Seal's latest album features raw vocals and some exceptional guitar and synthesizer work. Track 2 "Get It Together" features some wet vocals that filled the listening room front to back. The drums, percussion, and bass line were also punchy and firm- even tactile, as I could feel the kick drum in my seat as well as the floor. Seal is a fan of placing very low sweeteners into his music, usually towards the end of at least one track.
In the case of track 3 "Waiting For You" I was treated to a nicely-rounded synth bass as well as horns and strings that positioned themselves nicely back in the sound stage. Near the end, the mix featured a less cluttered breakdown section which allowed some greatly detailed vocals, synth, and piano to come through which I felt were articulately reproduced by the Mordaunt-Short loudspeakers. Track 5 "Don't Make Me Wait" was another track I listened to in order to gauge how well Seal's vocals were carried by the Performance 6's single 4" midrange. The results were satisfactory, though it's hard to substitute (or compare against) loudspeakers with larger multiple midrange drivers.

Peter Gabriel 3 (SACD 2.0)
Peter Gabriel has some insanely detailed recordings. 3 is an example of an eclectic mix of some talent-laden pieces. While some may find this album almost too far out in left field at times there are some gems contained within that will push a system and help evaluate a loudspeaker's linearity and detail. Track 2 "No Self Control" features Gabriel's signature vocal style and a mix that features Phil Collins on Drums (with a rather narrow mix) and some widely-paned percussion by Morris Pert. The Performance 6 loudspeakers seemed to take higher frequencies and virtually "throw" them to the back of the room on some mixes, creating an audible depth of field that put you into a present and realistic location within the recording.
I picked through several of the busier tracks and found a gem in track 6 "And Through the Wire" which, for a two-channel mix, sent vocal reverb and backing tracks way out front, akin to what I'd expect from a multi-channel mix. The reverb decays were extremely smooth and instrumentation could be easily discerned and differentiated. A ping-ponging, percussive wood black showed just how wide the sound stage could be, seeming to extend well beyond my walls.
Track 7, the popular "Games Without Frontiers" had a very particular mix, with each instrument taking up its position across the front sound stage. Backing vocals and percussion once again filled the room(each time making me want to re-check the surrounds). The whistling present in the track seemed to come from well above the speakers, demonstrating a truly immersive three-dimensional listening experience. In all of the mixes, the Performance 6 speakers never seemed to overextend themselves. Rather, they operated in a way that maximized their range and eschewed distortion in favor of control and precision.

The Best of R.E.M. In Time 1988-2003 (DVD-Audio 192kHz/24-bit 2.0)
R.E.M. is one of my favorite bands and hearing some of their best tracks played back at 192kHz/24-bit was quite a treat. "The Great Beyond" filled the room, its steady synth beat anchoring the mix, but allowing the smooth reverb and guitars to make their rounds. An off-center drum mix kept this track more spread out than most and the balancing synthesizers poked through when appropriate whereas on lesser speakers they would have been lost in the mix. Track 6 "Losing My Religion" presented a more recessed mix in terms of 3-D space, but did demonstrate a sound stage that was widely spread out. The melodic bass line in this song came through with great definition and drive. "Orange Crush" is an enigmatic song that has lots of excellent "pockets" of instrumentation within the track. On average speakers the mix will turn to "orange mush" but on the Performance 6 each instrument was in its place and, if you closed your eyes, you could really listen to each independent element. "The Sidewinder Sleeps Tonight" is an upbeat tune with some nice clear male vocals from Michael Stipe. The Mordaunt-Shorts didn't miss a thing and if you do not like to hear every nuance in a vocal track you may want to find speakers that don't have as much clarity.
Comparisons
Just for giggles I did some rather unscientific A-B comparisons between the Mordaunt-Short Performance 6 speakers and my reference speakers to see how they fared against a truncated line array. While the truncated line arrays had a greater amount of midrange clarity (likely due to the larger amount of driver surface area they had to deal with) the Performance 6 speakers felt as if they were a bit more revealing in the low-mids. Keep in mind that I was running the speakers at full range with no subwoofer. I enjoyed the top end and airiness of the Performance 6's tweeter, which was simply a different listening experience than my reference system.
Regarding the low end response capability of the Performance 6 loudspeakers, I queued up "Crazy" from Seal's self-titled album and fast-forwarded to past 5 minutes where he added some super-low sub sweetener hits that accentuate the bass line. The Performance 6's couldn't quite hit them but they didn't smear the remaining bottom end either- which is really what I was looking for, having familiarized myself with the frequency response of the system (that's what subwoofers are for). To put it succinctly - the recording was rendered confidently. I skipped over to track 5 "Whirlpool" and listened to Seal's vocals and acoustics guitar. The Mordaunt-Shorts sounded warm and had slightly more emphasis in the mid-bass than my reference speakers. Overall, the tracks sounded excellent, with tons of detail and plenty of presence. "Show Me" had great synth bass and a kick drum that came through like it owned the place- snappy, deep and firm.
Conclusions
This is a great looking system that is aptly named. What's more- it's the future in that a custom-designed, injected cabinet allows the speaker designers to absolutely control a greater level of nuances within the enclosure's acoustical properties. The results are truly audible and they are without a doubt impressive. I found this system to be extremely viable as a two-channel system for music- but am even more intrigued by the fact that Mordaunt-Short is adding a center channel, subwoofer and surrounds to the line in an effort to take a truly musical system and enable it to be used in a multi-channel environment. This can only take something that is great and lift it up to an even higher plateau. I, for one, can't wait!
About Mordaunt Short
Mordaunt-Short has been designing and manufacturing loudspeakers for more than thirty years. Naturally, they have seen a great many changes in that time. Their company has maintained its leading position by consistently responding to - and frequently introducing - new technologies and materials.
The Score Card
The scoring below is based on each piece of equipment doing the duty it is designed for. The numbers are weighed heavily with respect to the individual cost of each unit, thus giving a rating roughly equal to:
Performance × Price Factor/Value = Rating
Audioholics.com note: The ratings indicated below are based on subjective listening and objective testing of the product in question. The rating scale is based on performance/value ratio. If you notice better performing products in future reviews that have lower numbers in certain areas, be aware that the value factor is most likely the culprit. Other Audioholics reviewers may rate products solely based on performance, and each reviewer has his/her own system for ratings.
Audioholics Rating Scale
— Excellent
— Very Good
— Good
— Fair
— Poor
| Metric | Rating |
| --- | --- |
| Bass Extension | |
| Bass Accuracy | |
| Build Quality | |
| Fit and Finish | |
| Ergonomics & Usability | |
| Features | |
| Build Quality | |
| Appearance | |
| Treble Extension | |
| Treble Smoothness | |
| Midrange Accuracy | |
| Bass Extension | |
| Bass Accuracy | |
| Imaging | |
| Soundstage | |
| Dynamic Range | |
| Performance | |
| Value | |