Mirage Omnisat v2 FS First Impressions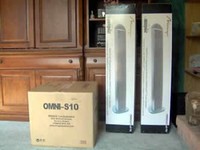 Even before you get them out of their shipping carton it's obvious these are definitely not your average box loudspeaker. Clearly Mirage have done their homework and obviously appreciate the importance of integrating performance with appearance. I can recall only a small number of speakers over the years that have consistently garnered as much praise as these have from those seeing them for the first time. As you may have already guessed, they consistently earned high Spousal Acceptance Factor (SAF) values. Industrial art is an apt description.
The packaging for the v2s is well thought out and lends itself not only to ensuring your loudspeakers arrive at their destination safely, but that they are quickly removed and ready for set up.
Included with each system is a manual, containing among other things in various languages, all the basics you'll need to know to get them setup. The v2s also come with a set of spikes, should you prefer not to use the already installed rubber feet found at the base of each tower. I would have preferred the included spikes to have been a bit longer. They feature a diminutive footprint that respects your space, especially important if you don't have lot of it. They're also 45" high, with a center of gravity found at about 20" above the base. This means that if the they're placed on a carpet thick enough to prevent the spikes from directly contacting the solid floor beneath (as is the case in my listening room), they will tend to lean a bit one way or another. A minor detail. Anyways, once out of the box, there's nothing to assemble and they're ready for installation.
Initial installation of both v2s took all of about 5 minutes. I began with the v2s approximately 1m away from the wall immediately behind them, though over time I shifted them just a bit closer to their current spot, about 2/3rds of a meter (~ 2.2 ft) away from the wall. Laterally, they're separated by about 3m (~10 ft). Unlike most of their more common front-firing counterparts, I found the they needed the wall behind them to sound their best.
Inside Look
Removing the grill cloth, then the array of 2 active drivers and 4 passive radiators uncovers an enclosure partially filled with sound absorbing material. The system's crossover network is positioned securely within the base of the enclosure and at the top is found a bulkhead separating the main tower from the two drivers showing in Figure 2. The cabling running from the network to the topmost drivers is sheathed in cloth.
The lower array features 2 shielded, active drivers and 4 passive radiators, identical in appearance. Loudspeakers employing the passive radiator approach function similarly to vented systems, with a few advantages. Passive radiators are a great choice where cabinet space is at a premium. Arraying the driver/radiator collection vertically helps promote broad horizontal dispersion.
Set-Up
As mentioned earlier, it took all of about 5 minutes to get both v2s out of their shipping cartons, located at their initial positions within my listening room and wired in to the system upstream of them.
The v2s sport the usual gold-plated 5-way binding posts located on the bottom of the cabinet, just above the base on the back. Owing to the location of the binding posts, you pretty much need to be looking at them straight on at set up time. You might want to try wiring them up prior to setting them in their upright position as it's easier to see where the cable/connector is going. Otherwise, if upright, you'll likely end up spending time on the floor thinking there's got to be a better way of doing this