Krix Phoenix Setup and Measurements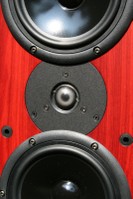 Attaching the spikes was an exercise in frustration, not because they were hard to attach, but because they were nigh impossible to level. If Krix had used a spike with a stopping point for the adjustment nut (instead of a nut that screwed all the way off the spike) I could have had a universal starting point. Instead I had to just eyeball it (never good enough for audio tweaker types). There are no rubber feet so I'm not sure what you are supposed to do if you want to place these speakers on tile or hardwood flooring. I've got carpet so that wasn't a problem.
The first thing I did was experiment with placement. I always place review speakers a minimum of 2.5 feet from any wall so I removed the port plugs as suggested by Krix. This turned out to be a mistake. As you'll see later, the Phoenix are a very bass heavy speaker and I'm not sure how large an auditorium you'll need to place them in before you decide that you don't need the port plugs. I recommend using the port plugs regardless of placement or room size. With the speakers pointed straight out, I was getting a decent center image and wide sound stage. I next tried them pointed directly at me. This compressed the width of the soundstage significantly without an appreciable benefit to the imaging. In the end I decided on a very slight toe-in (like a couple of degrees). You'll definitely want to experiment in your own room though. Overall, the off-axis response of the Phoenix seemed very uniform which will give you a very large sweet spot and make placement very easy.
Measurements & Testing
Using the Sencore SP395A FFT Audio Analyzer and a Sherbourn 2/75B amp, I measured the Phoenix's in-room on and off axis frequency response with 1/12th octave resolution with the port plugs in. Generally, what you do when you measure a speaker is look for the conversion point. This is the point where the speakers measure the best. It usually find it a hair below the tweeter. Generally, this is also very near ear height when seated. Thinking that the Phoenix's were voiced differently, I initially thought to make my measurements at ear height - just above the center of the top woofer. I quick glance told me that these measurements were so poor that I had to rethink my strategy. The high end was boosted and the midrange was dropped very low. Fiddling with the mic position for quite some time, I determined that the Krix Phoenix did indeed give me the best measurements just below the tweeter. I'm not sure what was the design goal behind this.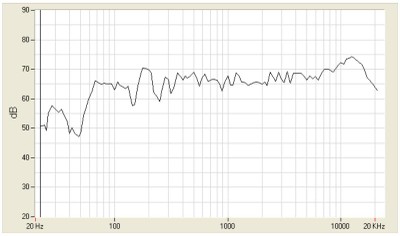 Phoenix 1 Meter Frequency Response (1/12th Octave) On Axis
(note - this is not a 1 watt measurement and is not intended to show efficiency)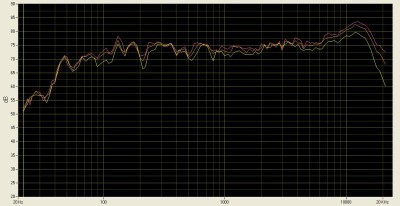 Phoenix 1/2 Meter Frequency Response (1/12th Octave)
Pink - On axis, Orange - 15 degrees off axis, Yellow - 30 degrees off axis
Disregarding the graph below 200Hz (due to in-room measurement inaccuracies) the on axis frequency response looks fairly linear with the exception of about a +5dB bump above 6kHz. They do exhibit a very uniform off axis response. As you can see, the upper end is voiced very high, likely intentional since the tweeters are so low to the ground. This makes for a bright speaker, especially when pushed hard. With the port plugs out, the bass is also accentuated which subjectively makes the boosted treble not so noticeable but further emphasizes an unnaturally recessed midrange. If you want to know what the other graph looked like, just think of the old "smiley face" V curve with EQ's.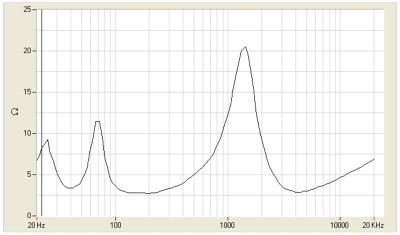 Phoenix Impedance (port open)
The Sencore consistently measures speakers about 1 ohm lower than they actually are. There is an impedance minima right around the 40Hz tuning frequency. The Phoenix present a fairly easy load that will work with most mid-fi receivers (even though it does dip into the 4 ohm range). Increased amplification would probably be appreciated for those with larger rooms.
WmAx posts on October 28, 2008 10:35
Another 'pro', is that with that large super resonant cabinet, if you lose your bonga drums, you can simply use these as a temporary substitute.

That ever-rising treble should compensate nicely for 75+ year old men with severe hearing loss. The Krix seems to have been designed with such people in mind!

-Chris
fmw posts on October 28, 2008 07:53
I remember when krix were for kids. Maybe that was trix.
davidtwotrees posts on October 28, 2008 06:35
Nice review. Man, for 1700 clams you'd want more performance. Are these speakers geared towards rap, hip hop and bass heads in general? I'd also be interested in the BeoLab test disc.........it isn't offered on the B & O website......it'd be nice to see you review the B&O speaks that the audio critic raved about, too..........
Epetrone posts on October 27, 2008 19:26
I have read a few times where people use this CD to test thier setup. Where can I find it. I search on Yahoo does not return any results for a CD.

Thanks in advance.
gliz posts on October 27, 2008 14:20
the "cons" list is a tad long for $1700, but the look great