F-30 Setup, Listening Tests and Conclusion
Placing the F-30 Tower speakers up front, I set them up to face straight ahead, about 10 feet apart, and with no toe-in. This is the preferred placement for a pair of Klipsch speakers and it typically yields excellent stereo imaging and a nice wide soundstage in my reference listening space. The subwoofer was actually remarkably easy to place. While I'd typically recommend our Crawling for Bass method of subwoofer placement, knowing the room's modes makes it easy to swap out one sub for another and know how it will react with the room. Given this, we placed the subwoofer about 1/4 of the length of the wall on the left side and set the level using an SPL meter and a Rives Audio Test CD. While I like to use this CD to get a baseline, I also feel it's perfectly acceptable to raise and lower the level of the subwoofer to taste, particularly when jumping back and forth between movies and music listening. If you have an AV receiver that lets you set a different subwoofer configuration based on the listening mode, this is even easier to accomplish.
Having set up the tower speakers, we then positioned the center channel C-20 on a stand and placed it between the F-30s, being careful to aim it vertically at the listening position, which it did pretty well on its own. The surrounds, we positioned at the rear of the room, about 12 feet apart and facing forward so that the dual 1" aluminum tweeters could fire both into the room and also at the side walls for a more diffuse surround sound experience. We used stands, but it seemed a simple matter to mount them on the wall if desired.
Listening Evaluation
For our listening tests, we started off where any sane person would - with a bass-heavy soundtrack that would shake the house if played accurately and to its potential through the Klipsch Synergy F-30 Tower system. While the speakers sounded excellent on their own, with remarkable bass reproduction well into the stated 30's given by the specs, we performed all listening tests in two different modes. First we checked out the F-30 towers in stereo mode with no sub, listening exclusively to music. Then, however, we let it all out by listening as a full 5.1 system with the C-20, S-20 surrounds and the SW-110 subwoofer. Together, this made for a very impressive home theater and multi-channel audio experience. Each listening session we documented will indicate multi-channel or stereo). First up were some multi-channel music tracks (we listened to a LOT of music, but these are but a few documented listening sessions to give you a feel for how we personally experienced the towers).
DVD-A (multi-channel): Beatles Love


I literally fell in "Love" with the Beatles DVD-Audio disc of the same title. This is essentially the 5.1 soundtrack to the Cirque de Soliel show in Las Vegas. We attended the live show and the multi-channel remix of these Beatles greats is simply amazing. Sitting back I queued up the first track "Because" and settled in to the exceptional imaging of McCartney and Lennon's vocals as they oozed out of the left and right F-30 speakers. "Get Back" was next and it, too had phenomenal imaging, with a really pronounced electric piano that brought me back to Vegas and the live show. Ringo's drums sounded excellent and the strings in the following track, "Eleanor Rigby/Julia" absolutely floored me with just how live they sounded. The doubled vocals were also spot-on, with a midrange clarity that surprised me, given the price of these speakers. I felt that male vocals in particular had a full sound that was realistic and lacked that boxy tone that often accompanies loudspeakers that don't focus enough on the midrange clarity. The tweeter also surprised me every time a reverberant cymbal crash had that extended decay we look for. There wasn't a lot of compression to be found and these speakers didn't sound overly bright, which I've experienced with past Klipsch products.
CD (stereo): Blues Traveler Four


Blues Traveler is an old favorite of mine, and we weren't disappointed when we queued up some tracks like "Run-Around", which proved to have a nice, firm kick that traveled through the floor to our feet when we cranked it up. That's the kind of bass that lets you know you're hitting those frequencies that matter - something not commonly achieved with inexpensive tower speakers like the F-30's. This album just kept getting better and better and by the time we got to "The Good, the Bad and the Ugly" we were jamming to the tunes and almost forgot we were supposed to be taking notes and doing a review. This track had a driving beat that really rocked our listening room and the wide image of the guitar and drums was impressive. I love when drums are panned across the entire soundstage, or placed in a particular non-centered position, and this track in particular is a great one to check out the soundstage and imaging of a system. The Klipsch passed with flying colors and we felt it actually performed above and beyond its price point.
CD (stereo): Christine Dente (Out of the Grey) Voyage - Journey of Prayer


One of my favorite Christian artists is Christine Dente. Her husband, Scott actually writes reviews for us from time to time and I find their music well-written, well-engineered and full of lots of interesting instrumentation that's wonderful to use for listening tests. The mastering on their latest album is also such that it's not overly compressed. You can hear the beauty of Christine's largely unprocessed voice in "God All Sufficient" and the bass guitar rolled smoothly into the room, being punctuated precisely and accurately by the SW-110 subwoofer. This was a beautiful song to listen to, and the solo piano and snare drum had a soothing and subtle reverberance that revealed the dynamics of the track. In "The Valley of Vision" we were treated to a more synthy treatment that brought in some unique percussion and keyboard sounds which transformed the soundscape into something that made great use of the F-30 System's wide soundstage. The processed guitar which then appears in the right channel was surprisingly distinct and punctuated and the song overall remains one of our favorite test tracks for its varied palette of musical qualities and instruments.
Xbox 360 (multi-channel): Gears of War 2, Rock Band 3


Games are a different beast altogether with respect to listening tests, but we felt it only fair that we queue up one of our favorites and see how well the Klipsch F-30 Tower system did with multi-channel directional sound. And what better favorite than Gears of War 2, one of the best games we played last year. During this game there are plenty of opportunities to hear point-source effects and dialogue from each of the speakers in a surround system. And if you want to really enjoy the experience, you just keep moving and spinning to allow the audio to literally encompass the room in a swirling vortex of music, dialogue, machine gun fire and alien attacks. The F-30's horn-loaded tweeters seemed to really take to gaming, and we found that it was super-easy to pinpoint the locations of even off-screen action (which saved our virtual hindquarters on more than one occasion). In one scene, we really loved how running around on a transport and shooting the Locusts on the other side.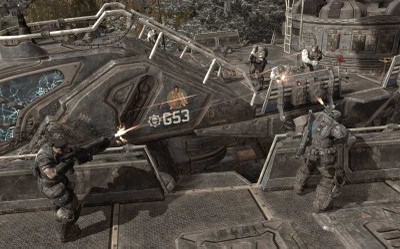 With another favorite game of ours, Rock Band 3, we play this every Monday night and using the F-30 Speaker System was a chance to check out the front soundstage as well as the crowd ambiance (which kicks in when you start to really have a team of players that drive up a higher performance score). We found that the Dolby Digital soundtrack really made good use of the F-30 tower speakers and the C-20 center channel. If you've never rocked out with a 100-inch screen and a full 5.1 system, the Klipsch F-30 Home Theater Speakers may just cause you to reach quickly for your wallet.
Blu-ray: Dave Matthews & Tim Reynolds Live at Radio City


Listening to the Klipsch F-30's with the C-20 and S-20 surrounds was extremely satisfying on gaming and the movies we watched, but hearing this intimate, guitar-driven concert with Dave Matthews and Tim Reynolds was really amazing. On "Bartender", Dave's vocals were transfixing, and the separation of the guitars was so beautiful, spilling into the room like music that couldn't be contained to just the front soundstage. The result was a true musical environment that recreated a live feel. Having been in Radio City, the sound in my room brought me back to that legendary music as I lost myself in the full, robust mix. All of this might sound like so much hyperbole, until you realize that everything you are hearing - the raw material for the experience - is just two guitars and Dave's voice. Given that, the entire 5.1 mix is nearly ALL environmental, and that is a very unique set of parameters for a Blu-ray Disc surround mix. This is a disc that everyone should pick up and add to their collection if they want to test their room and surround system's ability to recreate a truly live environment. In "Stay or Leave" the stereo guitars once again presented a unique listening experience that ran from front to back and the ability to locate the instruments in the soundstage was easy - which is what made this system sound so "live". The whole album was this good and it was easy to let half the disc go by before I remembered I had more work to do!
Conclusion
I think Klipsch has made a system that is just as enjoyable for music as for movies - a rare find and recommendation at this price point. It does require a subwoofer for a truly complete sound. The F-30's on their own didn't strike me as full and low-reaching as I'd like. Paired with the SW-110, however, and the system came alive. Klipsch makes other subs, but the one reviewed here was at least particularly good - especially with this system. If you set up this system well, you're going to find that it really gives a good sound, in both stereo and full surround configurations. We liked the way the surrounds presented themselves, and the center channel was clear and did well for movie dialogue. About the only negative was the finish, which was sub-par in our opinion and a place where Klipsch chose to go with a more conservative look and approach (though they broke up the look with innovative feet and plastic accents). The sound, however, is anything but plain. This is a great system, and one that competes well with other systems available on the market today.
Klipsch F-30 Home Theater Speaker System
$2360
Klipsch Group, Inc.
3502 Woodview Trace, Suite 200
Indianapolis, IN 46268
800-544-1482
www.klipsch.com
About Klipsch
Founded in 1946 by Paul W. Klipsch, one of America's most celebrated audio pioneers, Klipsch® has long been a high-end name in loudspeaker design. Today, the brand continues its success as a leading global manufacturer of premium sound solutions for home, personal and commercial use. From massive professional cinema speakers to tiny headphones, Klipsch remains committed to delivering the most powerful, detailed and emotional sound experiences. Family owned and operated, chairman Fred Klipsch and vice chairman Judy Klipsch set the vision and strategy for the brand as well as the entire Klipsch Group, Inc. organization.
The Score Card
The scoring below is based on each piece of equipment doing the duty it is designed for. The numbers are weighed heavily with respect to the individual cost of each unit, thus giving a rating roughly equal to:
Performance × Price Factor/Value = Rating
Audioholics.com note: The ratings indicated below are based on subjective listening and objective testing of the product in question. The rating scale is based on performance/value ratio. If you notice better performing products in future reviews that have lower numbers in certain areas, be aware that the value factor is most likely the culprit. Other Audioholics reviewers may rate products solely based on performance, and each reviewer has his/her own system for ratings.
Audioholics Rating Scale
— Excellent
— Very Good
— Good
— Fair
— Poor
| Metric | Rating |
| --- | --- |
| Build Quality | |
| Appearance | |
| Treble Extension | |
| Treble Smoothness | |
| Midrange Accuracy | |
| Bass Extension | |
| Bass Accuracy | |
| Imaging | |
| Soundstage | |
| Dynamic Range | |
| Fit and Finish | |
| Performance | |
| Value | |

solarux posts on November 21, 2012 12:24
Hey all, thanks for the tips here.
I finally exchanged my (Klipsch) KW-100 with an SW-112 subwoofer to better match my pair of Klipsch Synergy F-30's,
...and the difference is audibly noticeable. <- jaw-dropping !
I also heard an SW-110, and I'm confident it too could have easily done the job, but since I'm just running a "2.1" setup right now, the SW-112 and the Marantz CD6004 was the affordable limit, it all fit the bill nicely, for now.

The previous "KW-100" paired with the "F-30's" was just a bad package deal from BB (BestBuy), but that was my fault, haha, but thats ok, I'm learning quick about sub's.

I also tried setting my Yammy RX-V661 manually to:
Front -> "Small"
(sub)Bass Out -> "Subwoofer only".
...but that only seemed to hold back the F-30's a bit, for some reason ?

Instead, Front -> "Large", and (sub)Bass Out -> "Both" on the Yammy, provided the best sound for us.
- definitely gonna try and get a "YPAO" mic to help balance our rooms though.

No doubt, there is even bigger and better out there, but right now, for wifey's Opera, and our Jazz, and Blues, we have NEVER had it so good, sound-wise.

solarux posts on November 20, 2012 12:27
markw;924973
For what it's worth, we have a "rickster71" posting here for several years now and your moniker could easily be confused with his. Since you're new and have only a handful (literally) of posts, i thought you might want to know that.

just sayin'
nope, I'm just another new kid on the block, forum-wise, here that is.
solarux posts on November 20, 2012 12:24
shadyJ;924967
Hey Rickster, if you can swing up to the Klipsch Sw-115, that would be a far more formidable subwoofer. Its something to look into, anyway.
I hear you bud, and I'd luv to, but "could" is the word money-wise at this point, unfortunately, but we'll see,
EDIT: geeezus, they're well over a $1000.00 here (in Canada) ?! - ouch.
haha.
markw posts on November 20, 2012 12:15
For what it's worth, we have a "rickster71" posting here for several years now and your moniker could easily be confused with his. Since you're new and have only a handful (literally) of posts, i thought you might want to know that.

just sayin'
solarux posts on November 20, 2012 12:08
agarwalro;924678
Maybe the recording does not have the kind of bass you are expecting. Do you get the desired slam when playing techno or movies known to have good LFE use?
Hi,
and sorry to keep you guys off-topic here, but ya, I was trying a few different bass-filled CD's as well as downloading/burning some extremely heavy bass mixes, and it felt/heard like the KW-100 couldn't quite keep up with the F-30's, they felt like they were clipping/flapping ? -sry for the poor adverbs here.
Then again, I just feel (and recently learned) that the Sub-woof should just do its job (for the below (~80 <- 100 Hz), only when it's needed, and not sound like it's "clipping" just to keep up with my (Klipsch) F-30's ?
Now, could it be the way my Yamaha RX-V661 Sub-woof out feeds the LFE/in on the KW-100 sub-woof ?, - is it bad?, I dunno?.
So, I'm doing what I think is best at this point, (since I don't have a "YPAO" for AUTO sound alignment), by throwing a hopefully "better" sub at it, (Klipsch SW-112), and hear it all again, and again, and again, ...
Gawd, I guess I'm just throwing money at it, which I agree, is a bad way to "...process of elimination..."