Klipsch Icon V Setup and Measurements
I set up the VF-36's on either side of the Diamond Case Theater Tech TT-400 Credenza, the center inside, and the surrounds on the StudioTech Ultra-30 stands on either side of my couch. The Synergy Sub-12 took the place of the Axiom EP-500 to the right side of the right main speaker. Most of the system was powered by my Denon AVR-2307CI with SeymourAV 500 watt ICE Block 5001 monoblocks powering the mains. A Denon DVD-3910 universal player did source duties with cabling from Impact Acoustics and Blue Jeans wiring everything together. I set the mains to Large, crossover (which is global on the AVR-2307CI) to 80Hz, and the sub to LFE only.
The Klipsch mains had replaced a set of Salk SongTower QWT's and the center replaced the RBH TK-5C center channel. The first thing I noticed was that I barely had to adjust the calibration on the Denon for the new speakers. The Salks are rated at 88dB efficient while the Klipsch are rated at 97dB. I should have had to make more than the 1-1.5 dB adjustment that I ended up making. This was true for the center and surround channels as well. I was puzzled as the Klipsch speakers didn't seem to be as efficient as indicated in the specifications.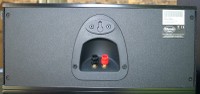 Given that the center and surrounds are sealed, placement of these speakers was pretty easy without having to worry about blocking a rear port. It seems as if Klipsch has designed these to work well near boundaries. I didn't notice any bass bloat from the in-cabinet placement of the center. The rear port on the sub indicates that you should probably not butt it against a wall and I had it placed about two feet away from the back wall and over a foot from the side wall. The front port on the towers should make placement a bit more flexible in relation to walls though I still recommend pulling them away if possible. In my setup, they were no nearer (and generally quite a bit farther away) than 2 feet from any wall.
I played with toe-in of the mains quite a bit. With the mains pointed directly at me, imaging was tight though the soundstage was constricted. Highs were dynamic if a bit fatiguing. Pointed straight forward, the soundstage was wider but the center seemed a bit thin. I ended up with a very, very slight toe-in (like 2 degrees). This thickened up the center of the soundstage. Overall, these speakers seemed very easy to place and imaged well in most any orientation.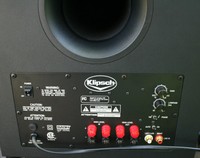 The Synergy Sub-12 is not really part of the V series so I'll deal with it separately here. The sub has an LED on the front that shows when the sub is active (blue) or in standby (red). There is a switch on the back for On or Auto. I really had a hard time with this sub as it would go in and out of standby mode at the oddest times. There were plenty of times when it would come out of standby when there was no more discernable bass than moments before and would go in when it seemed it shouldn't. I tried increasing the gain on the receiver's sub output but to no avail. I'd suggest leaving it on all the time and manually turning it off when you know it won't be in use for a while.

The sub itself is fine for a $500 sub but didn't really strike me as a great all-around performer. At first I set the mains to large and the sub to LFE+main. With some content this was OK but for much of it the sub made the lower midrange/upper bass sound muddy and ill-defined. In the end, I had to relegate the sub to LFE duties only. Output was fine with the sub though I've definitely had more tactile experiences. I hope that the Icon V series offering will be a step up from the Synergy Sub-12.
Measurements & Testing
For laboratory measurements I used the Sencore SP395A FFT Audio Analyzer and a Sherbourn 2/75B amp, I measured the VF-36's in-room on- and off-axis frequency response with 1/12th octave resolution. Klipsch is one of those manufacturers that never provide frequency response graphs for their speakers. That being said, I was curious as to what I would find.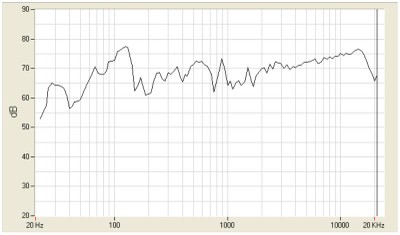 VF-36 1 Meter Frequency Response (1/12th Octave) On Axis
Note - this is NOT a 1 watt measurement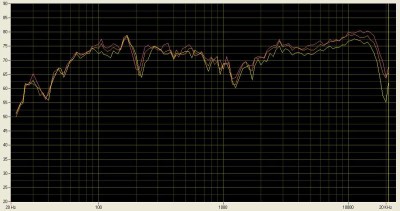 VF-36 1/2 Meter Frequency Response (1/12th Octave)
Pink - On axis, Orange - 15 degrees off axis, Yellow - 30 degrees off axis
Overall the frequency response of the VF-36s were fairly linear aside from a slight dip in the lower midrange response which seems almost deliberate to give the speaker a more boom and sizzle sound that would lure people into a noisy showroom floor. Given the woofer alignment, some of the dip could also be attributed to driver lobing with respect to the distance of the mic. I suspect the frequency response will flatten out further towards the listening position.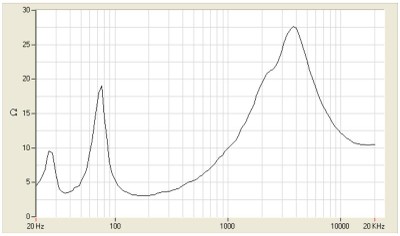 VF-36 Impedance
The Sencore consistently measures impedance one ohm low. These speakers are roughly 6 ohm which Klipsch rates at 8 ohms probably do to their above average sensitivity. They should be an easy load for virtually any decent A/V receiver to drive them. The low pass and high pass aren't as well integrated as they could be, but it could be deliberate depending on the individual driver responses to achieve better acoustical summation.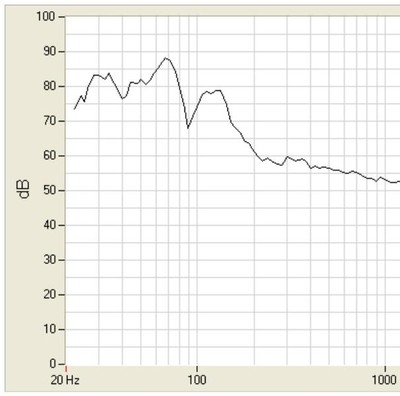 Synergy Sub-12 In-room Ground Plane Measurement
Lastly, I thought I should get some sort of idea of how the Synergy sub measured. The -3dB point seemed to be 26Hz which is close to specifications.
derrickdj1 posts on December 09, 2011 13:09
I ,have a Klipsch Icon V home theater and think these speaker are amazing. They are crisp and clear. Good tonal balance from the highs to the lows. My Pioneer SC 35 does a fantastic job on room correction to adjust the highs so the horns are not to bright. I demo these as well as the reference and Synergy line and felt this was a better value. I have a 9.1 setup using all Icon V speakers a love it. I read reviews on this speaker and they appear like movie reviews, frequently off the mark.

SC 35 avr
VF 36 mains
VS 14 front height
VS14 surrounds
VF 35 surround back
VC 25 center
AA RW 15in sub
mudrummer99 posts on December 16, 2008 23:48
Matt34;497873
That's what I don't understand, are they going to be reference replacements? Because you can get RF-82 for just about the same price and even less if you shop ebay.

I would have no qualms about having a set of Ref in my HT setup.
They are not the replacements for the Ref series, those are the Icon W's, which perform far better than the V. I just find it interesting that they are at the same price point and there is such a very pointed difference between two in quality. For my money, I'd be all over the Ref.
bandphan posts on December 16, 2008 18:05
IMO creating private labled lines to drive profits lowers qc and creates a mariage that is broken between the factory and the retailer and very rarley works out in the long run. This model may work for say the furniture industry but not for higher end audio.
abjonesiii posts on December 16, 2008 17:51
Matt34;497873
That's what I don't understand, are they going to be reference replacements? Because you can get RF-82 for just about the same price and even less if you shop ebay.
It is peculiar to say the least. You can't blame Klipsch as a company though for pairing with best buy to put out a speaker line. In fact its quit genius. Companies like Paradigm, B&W, and other require a visit to the specialty shop where as Klipsch is positioning themselves to be in the face of anyone shopping for electronics because lets face I say "electronics" most people think "Best Buy".
My only hunch would be that in the push to capture huge market share that BB can deliver Klipsch does not want to put its own Reference line out to be smeared. Most audiophiles will likely dismiss any speakers available in a big box store as high profit low quality knock offs for the mass public. IMHO the RF series can hold its own (I own RF-82's) The possible poor rap the company's premier line could get for just being perceived as cheap just for being on the big chains shelf is worth making a whole new line to prevent.
Just my thoughts.
irishtom posts on December 16, 2008 15:05
I don't understand the notion expressed by the reviewer that a speaker not good enough for music is good enough for movies. The scores of movies like Ben-Hur, South Pacific, El Cid, West Side Story and Lawrence of Arabia is certainly worth being reproduced in the best manner possible.

Now maybe a mediocre speaker is adequate for reproducing the car crashes and bombastic surround sound of the latest "hero outrunning an explosion" movie but not for reproducing the sublime work of Rozsa, North, Elmer Bernstein, Tiomkin, Newman, Rogers & Hammerstein and others.

The reviewer also thought that the speakers in question would need a subwoofer with "all" movies. All? Do we need subwoofers for "Gone With the Wind" and "Sunset Blvd"?