Klipsch Icon V Build Quality
Too often I find myself reviewing and recommending speakers that you can only find at a specialty shop or online. My friends, like yours, don't want to go to a specialty shop and don't like buying speakers online. Frankly, I can't blame them. I've been to specialty shops where, when they aren't trying to hard-sell you speakers, they are telling you that you need esoteric cables. Online sales of speakers are a difficult prospect for an enthusiast much less a neophyte who is just looking to get a deal. The idea of having to pay shipping back or even buy speakers sight-unseen (or unheard) is just too much for many.
Klipsch worked with Best Buy to create the Icon V series of speakers. What does that mean? I'm not entirely sure. On the upside it means that these speakers will be available to nearly everybody. The downside is that Best Buy's influence and reasons behind it are a mystery. Were their design suggestions based on aesthetics and sound or were they based on maximizing profits? Regardless, Klipsch has been a big name is speakers for years. I can't believe that they'd sacrifice sound quality no matter who they partner with.
First Impressions and Build Quality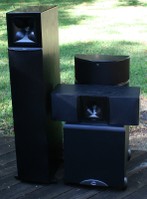 When the speakers shipped I got a note from the shipper that I had a 500lbs shipment on the way. I couldn't believe that a 5.1 speaker system could weigh so much. It had to be an approximation. Well, approximate or not, I got a shipment on a palett and a driver with a hand truck. All of the speakers were well packed with molded foam protection all the way around and included manuals. The entire package was wrapped in plastic and arrived undamaged. The speakers were all in good condition with no visible marring or scratches.
The Icon V series of speakers come in any finish you like, as long as you like black. The grills are black and for the most part do not come off without a screwdriver. Being that these are Klipsch, the only grill that removes easily is the one over the horn-loaded tweeter in the towers and center. The bulk of the speaker is wrapped in a black vinyl with a wood grain finish. The towers have a wood veneered top cap. The center has wood veneered side caps and the surrounds have wood veneered top and bottom caps. The center channel comes with a few sticky pads for placement on a shelf and the surrounds have a single keyhole bracket located just above center for wall mounting. I'd suggest some sort of additional padding on the corners to keep the speaker from making noise should they vibrate against the wall during playback. Double keyhole brackets would probably have helped with this problem. A dedicated wall bracket system could also be purchased.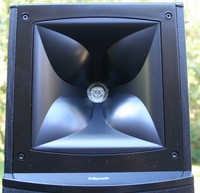 The build quality of all the speakers seems quite high with heavier than expected weight and generally low cabinet resonances (as based on the knock test). The towers have a very high mounted horn-loaded tweeter with three 6.5" woofers below and a front firing port. The center has a center mounted horn-loaded tweeter and two 5.25" woofers. The surrounds have two horn-loaded tweeters that fire out at angles with a forward firing 4.5" woofer. The center and the surrounds are a sealed design. The Synergy Sub-12 (not part of the V line of speakers, though Klipsch says a sub is on the way) has a 12" woofer and a larger rear-firing port.
Taking apart the towers, I found they were constructed out of 3/4" MDF, had two braces (1 just below bottom woofer, one near the top one), were well braced at all corners/edges, and had about 1" to 1 ½" dense acoustical foam glued to the sides. The cabinet was very heavy and seemed quite inert for this price point. In order to get the bottom grill off I needed to remove a plastic vanity plate that surrounded the tweeter. Once removed, the bottom grill slid up and off of the screws that held it in place with the help of keyhole brackets on the back of the grill. The sides of the cabinet actually extend a bit past the front baffle. The grill is of the plastic lattice variety which gives the speaker a lot of protection from impacts and prying children's fingers. The grill over the tweeter is held down with magnets of a similar (but better executed) design as the ones utilized with the Emotiva ER series speakers. While I wouldn't mind a slightly stronger magnet, the connection was strong enough that grills weren't popping off too easily.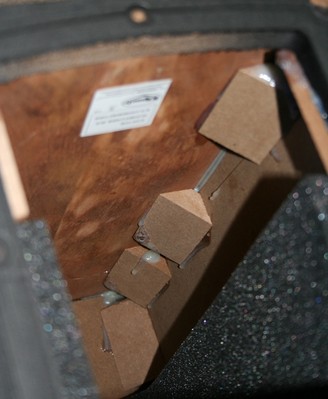 The outriggers at the bottom of the speaker look like they are indented into cabinet but they aren't. They are held in place by two screws and have a round plastic foot. This seems to be an odd choice. I expected rubber for use on hardwood floors. The feet unscrew a little for slight adjustments. While there is no reason to think that the speaker won't work on hardwood or tile (it certainly is heavy enough to make good contact with the floor), rubber feet would have made this a lot easier. Plus, rubber wouldn't have been any worse on carpet than the plastic in my opinion. There is no provision for carpet spikes. Given the audience for these speakers (Best Buy crowd) that doesn't seem to be much of a strike. The upside is that the outriggers are easily replaced if you want to install other aftermarket setups. Also, the plastic feet can be completely removed from the provided outriggers and theoretically replaced with a rubber foot or carpet spike.
The woofers sport beefy magnet structures and are shielded. The baskets are stamped (rather than cast) which is a little disappointing at this price point. The horn-loaded tweeter has a heat sink on the back and is very lightweight. The crossover is mounted directly to the plastic dual binding post housing and has average quality parts such as iron core inductors and unfortunately all electrolytic capacitors. One wonders how much better these speakers could have sounded with premium air core inductors to minimize core saturation and low ESR polypropylene capacitors instead of the electrolytics.
derrickdj1 posts on December 09, 2011 13:09
I ,have a Klipsch Icon V home theater and think these speaker are amazing. They are crisp and clear. Good tonal balance from the highs to the lows. My Pioneer SC 35 does a fantastic job on room correction to adjust the highs so the horns are not to bright. I demo these as well as the reference and Synergy line and felt this was a better value. I have a 9.1 setup using all Icon V speakers a love it. I read reviews on this speaker and they appear like movie reviews, frequently off the mark.

SC 35 avr
VF 36 mains
VS 14 front height
VS14 surrounds
VF 35 surround back
VC 25 center
AA RW 15in sub
mudrummer99 posts on December 16, 2008 23:48
Matt34;497873
That's what I don't understand, are they going to be reference replacements? Because you can get RF-82 for just about the same price and even less if you shop ebay.

I would have no qualms about having a set of Ref in my HT setup.
They are not the replacements for the Ref series, those are the Icon W's, which perform far better than the V. I just find it interesting that they are at the same price point and there is such a very pointed difference between two in quality. For my money, I'd be all over the Ref.
bandphan posts on December 16, 2008 18:05
IMO creating private labled lines to drive profits lowers qc and creates a mariage that is broken between the factory and the retailer and very rarley works out in the long run. This model may work for say the furniture industry but not for higher end audio.
abjonesiii posts on December 16, 2008 17:51
Matt34;497873
That's what I don't understand, are they going to be reference replacements? Because you can get RF-82 for just about the same price and even less if you shop ebay.
It is peculiar to say the least. You can't blame Klipsch as a company though for pairing with best buy to put out a speaker line. In fact its quit genius. Companies like Paradigm, B&W, and other require a visit to the specialty shop where as Klipsch is positioning themselves to be in the face of anyone shopping for electronics because lets face I say "electronics" most people think "Best Buy".
My only hunch would be that in the push to capture huge market share that BB can deliver Klipsch does not want to put its own Reference line out to be smeared. Most audiophiles will likely dismiss any speakers available in a big box store as high profit low quality knock offs for the mass public. IMHO the RF series can hold its own (I own RF-82's) The possible poor rap the company's premier line could get for just being perceived as cheap just for being on the big chains shelf is worth making a whole new line to prevent.
Just my thoughts.
irishtom posts on December 16, 2008 15:05
I don't understand the notion expressed by the reviewer that a speaker not good enough for music is good enough for movies. The scores of movies like Ben-Hur, South Pacific, El Cid, West Side Story and Lawrence of Arabia is certainly worth being reproduced in the best manner possible.

Now maybe a mediocre speaker is adequate for reproducing the car crashes and bombastic surround sound of the latest "hero outrunning an explosion" movie but not for reproducing the sublime work of Rozsa, North, Elmer Bernstein, Tiomkin, Newman, Rogers & Hammerstein and others.

The reviewer also thought that the speakers in question would need a subwoofer with "all" movies. All? Do we need subwoofers for "Gone With the Wind" and "Sunset Blvd"?