Energy Veritas V-6.3 Set-Up & Listening Tests
Careful experimentation with location to determine just where the best spots are located within your listening space is pretty much essential if maxing the performance of your system is a priority. Walk the room while speaking and have an accomplice (seated in the main listening position) listen. Usually the preferred locations, known as "zones of neutrality" will reveal themselves quickly. These zones, represent carefully chosen compromises that best support the speaker by acoustically interfering with it the least. Once the zones are located, fine tuning their location can further focus the acoustical image generated by the speakers. For this review, the V-6.3s ended up being located 8' apart, 3' in from the back wall and 2.5' in from the side wall. They were auditioned both toed in (focused at the main listening position with a laser pointer) and pointed directly at the back wall
All listening tests were conducted both with & without a subwoofer in two-channel configuration with the V-6.3s set to "large" or "small" as appropriate in the A/V receiver's (Denon AVR-3806) bass management. Other gear used included a Toshiba HD-A35 DVD/H-DVD player, a Hafler DH-500 stereo power amplifier, a pair of custom built subs and the AVR/V-6.3s connection was handled by some ordinary 10-ga speaker cable.

CD: John Serrie – And The Stars Go With You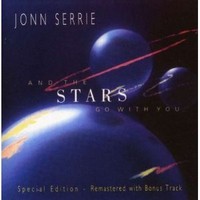 So what have we got here? Sequencers, string synths and soaring comet-tail reverb galore. And a series of masterful compositions by John Serrie, working out his grief over the Challenger disaster. His connection with that moment in history? NASA had commissioned Serrie to write music for the "Teacher in Space" program back in 1985. Hmmm… From this difficult time came "And the Stars Go With You", a milestone in the "Space Music" genre.
The V-6.3s displayed remarkable clarity and clean character of their sound that was immediately apparent during the earlier recreational listening sessions. The V-6.3s play very, very clean. "Balance" is another word that comes to mind when describing the 6.3s. For example, with detail, too little and everything tends towards the muddled; too much and everything tends towards the gritty or glarey. The 6.3s have a very obvious talent for sitting midway between the two extremes. As one listener commented who just happened to walk in while I was listening to some well recorded baroque music: you can almost see the strings"! A very apt description.
Tonally speaking, location and orientation (in relation to the listening position) play a key role in how the 6.3s will sound. Toe them in and experience a gentle upward slope of the systems response, starting around 3 kHz or so. Point them directly at the back wall and the previously audible upward sloping response presents a flatter acoustical picture.
With the Serrie CD, the 6.3s opened up a huge sound stage that made the CD ever more engaging. I suppose if you're composing tracks dealing with outer space you need a big soundstage, too. Anyway, with the V-6.3s, said soundstage easily extended beyond the boundaries defined by the left & right location of the speakers. If you're in the mood for Space Music, "And the Stars Go With You" is a CD worth listening to. The bass response, as good as it is within its range, has its limits. If you're a devotee of acoustical instrument recordings the V-6.3s will provide for a very satisfying, involving listening experience. But beyond that, such as, say, new-agey space music with lots of bass synth content and a sub (or two if you like), is a must.
CD: Trilok Gurtu - The Trilok Gurtu Collection
Ever hear of Trilok Gurtu? I hadn't either when I picked up this CD. As a matter of fact, I was looking for something else that particular day, but when I read the cast of characters responsible for this album, I bought it: Nana Vasconcelos, David Gilmore, Pat Metheny, Don Cherry, Joe Zawinul and so forth each contributed their individual talents to this album.
The music is complex, very percussive, well recorded & produced and a veritable sonic obstacle course that will put any loudspeaker through its paces. On a side note, if you are a Metheny fan you'd probably want this CD in your collection.
The V-6.3s were able to present a very stable, well focused soundstage, while maintaining the integrity of the percussive aspects of the compositions throughout. For example, the toms are often arrayed across the soundstage, clearly enough you can point to where they're located in space, each played with a very clean snap that never got lost in the musical currents of whatever instruments shared the stage. The V-6.3s often revealed much about the placement of instruments and mics in ways that you'd expect from high-end studio monitors. Much of this I would attribute to the low-distortion capabilities of the drivers.
The V-6.3s also excelled in how well they consistently revealed all the low-level detail in the tracks that, frankly, a lesser speaker would have missed. This is one of those albums so rich in detail that you really need to be seated in front of a quality playback system to fully enjoy it. I hadn't listened to this album in years, so it was a treat to relisten, played back through the V-6.3s. I enjoyed listening to the musical complexity of this album so much I found myself pushing the gain to realistic playback levels. The V-6.3s reproduced the percussive dynamics of each track surprisingly well; they didn't seem to mind being played loud at all Nice!
See also:
rsnook posts on September 22, 2012 20:30
I have had a number of high end speakers since the late 1970s. There are some that are great others so so, none bad. I have been using the new Veritas line for about a year now and they just get better and better(as a previous poster alluded). Removing them right from the box and auditioning them is problematic. Breakin time is a must, having said this, it is not the only thing that is needed to maximize the sound experience. Placement of the units and the ability to adjust frequency and other fine tuning through the pre- amp adds to the listing pleasure. In the end, I believe, this line of speakers are among the best out there even comparing to those outside their price point. With varying listening preferences some will agree and others will ponder.

I am concerned about the future of energy speakers and the veritas line. The company is twice removed from its origional standards with the lastest sale to the new owners, Audiovox. The veritas line is experiencing a clearout in the US and remours in Canada is that it will be discontinued as well in an attempt to concentrate on more mass appeal lower priced speaker system.
TulsaSKD posts on June 19, 2012 16:00
Has anyone heard the Energy V6.2? Its the 2 1/2 way version of the V6.3 and cant find any pro reviews at all. Would the extra midrange matter all that much in a home theater room?
Dasanii19 posts on June 18, 2012 08:35
I couldn't disagree more. I think the 6.3's sound and looks 100x better then the RC70's. The even sound better after 100+ hours of break in time.
Plexihead posts on May 06, 2012 10:23
PENG;870761
I predicted that the 2.2i would impress you. Back in 2004 (or 05) I auditioned the Arcam AVR300 driving a pair of 2.2 (not 2.2i) as well as some big PSB. I ended up buying the 2.3i thinking that my next step would be to trade in my Denon 3805 for the Arcam. I was wrong, it was the 2.2 that produced the sweet sound so I gave up on those so call high end warm sounding electronics myths. Back to the 6.3, I listened to them in Futureshops a few times and I thought they sounded similar to the RC70 and much better than any Klipsch they had on the floor. Futureshop is not the right place for any sort of listening tests but I would think that if they sounded as bad as you described them I should have noticed. The fact that they are made in China is actually good news, in the sense that it can explain why the dealers can offer such deep discounts for them. Many made in China products today, such as Apple's, Marantz, PSB are actually quite solid, most likely due to tight quality control systems implemented and monitored by the owners here in North America. Even some higher end speakers such as the Paradigm Signatures had some of their components made in China and assembled in Canada. Give it another 10-15 years, if and when the labor costs catch up with us here (Think Japan), you will see that people will move manufacturing to other developing countries, or back home. Anyway, good luck to your search for the 2.3/2.4i, but you can always go for plan B by simply adding a quality sub and be done with it.
Unfortunately they do sound as bad as
Mark 471
stated, actually in my time with them I felt they were even worse
In already owning the RC-70's I thought I'd upgrade to the 6.3's. Purchased a pair and put my 70's up for sale, well that would've been a mistake. The 6.3's look amazing, the gloss over rosenut and their dimensions made them visually stand out over that of my black ash 70's... but I did not like their sound. Since I had 30 days, I tried to break them in as much as possible to hopefully get them sounding right. They were wayyyy too bright and fatiguing, the sibilance was very noticeable. They also have no where near the amount of bass response as the 70's, there was no low end punch, very disappointing. They might be ok for movie surround with a couple of good subs, but for 2-channel music listening they were terrible... if you wanted to crank up the tunes ear fatigue would quickly set in, they were actually irritating for 2-channel music (which is what I would use them for the most).
In the end I regrettably (looks wise) took them back, hooked my 70's back up and immediately thought, now that's better. Are the 6.3's revealing, absolutely, but to a fault, and the low end was strangely subdued, I found the 6.3's to be not a pleasant listening experience.
ack_bak posts on March 12, 2012 10:43
FYI, Klipsch is owned by Audiovox now. That sale completed last year. So Auiovox is now the parent company for Energy as well.