Impression Series Listening Tests and Conclusion
I always do two things immediately when I start the listening tests of a new set of speakers - I pop in the Rives Audio Test CD II to test out usable bass in my room and I do a comparison with reference speakers. While manufacturers love to give specs for their speakers, they often will "tweak" them to make the speakers look a little better on paper. Frequency response is one of these. The question you should be asking yourself is, "At what volume?" Sure, a speaker might dip very low but the output might be equally as low. The E5Tis claim a low point of 50Hz. With the Rives CD, I was getting good strong output down to 40Hz and maybe a bit more. This is exactly what I expected from an EMP offering as they are often conservative with their specs.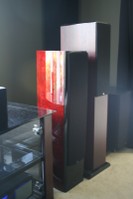 The obvious choice of reference speakers to pit against the E5Tis are the RBH TK-5CTs (discontinued). These speakers retailed (way back in the day) for a bit more than the MSRP of the E5Tis (when I reviewed them they were around $900). They were rebadged under the EMP and Destination Audio labels for a similar price as well. While there is about a $170 to $200 price difference, the comparison seems apropos. You'd expect the RBH TK-5CTs to outperform the E5Tis (at this price point, $200 is quite a difference) but the comparison to be apt. The speakers are really as different as night and day. While the internal volume might be similar, the TK-5CTs are tall and skinny while the E5Tis are short and fatter. The TK-5CTs have a single tweeter, two (yellow, ugh) midranges, and a side firing woofer in essentially at rectangular box wrapped in vinyl. They have a gloss black top and a large base plate for added stability. Frankly, the TK-5CTs have always struck me as ugly (and I said so in my review). The only real advantages the TKs have over the E5Tis is that they are more stable and the tweeter is higher. The E5Tis look much better overall and have a greater aesthetic appeal.
Sonically, of course, looks matter for very little. Just because a speaker looks like a million dollars doesn't mean it sounds all that fantastic (even if you did actually pay a million dollars for it). I played a few CDs including Yello's The Eye which has some fantastic material for determining bass response, imaging, and movement between speakers. There were some very definite sonic differences between the two speakers which was somewhat surprising to me. I've tested a number of RBH/EMP offerings and they've generally sounded very similar. The E5Tis seemed to have a very full sound (some might call it laid back) likely due to the bump around 100Hz. The midrange felt very uniform and flat and the high end was sufficiently detailed. When I listened to the TK-5CTs, I thought they felt thin in comparison at first. They didn't sound as resonant. A number of A/B switches later and I ended up thinking that the RBH TK-5CTs had a more detailed overall presentation. They sounded "quieter" which is a quality I value. I felt the TKs were better able to present the music uncolored while the E5Tis seemed to resonate more. It's a hard thing to describe adequately in words. If you were to hear it, you'd know what I was talking about.
While I preferred one speaker over the other, this represents my personal preference and not an absolute statement of quality. Both of these speakers are quality, they just have different sonic profiles. At this price point, I'd expect little less. With cost-no-option speaker offerings, the differences between speakers should (theoretically) be small. But with lower cost speakers, compromises have to be made and these compromises generally have sonic repercussions. While both speakers seemed to have similar bass depths, the overall bassy presentation of the E5Tis seemed slightly muddier than the TK-5CTs. Depending on your musical preferences, you might very well prefer the E5Tis. While I think they are a very good sounding speaker (especially for the price), I preferred the TK-5CTs.
BD: Diana Krall - Live in Rio

You might be wondering what a Blu-ray disc is doing in a stereo review. One thing I love about this disc is that it has a stereo LPCM version. This really gives you a lot of versatility not to mention fidelity. The E5Tis presented Diana's voice with all the delicacy and breathiness I come to expect. The presentation was well anchored in the front of the room with decent of width to the soundstage. What I really noticed with this listening test was how well the E5Tis handled the dynamic range of this recording. When the volume was minimal, you could still hear lots of detail and as the volume increased, the speakers had little problem keeping up. Lower volumes often are the killers of lower quality speakers. The E5Tis had no problem with a wide variety of dynamic ranges.
CD: Lorna Hunt - All in One Day
Lorna Hunt's album leaves very little to the imagination. If your speakers are coloring the music, there is very little there in terms of content to mask that. The E5Tis did a lot right with this album. The kick drum was sufficiently strong and lifelike, the midrange was very well realized (Lorna mostly sounded like she was in the room with me) and the high end sounded very well extended. The only problem really occurred when I compared the E5Ti presentation with the RBH TK-5CTs. While both presentations were good, the TK-5CTs sounded much less veiled. While I'm not very partial to certain words as they have a lot of emotional context in the enthusiast crowd, the E5Tis sounded very laid back in comparison. Now some of you are going to take this as high praise and others stopped reading the review at that word, it is only in comparison to the TKs that this descriptor comes to light. On their own, the presentation sounds very detailed and lifelike.
Conclusion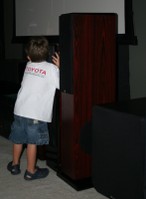 The EMP Tek E5Ti floorstanding speakers are truly an impressive pair - both in looks and performance. When I first heard them, I couldn't help but wonder what people would think of this review. Obviously, I like them. Obviously they are a great value for their asking price (MSRP $730). But when they hit the shelves at $400 a pair, people obviously are going to look at them askew. They aren't going to believe that anything that good can come at that price. I suggest that we are at a crossroads - a paradigm shift in managerial lingo. Instead of asking yourself what can be wrong with a speaker at this price point, you should be asking yourself why we've been paying so much for other speaker offerings. There is a part of me that is angry at EMP. Angry that they've opened my eyes to the true costs of speakers. Sure, the E5Ti Impression series speakers aren't perfect but for their $500/pair sale price, they are so far beyond what I expected that I actually have to change the bar. When you hear them, I'm betting you'll be doing the same.
EMP Tek E5TiR Floorstanding Speakers
$730
EMP Tek
382 Marshall Way
Layton, Utah 84041
801-991-1308
About EMP Tek
Engineered Music Products (EMP) was founded in 2007 by Industry professionals with over thirty years experience in designing, engineering and manufacturing high performance loudspeakers for companies such as ParaSound, McIntosh, JBL, RBH Sound, Destination Audio and Fosgate...
The High Performance Loudspeakers designed by EMP differ greatly from the products that sell in mass retail and big box stores. Manufacturers who market their products through mass retail and big box stores have to spend most of every dollar on marketing and advertising, leaving little of that dollar for product development and build quality.
For thirty years, the founding employees of EMP have focused on engineering and manufacturing loudspeakers that stand above the mass produced, profit focused brands that are offered by mass retail and big box stores. In short - these are not your garden variety speakers.
The Score Card
The scoring below is based on each piece of equipment doing the duty it is designed for. The numbers are weighed heavily with respect to the individual cost of each unit, thus giving a rating roughly equal to:
Performance × Price Factor/Value = Rating
Audioholics.com note: The ratings indicated below are based on subjective listening and objective testing of the product in question. The rating scale is based on performance/value ratio. If you notice better performing products in future reviews that have lower numbers in certain areas, be aware that the value factor is most likely the culprit. Other Audioholics reviewers may rate products solely based on performance, and each reviewer has his/her own system for ratings.
Audioholics Rating Scale
— Excellent
— Very Good
— Good
— Fair
— Poor
| Metric | Rating |
| --- | --- |
| Build Quality | |
| Appearance | |
| Treble Extension | |
| Treble Smoothness | |
| Midrange Accuracy | |
| Bass Extension | |
| Bass Accuracy | |
| Imaging | |
| Soundstage | |
| Dynamic Range | |
| Fit and Finish | |
| Performance | |
| Value | |

ArVee posts on December 05, 2009 00:58
fightinkraut;652319
I don't see quite the detailed specs on that receiver I'd like to confidently say one way or another, but it looks like it's putting out 85watts per channel, unfortunately with unknown distortion. Sort of a toss up for me, but I'd say you might have trouble powering them...mixing 6 and 8 ohms is no problem, but I'd like to see more info on the 6ohm power ratings from that yamaha before passing judgement.

Best I can say is if you have the owners manual and it states it handles a 6ohm load ok then hook them up and see how they sound to you! If you notice any clipping or distortion at the levels you'll be using them at then you'll likely want to look into selling the yamaha and purchasing a new receiver, perhaps a refurb from accessories4less for $300 or so.
Thanks fightinkraut, my 16kg of L and R will arrive on the weekend, says Fedex..I will hook up and see .. my first test is the first drum lead in and beginning of "Southbound Again" by Dire Straits - I find most system muddy up that roll intro and cant keep the bass and drums distinct..
gene posts on December 01, 2009 22:03
The importance of anechoic chambers for testing loudspeakers is highly over stated and lately used as a marketing ploy by many companies claiming their products are better for that very reason.

A good loudspeaker engineer knows how to properly measure their speakers without one.

That being said, I wish I had access to one as it would make measuring so much easier.

The best way to measure subs is still groundplane and on a pole assuming good weather conditions.

Even with anechoic chambers, manufacturers are at liberty to spec their speakers anyway they like. There is no set standard so don't let a smooth anechoic response fool you. At what power level did they take those measurements? What about distortion?

LMS does a horrible job measuring distortion and I almost never see loudspeaker companies disclose distortion with any other testing method.
Imitation posts on November 30, 2009 07:34
ozmedia;652355
It's called RBH.

RBH uses EMP as their more entry level, on line brand. For tighter overall sound and incredible detail, check out the MC-6CT, sweeeeeet! And, cash permitting, you can look into the Signature or T-Series, dare to dream.

But you have one thing right, EMP is an astounding value for money and to thier improvement on it would cost you 3X more, and that's just for the MC's!

When Audioholics had the clone EMP 5.1 system of the RBH TK series on clearance for $200.00 (sorry, the EMP model #s slip my mind right now) I told friends in the US, who instantly bought a set. Needless to say they are all thrilled.

Glad you're happy, your ears will get used to the tonal changes from your last speakers and I find RBH's drivers do mellow and smooth out over a bit of time, I'll assume the same goes for thier EMP line too.
Yeah the only issue i've got with rbh is most of those designs are all box designs and not as waf friendly as these emp's. Wife wasn't excited at all about some of the "boxey" speakers I've thought sounded good. It's sad, but sometimes compromise is required.
ozmedia posts on November 29, 2009 22:38
I think all the comments simply display the fact that there is no regulation behind such specifications and different manufacturer's use different methods of measuring and estimating actual responses; the problem is that they are all compared by most consumer as equally tested.

For JL, you're right in that you didn't mention that most companies use an anechoic chamber, but the mere handful mentioned are a minisclue propotion to the hundreds of speaker brands on the market now (even though there are many others who properly measure responses too). I can't see companies using proper chamber measurements for low end products but perhaps in thier higher end models where the R&D costs are realistically recovered. I don't believe that an Energy product sold in a bog box store for 20 points margin (tops) is going to have such definitive testing.
WmAx posts on November 28, 2009 17:19
An anechoic chamber is able to do more thorough testing as compared to using time gated random noise/MLSS measurements. Things that are possible in an anechoic chamber that can not be done otherwise: (1) full-range frequency response, mid or far field, without splicing multiple measurements(which leads to errors). (2) Resonance/energy decay analysis of the speaker at mid and far field distances at frequencies under roughly 1,000 Hz.

-Chris