EF50 Measurements and Conclusion
Measurement method:  1 meter on Axis (1/12th Octave smoothed)
The EMP EF50C center channel was horizontally mounted and produced an in-room frequency response of roughly +-3dB from 150Hz to 20kHz.  The frequency response of the bookshelf EF50 speaker was nearly identical. The EF50T tower speaker also measured similarly but with a bit more bass extension below 100Hz allowing for an easier blend with a subwoofer without the need of turning the crossover up too high to make the subwoofer localizable.  Based on these measurements, it's easy to see that this system plays well together and should provide a seamless blend required for a convincing multi channel experience. This also explains why I thought the system sounded better with a 100Hz crossover rather than 80Hz.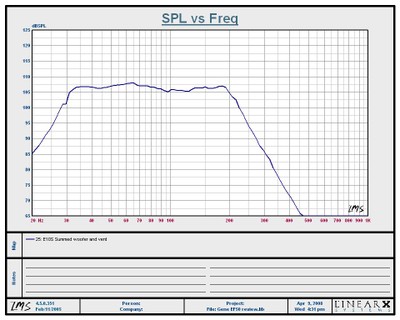 EMP E10s Sub Summed Woofer and Port
The EMP E10s subwoofer has a very flat response from about 200Hz down to 33Hz with the -3dB point around 30Hz (exactly as the specifications state). While the sub won't provide some of the subsonic slam that other, larger, ID subs will, the tradeoff is a small form factor and easy placement. For so small a sub, it has a lot of slam and great linearity.
Conclusion
These new EF50 speakers from EMP Tek are very impressive.  Performance is definitely there – as are the looks. The removable faceplates may be a bit gimmicky, but it's a good gimmick. The form factor is right, the size is right, the sound is right, and frankly, in my opinion, the price is right. If this is your first foray into home theater and you want to make sure you make a great purchase that will last you years or if you are looking to replace your first (substandard) purchase, this is the set for you.
 
EMP Tek EF50 Speaker System
$1929.96 | Buy It Now

EMP Tek
382 Marshall Way
Layton, Utah 84041
801-991-1308
About EMP Tek
Engineered Music Products (EMP) was founded in 2007 by Industry professionals with over thirty years experience in designing, engineering and manufacturing high performance loudspeakers for companies such as ParaSound, McIntosh, JBL, RBH Sound, Destination Audio and Fosgate... 
The High Performance Loudspeakers designed by EMP differ greatly from the products that sell in mass retail and big box stores. Manufacturers who market their products through mass retail and big box stores have to spend most of every dollar on marketing and advertising, leaving little of that dollar for product development and build quality.

For thirty years, the founding employees of EMP have focused on engineering and manufacturing loudspeakers that stand above the mass produced, profit focused brands that are offered by mass retail and big box stores. In short - these are not your garden variety speakers.
The Score Card
The scoring below is based on each piece of equipment doing the duty it is designed for. The numbers are weighed heavily with respect to the individual cost of each unit, thus giving a rating roughly equal to:
Performance × Price Factor/Value = Rating
Audioholics.com note: The ratings indicated below are based on subjective listening and objective testing of the product in question. The rating scale is based on performance/value ratio. If you notice better performing products in future reviews that have lower numbers in certain areas, be aware that the value factor is most likely the culprit. Other Audioholics reviewers may rate products solely based on performance, and each reviewer has his/her own system for ratings.
Audioholics Rating Scale
— Excellent
— Very Good
— Good
— Fair
— Poor
| Metric | Rating |
| --- | --- |
| Build Quality | |
| Appearance | |
| Treble Extension | |
| Treble Smoothness | |
| Midrange Accuracy | |
| Bass Extension | |
| Bass Accuracy | |
| Imaging | |
| Soundstage | |
| Dynamic Range | |
| Performance | |
| Value | |

Tom Andry posts on August 20, 2008 10:28
allargon;444462
Tom, would this setup be good for a large room?
Depends on your definition of "large." In most rooms they'd be fine. In "great" rooms that are open to kitchens etc. probably not. I'd definitely opt for a larger sub in that case. The EF30's would probably be a better choice in a large room.
DHC-3T posts on August 16, 2008 00:04
Just got all my stuff hooked up to a 2808 and am very pleased to say the least. These speakers sound great !! I am very happy to have them.
allargon posts on August 13, 2008 23:41
Interesting... the sub only goes to 33. The towers are bright in two channel mode. However, together this all works?

Tom, would this setup be good for a large room?