A6-6T6 Build Quality

Part of me gets irritated at "major" speaker manufacturers. Most of the time it is all but impossible to get a review sample. It's like they don't want their speakers to be reviewed. Reviews don't cost anything - other than shipping. Reviews generate interest. The only thing you have to fear is a bad review but you shouldn't have to worry about that if you make good speakers, right? Really, though, it isn't their fault. The fact is that there are so many gatekeepers (read: marketing people) whose job it seems to be to keep you away from the larger speaker manufacturers. Getting a review sample seems to be as much a function of luck as anything else. With ID (Internet Direct) speakers, the companies are smaller, the staff more accessible, and, generally, they are dying for someone to review their speakers. Generally.
Elemental Designs (eD for short - wow, so many puns, so little time) has actually been around for a little while. They went from being only a name in 2002 to shipping products for home and car audio today. I first heard of their subs about a year or so ago when someone was talking about their new ID subwoofer behemoth. "Great," I thought, "that's all the world needs is another ID company pushing huge subs on unsuspecting people." I quickly filed eD away as a company I was never going to have to worry about.
Fast forward a year or so and I get a message saying that we should take another look at eD. Not only do they sell subs, but also speakers. I've got a smallish room so I've pretty much ruled out any of their subs and I'm skeptical about any speakers they may be selling. No, no, my contact tells me. He's been to the factory and claims that the speakers are actually good. Fine, I'll look. I was surprised to find that the speakers were not only reasonably sized, but also very reasonably priced. Their "flagship" towers (they only have one set of tower speakers so by definition they are flagship) only cost $500 a pair. This sounds like either crazy Internet pricing or white van material. If these speakers turn out to be the real deal, this could light the Internet on fire. Always up for a good bonfire, I decided to push some things around in my schedule to fit in a review.
First Impressions and Build Quality

I've seen speakers packaged in any number of ways - everything from single boxed, no markings, minimal protection to highly labeled box, double and triple boxed, with enough protection to survive a fall off the back of a UPS truck on the highway. The eD A6-6T6 speakers were a mix. The box was highly marked so you knew where the speakers came from. The speakers were single boxed but wrapped in plastic and (inexplicably) white tissue paper. There were styrofoam end and side protection but it was pretty thin. There were foam inserts between the plinth and the bottom of the speaker (not sure the purpose of this one). The neatest aspect of the packaging was that there were two pieces of particle board with foam on one side with ropes run through them that are wrapped around the speaker. These are for easy removal from the box. This worked fairly well and was a pretty neat idea.

The only problem I had with the packaging was that the foam was a little thin and weak. When I removed the speakers, I was pretty much left with foam bits. One of the speakers also had a bit of damage on the bottom with some scratches on the plinth. Just above that, where the bottom of the speaker attaches to the sides looked like there was some splitting (I noticed a bit of this on the top too). As far as I could tell, it was just a crack and didn't seem to be separated. If I was purchasing the speakers, I'd have it replaced but for the purposes of this review, I didn't think the damage would affect the performance. Later on, I measured both speakers and they did, in fact, measure the same.

The finish on the speakers is a flat black that feels slightly textured to the touch but looks smooth. eD has opted to paint their speakers rather than vinyl wrap them. All the edges and corners are nicely rounded. The front of the speaker sports a full length grill with no additional adornments. If you want to know who made your speakers, you'll have to turn it around. A logo somewhere on the front would be a nice addition (even if it was under the grill). The grill is made of MDF and is very sturdy though the fabric itself is run over a fine wire mesh that is strong enough to keep it bowed but not so strong that you should push against it when mounting the grill. The grill is held on by six plastic posts that are thick enough that I wasn't worried about them breaking off. The grill seemed to be snug enough though it did come off a little too easily. Over time, it seemed like it might get even looser with frequent removing..
There is a front port near the bottom and a second on the back just between the tweeter and the topmost woofer. The front port is covered by the same wire mesh/fabric mix used on the grill. The back port doesn't have this. The front baffle is raised and there is a 1.3" tweeter and three 6.25" woofers flush mounted. All the drivers are black as is the speaker. If you are looking for speakers to disappear in a dark room, you could do worse than the A6-6T6. If you are looking for a good looking speaker, you could do a lot better. Then again, at $500 a pair, there really isn't all the much to complain about.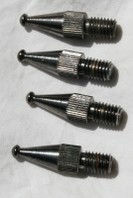 The plinth arrived already attached. Since the plinth is the same size as the speaker, I'm not really sure why it is there except for aesthetic reasons. Personally, I'd prefer a removable plinth (I suppose it is removable since you can see the screws though I wouldn't without talking with eD first) or none at all. There are metal threaded inserts for the provided carpet spikes. There are no provisions for wood or tile flooring. The spikes are of the "jester hat" variety with a small ball on the end. They focus enough pressure to push through to the bottom of your carpet but they won't pierce through it. They would work well on those little metal discs that are sometimes used by people when wanting to use spikes on hardwood floors. The speakers aren't extremely heavy (55lbs) so if you're careful, you might be able to use them directly on hardwood or a tile floor, though I wouldn't recommend it. As a carpet spike they aren't as effective as the sharp ones. I did like the overall design, however, as they were easy to install and had a uniform starting point. They didn't have an adjustment nut so any adjustments you make have no way of being locked into place.
See also:
gene posts on November 25, 2008 16:28
How would you say these compare to the winner of your "Speaker Face Off I - Battle of the Budget Towers" article, the Pinnacle Classic Gold Reference?
I don't think that's a fair comparison considering that the Pinnacle's are now discontinued and also retailed for nearly double the price. The Pinnacle's had a much better tweeter and better executed crossover design. The also had superior bass extension to the eD's.
Tom will be reviewing some towers from tSc which look very interesting. He will be doing a direct compare between them and the eD speakers so stay tuned.
tSc Towers:
http://www.thespeakercompany.com/TST2-High-Performance-3-way-Tower-Speaker-Pair-P74C8.aspx
[thespeakercompany.com]
Notacop posts on November 25, 2008 16:19
Very informative review. I have been a fan of Elemental Designs stuff for a long time and always enjoy reading non-biased reviews.


How would you say these compare to the winner of your "Speaker Face Off I - Battle of the Budget Towers" article, the Pinnacle Classic Gold Reference?

I have a co-worker who is looking into setting up a decent HT system and I have been steering him towards the A6-6T6's simply because of the price/performance ratio, but he is open to other suggestions as well.
dobyblue posts on November 25, 2008 15:38
Why do they claim Frequency Response 40-22KHz +/- 3dB if it's actually more like -12dB in the low end?

Is this discrepancy only found in their speakers or are their powered subs also listed incorrectly where frequency response is concerned?
GlocksRock posts on November 19, 2008 13:00
Glad to see you finally doing a review of some eD products. I really like my eD car audio subs and amps, you get a lot of bang for the buck out of them.