DALI LECTOR 8 Build Quality

DALI may not exactly be a household name in speakers - at least not in America - but they should. My first experience with DALI's were at the Audioholics bookshelf shootout. At an $1800 price point for a pair of bookshelves in the MENTOR 1's, I felt sure I'd never see a pair of DALI's in for review. The next time I ran into DALI was at CEDIA 2008. They had a similarly priced pair of floorstanders just released. Believe me when I say I couldn't wait to get a pair in for review. Two of my companions couldn't stop talking about how good they sounded on the show floor. Me? I tend to reserve judgment. Well, it's judgment time and as always I promise to be tough but fair.
First Impressions and Build Quality
To be honest, before I even opened the box I was a bit biased against the look of the LEKTORs. Why? At $1800 a pair, I couldn't believe they would even consider a vinyl wrap. At this price point, I expect much more.
Boy, was I wrong.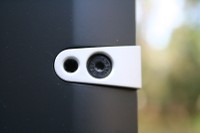 I've seen a lot of vinyl wraps in my day and I can say without reservation that this is the best. The review pair of LEKTORs was in the light walnut finish rather than the all black option. As much as I like a speaker that "disappears" into a room, I find that black, in general, is harder to keep clean and generally bores me. The woodgrain finishes tend to not show off dust as much and definitely make more of a statement. The LEKTOR 8's are one of the better looking speakers I've had in my room - at least from the front. The black front baffle is nicely rounded and is matte enough to absorb most light. The grill is a little oddly shaped until you realize that it can be reversed so to cover or reveal the tweeter. For those that believe that grills make an audible difference… well, they probably still think it makes an audible difference when covering the woofers. DALI was smart enough to put their logo on both the top (near the tweeter) and bottom (small chrome plate) so that no matter your grill preference, you'll know who made your speakers. What you don't know is that the DALI and LEKTOR logos are everywhere - even in places you can't see them: Back of the woofers/tweeter, under the metal plate around the tweeter, even on the screws!
The fit and finish around the front and sides is nearly impeccable. The corners of the main cabinet are a bit sharp but the front corners are covered with the black front baffle so it isn't an issue. There is a small gap between the front baffle and the main cabinet but it would take very little convincing to make me believe this was an intentional design choice and not some sort of fit and finish issue. The metal accents on the front aren't heavy handed and give the speaker the contemporary but not gaudy look I'd expect of a Danish speaker manufacturer. The metal side pegs double as holders for the binding posts. When I was trying to dissemble the speakers, I discovered that they really don't seem to serve any purpose other than that.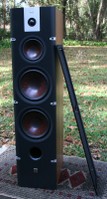 The real standouts in the looks department are the woofers. The LEKTOR 8's sport two 8" woofers and a 5" midrange. They are also the color of old bricks or dried blood (your pick). This is the first time I've seen deep red woofers in a speaker - especially one made to be seen in the home. At first, I was a bit put off by the color - red just seemed weird to me. But the longer I've lived with them the more I've appreciated them. The coated paper with wood fiber reinforcement material isn't as reflective as your aluminum or some of the other woofer designs I've seen in the past so they tend to blend better. They certainly are different which, if nothing else, will get people's attention. Still, in a darkened room with the lights low and the grills off, they don't stand out as much as I'd like. Now, understand, this is purely an aesthetic opinion and has nothing to do with performance.
The 28mm (1.1 inch) tweeter is soft domed and black. The metal surround plate goes a long way toward making this stand out. The speaker grill is a bit flimsy for my taste and I was often concerned about breaking it during removal. The chrome posts, however, held snugly and there was never any fear of accidental removal. The problem was that the grill was very thin and the posts held it very firmly making for some tense moments. The thin frame was by design according to DALI to reduce reflections and diffraction from the frame.
My only real aesthetic concern is with the back of the speaker. While the front and sides are nearly impeccable, the back looks much more like those speakers you remember your parents buying from Sears 30 years ago. The raised outer lip, the less than perfect vinyl wrap meetings… it just isn't on the same level as the rest of the speaker. That being said, it's in the back. Who really cares? I certainly wouldn't.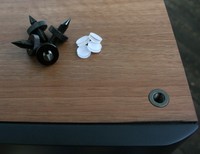 There are two ports on the speaker, one in the front near the bottom and one about midway up the height in the back. The bottom of the cabinet sports threaded inserts for carpet spikes (provided by DALI). The spikes have a HUGE tightening nut which makes leveling these speakers considerably easier than just about any non-outrigger equipped speaker I've reviewed. Unfortunately, the only provisions for non-carpeted floors are little sticky rubber rounds that I doubt would last a single move. If you are going to go this route, be absolutely certain of your speaker placement before you install them as they are sure to come loose with any adjustments. I'd get a small square of carpet or maybe a thick towel to set them on at first until you are sure of the orientation, location, and toe-in before installing the rubber pads. After that, I'd leave them where they were or consider some sturdier aftermarket feet.
The binding posts in the back were different than any I've experienced before. At first I was convinced that they were five-way binding posts in look only. While most five-way have a plastic cap on top that is removable for use with banana plugs, it didn't look like the DALI's did. I would have sworn on a stack that the center post was solid with red or black paint on the top. When DALI informed me that there was in fact a plastic cap on top, I went back and checked. With some difficulty, I found out (much to my chagrin) that they were right. The cap is actually under the binding post nut (a bit of a divergence from the norm) which has to be completely removed to gain access. Even then, the tolerances are so tight on the plastic cap that it looks like paint. This presents a very clean look even if it did flummox me for a bit.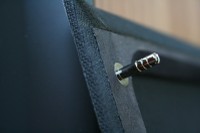 This is the point where I share the pictures of the disassembled DALIs and I talk about the crossover, driver, and cabinet design. The LEKTORs were the first speaker since the SVS SBS-01's (one of my earliest speaker reviews with Audioholics) that I couldn't get apart. I certainly wasn't going to take a prybar to them or anything. I did a knock test and the top definitely seemed more inert than the bottom which was a bit more echoey. They are definitely heavy, so unless they've lined the bottom with lead, they do have quite a bit of MDF at work here. When I couldn't get them apart I requested some pictures from DALI. Unfortunately, they didn't seem inclined to take actual pictures and instead send a few technical drawings. That wasn't going to do so I decided to just give up…
Wait a minute…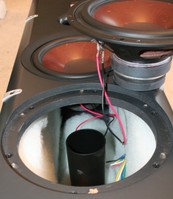 From the technical drawings, I figured out how to disassemble (no disassemble #5) the speakers. Score one for me. The front baffle is thicker than the other walls (according to the documents they sent) and I measured it to be an inch thick! MDF construction all the way around with the tweeter and 5" midrange in an enclosed box. The two 8" drivers have the rest of the cabinet (including the space behind the tweeter/mid box) along with the two ports. The ports are flared on the exterior but not the interior. A layer of polyfil is glued/stapled to the inside of the larger cabinet and pretty much fills up the tweeter/mid box. The tweeter sports a very large magnet and is mounted to a well braced plastic plate. There is a single brace just below the bottom woofer and above the front port. This explains the more hollow sound at the bottom of the cabinet which could use some more bracing. The woofers sport stamped metal baskets (I was hoping for cast) and fairly large magnet structures. The specs say the drivers are semi-magnetically shielded which I supposed means you can place them semi-close to your computer or CRT. The crossover component parts were a bit of a disappointment (aside from the ceramic resistors) as DALI employed iron core inductors instead of air cores, and electrolytic capacitors with no poly bypass capacitors. I couldn't help to wonder how much better these speakers could have been with some higher quality component usage in the crossover.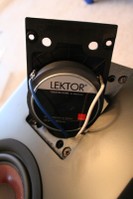 mistergsf posts on March 16, 2009 14:51
Wafflesomd;525613
The xover looks disappointing as well as the stamped basket woofers. Even the $150 Berry 2030p's have a better xover and cast baskets.

Just from the look of things, I would not pay $1800 for those.
Hearing is believing and looks can be deceiving. Trust me, I auditioned these speakers and was totally blown away. I own a pair.
mistergsf posts on March 16, 2009 14:44
Wafflesomd;525613
The xover looks disappointing as well as the stamped basket woofers. Even the $150 Berry 2030p's have a better xover and cast baskets.

Just from the look of things, I would not pay $1800 for those.
Hearing is believing and looks can be deceiving! Trust me, I just auditioned these speakers this weekend and was totally blown away I bought them.
DaleAV posts on March 04, 2009 09:58
After reading the full review, I do have wonder about using iron core inductors.
But then there are decent speakers using air-core, that are far from high-end.
But I don't know any mid to high-end that would not use air core.
The caps are another thing. Dali typically uses Bennic caps which are considered upgrades, but not really audiophile.
Again, have not heard these for myself, but based on 'hardware' alone consider the Dali Ikon 6 sold for the same price ($1750) I think they are higher now...and has cast baskets, air-core inductors, superior finish from what I can gather, not to mention the ribbon-dome tweeters used by Helicon vs. just the domes in the Lektor...well, I guess times are tough.
For that matter even my OnWalls and center use the same ribbon/dome config.
DaleAV posts on March 04, 2009 08:25
Wafflesomd;525613
The xover looks disappointing as well as the stamped basket woofers. Even the $150 Berry 2030p's have a better xover and cast baskets.

Just from the look of things, I would not pay $1800 for those.
The 'Ikons' have cast baskets, etc. But there are some great speakers out there with stamped baskets that sound very fine indeed ( KEFs come to mind), as well as mediocre ones with shiny aluminum castings.
Drag0nFly posts on February 28, 2009 17:37
If you can swing three floorstanders up front, that might be a good option. You'll have to check with Dali if they even sell them individually (they might not).

That being said, we're doing a shootout of $1500-$2000 floorstanding speakers at the end of the month (look for the article some time in March). I'd wait until then before I made any purchasing decisions in this price range.


It would be great if you were able to review the Mentor 8s as well (been waiting quite a while for that actually); but I guess they fall a little out of the $1500-$2000 price range... Dali's been among my favorite speakers for some 15 years, and it would be intriguing to see how they stack up against the mid-to-high-end competition these days.


One thing to say about DALI - they not only agreed to be in the shootout, they practically insisted on it. That shows me that they believe in their speakers if nothing else. I look forward to seeing how they do.

That makes two. Interesting review btw.