310-TSC Fit and Finish, Build Quality and Setup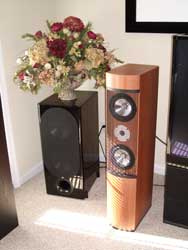 Canyon Audio's speakers are quite stunning to look at. With aluminum bullet plug speakers and grill covers reminiscent of Krell's Resolution line, from a distance you might wonder how these speakers can be sold for a retail price of just $529. While the fit and finish is just fine for this price point, there are a few cut corners that allow such a product to be possible. The aluminum drivers are not dampened, so some ringing is noticeable during playback. In addition, the silk dome tweeter is fairly non-linear and was a bit fatiguing over time. The grills, which are comprised of elastic bands that are tensioned across the front of the speakers, are extremely attractive. Unfortunately, they also dramatically influence the sound as they cover nearly 40% of the entire surface area in front of the drivers. Stick your head in front of the speaker and pull aside the bands and you'll hear an immediate difference.
With that all said, Canyon Audio's President, Don Arnold informed us that several revisions will be taking place in the coming months and a new model will be released by the end of the year. It will include, among other things, a new tweeter, a removable, redesigned grill cover and some other minor alterations.
Build Quality
 When the 310-TSC system came I nearly had a heart attack. There were a total of 4 boxes for the speakers and each was double-boxed with plenty of bubble wrap protecting the inner carton. While I won't guarantee that no shipping damage will ever occur (I know better than to try Murphy on this one) these speakers are packaged quite well and should arrive anywhere unscathed.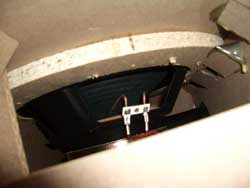 We peered into the guts of the 310-T towers and 310-S surround speakers to take a look at the drivers, cabinet interior and crossover. What we found were real phase plugs on the drivers (believe it or not some companies have glued on bullet-shaped dust caps to simulate the look of bullet phase plugs!) and what looked to be some very basic crossover components. In the tower, a 3-way system is employed by way of a 2nd order crossover network that splits signal to the 1" silk dome tweeter, 6.5" mid-range driver, and 10" paper cone woofer. The crossover points are at 400Hz and 2kHz respectively. The cabinet interior was well-braced and we noticed that the 10" woofer had an extra M DF back plate to reinforce the speaker where it met the cabinet. Damping material was fairly plentiful (we could always stand to see more) and thick gauge wiring was used for all internal connections.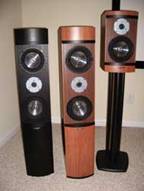 The exterior finish of the cabinet was an average grade simulated wood veneer. It had a slight texture to it and looks fantastic from a couple feet away. The rear of the units were assembled using a lap butt joint which doesn't allow for the veneer to be completely wrapped around the back of the speaker. Instead the very back wall of the cabinet looks to be indented about 1/16 of an inch all the way around. M inor, but something that could be improved. We recently reviewed a Brookstone Wafer Thin CD system whose subwoofer had the exact same construction.
All speakers come with binding posts that can handle spades, banana connectors, or even bare wire. I checked out some mass-market speakers you can buy in the local chain stores and found more than a few with spring clips at this price point. Of the speakers in the 310-TSC system, only the 310-T tower loudspeakers can be bi-wired and have two sets of binding posts.
Setup and Configuration
When you set these speakers up, be sure to give them enough separation and also toe them in towards the listening position. They play better on-axis than off and the sound is pretty directional - something common to many speakers in this price range. Be sure to angle the center channel so that the drivers are pointed down or up at you, depending upon whether the speaker is mounted above or below your display device. Canyon Audio supplied a suite of M IT cables and 30" speaker stands for this review. The 30" stands put the surrounds right at ear level which was excellent for multi-channel music. For home theater use you may want to try and elevate them a bit. In addition, if you're really on a budget, the 310-S speakers could be used for main channels if coupled with a decent subwoofer.
For bass management, I'd recommend setting the tower speakers to Large and the rest of the speakers to Small. If you have a subwoofer in your system, then set the tower speakers to Small as well. Try a crossover of 80Hz to start. Though the surrounds are only rated down to 100Hz, this is a 2nd order crossover and the drivers are comfortable dropping into the lower frequencies as they roll off. Setting the crossover higher than 80Hz with this system may yield a muddier sound. Overall, these speakers were a breeze to set up so have at it and be sure to experiment with the placement of the towers, especially if you aren't planning on using a subwoofer.