Canalis Allegra 2.0 Floorstanding Speaker Preview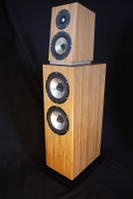 Summary
Product Name: Allegra 2.0
Manufacturer: Canalis
Review Date: June 27, 2012 07:00
MSRP: $17,500/pair
First Impression:

Pretty Cool

Specifications

Type: 3-way, two-piece cabinet
Enclosure: 3/4" three-ply, cross-grain, vertical-core MAO bamboo bonded with environmentally friendly NAUF glue
Drivers:

Woofer: Dual Seas 8" Aluminum Cone woofer
Midrange: Seas 5" Aluminum Cone woofer
Tweeter: Seas .75" High Definition Aluminum/Magnesium cone

Internal wiring: Proprietary Spiral Groove GrooveLine micro-litz wire. Eichmann Bullet Plug Binding Posts
Crossover: 18 dB Transitional Filter; Freq:200Hz, 1.4kHz
Impedance: 8 ohms
Efficiency: 88 dB/1w/1m
Power handling: 180 watts
Frequency response: 36Hz-33kHz (-3dB)
Dimensions (HxWxD): 42" x 10" x 10.5"
Weight: 134 lbs/pair
Finishes: Honey, Cinnamon, Licorice
Executive Overview
Sometimes it takes a website to get you noticed. Canalis Audio is a company that may not be new, but it is new to us. They've recently released their website and we took a look. While they have a number of different speaker and accessory offerings, we're going to take a look at their flagship Allegra 2.0 Floorstanding speakers and let you discover the rest if they pique your interest.
One of the main motto's of Canalis is "Balanced Force Design". This is the idea that their offerings are "aimed at achieving the most elegant equilibrium of materials, performance, function, manufacturability and aesthetics." They site their use of bamboo enclosures as an example of this design goal in action. They also claim to be the only manufacturer to use it for loudspeaker enclosures (suggesting that the other bamboo speakers on the market are only using bamboo veneers over MDF), a claim we find to be dubious since we reviewed the solid bamboo Ascend Acoustics Sierra-1 over five years ago.Regardless, bamboo is a fantastic material for building speaker enclosures out of because of its inert qualities. It is, however, very hard to work with and, we're told, very hard to get a good corner edge without it flaking. The Canalis Audio cabinets utilize 3/4" three-ply, cross-grain, vertical-core MAO bamboo bonded with environmentally friendly NAUF glue.
The Allegra 2.0 Floorstanding speakers are the flagship of Canalis Audio. They combine the Anima bookshelf speaker and a woofer box for a true full-range design. The Anima bookshelf sits on top of the woofer box (they call it a bass cabinet). According to the website, the Anima bookshelf speaker has been tweaked for the Allegra 2.0 design including upgrading the capacitors in the crossover, adding a stainless steel base with decoupling material, and providing custom-designed and built low-frequency inductors. From what we read, it sounds like they also removed the port but we were unsure if the Anima design included a port in the first place.
The tweeter is a combination of metal (aluminum and magnesium) and soft-dome materials. The large soft-dome surround connects to a center metal plate. The midrange is aluminum with a bullet phase plug. Its cone material experiences breakup around 8kHz which is well above its operating range in the Allegra 2.0. The dual woofers have ceramic-coated Duraluminum cones which are both light and stiff. There is a crossover in the bass cabinet designed to eliminate all cone resonances.
The Allegra 2.0 brags a frequency response from 36Hz to 33kHz at -3dB. While you'll still want a sub for the lowest notes, you're not going to be lacking for bass with just about all music. All but the more ardent bass-heads are going to be thrilled with a 36Hz, -3dB point. The speakers are rated at 8 ohm nominal so they should play nice with just about any amp on the market. But if you are dropping over $17k a pair on these speakers, we're betting you have two huge monoblocks to power them. The speakers aren't overly large at 42" tall and 10"x10" wide and deep (we're guessing that's the dimensions of the bass cabinet) though they do weigh in at a back breaking 134 lbs a pair. They come in three delicious finishes of Honey, Cinnamon, and Licorice.
We wouldn't be Audioholics if we didn't point out that Canalis Audio also sells a vibration-reducing device called "Strange Attractors". Designed to be placed under your gear or to replace the feet on your speakers, these metal cones, through the magic of "science", reduce internal resonance behavior of your components. That energy is then trapped in the Strange Attractors and not released into the room, and therefore, those resonances don't interact with other components in the room (supposedly released as heat - but not hot enough to feel). They have a model that is used for "quiet" components (like solid state amps, receivers, and other devices without moving parts), a model for speakers (with a threaded stud), and a decouple model that has a rubber (looks like to us) top. One wonders how a decoupled component transfers the resonance energy to the Strange Attractor but perhaps we are not audiophile enough to understand it. Each of these are sold in lots of four and run $500 a set (the decouple model runs $100 more - probably because the rubber is sourced from Truffula Trees, which, you know, everyone needs).
Conclusion
We love the look of bamboo cabinets and we can't help but applaud any manufacturer that goes through the trouble of using it. It is a renewable resource and, extra cost and expense aside, bamboo definitely sets these speakers apart. The Canalis Audio Allegra 2.0 Floorstanding speakers certainly look good on paper. The $17,500 price tag may put a few people off but Canalis Audio has speaker pairs as low as $3,250. Regardless of their "anti-resonance" devices, we can't help but notice that they have sourced all Seas drivers and high end materials. With that sort of technology and quality inside, the renewable cabinet is just a bonus. We'd love to get our ears on a pair of these.
For more information, please visit www.canalisaudio.com.