m60 v2 VaSSallo Series: Build Quality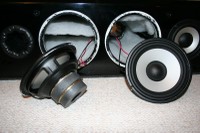 Even though I was hesitant to do so, I was behooved to dissesmble the m60's as best I could. I'm sorry, but one doesn't come that close to a finish that nice with a long pointy object. It's just wrong. Still, it's my job, so I did. Removing the bottom two 6.5" woofers wasn't really a problem, they popped right out. I had a problem when I tried to remove the 5.25" woofer and the tweeter. Once I got the two 6.5 inch woofers off and got my hand in there, I saw the problem. The 5.25" woofer is actually encased in a sealed cylindrical enclosure. This ensures the proper box volume for the midrange to operate and isolation from the rest of the enclosure for optimal performance. The wires are run to the woofer through the bottom of the enclosure and sealed with caulking. The m60's have 3 "vortex" ports: One on the front baffle and two on the back. the two back ports are directly behind the tweeter and the top 6.5" woofer.

The speaker cabinet is lined with a polyfill that is glued to the sides. The wires are mostly run underneath the polyfil and are secured as well. There is a single brace running across the width between the top 6.5" woofer and the 5.25" woofer enclosure. I got my arm all the way up there and tried to push the tweeter out from behind. Apparently, the drivers were installed before the finish was completely dry because I couldn't get it out. I thought about trying to pry them out with a butter knife but I could feel the god of audio put his finger on the "smite" button. So I didn't.
I was able to confirm that the white substance that was stuck in the threaded inserts for the feet was in fact part of the finish. It ringed the drivers. It was very chalky and got everywhere. After I reinstalled the drivers I ended up having to take a toothbrush to clean the chalk out of all the little grooves on and around the drivers.
s52e368 posts on July 21, 2008 09:33
this is still avail.. havent been on in sometime.
Seth=L posts on March 13, 2008 20:30
Why are you laughing, that would be ok for a 80 buck computer set-up.
Sorry, I couldn't resist
ParadigmDawg posts on March 13, 2008 08:43
Why are you laughing, that would be ok for a 80 buck computer set-up.
Seth=L;387490
LOL

_______
Seth=L posts on March 12, 2008 23:26
msutrain posts on March 12, 2008 23:21
Hey,

My name is Pat Hourigan and I am interested in buying your speaker system. I wanted to make sure that nothing is broken and the system works as new. Also, do you know about how much is wiring I would need to buy? About how much would shipping costs be?

Thanks,

Pat