Axiom Epic 80-600 Overview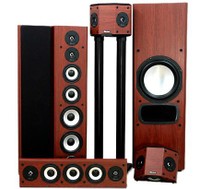 The single most gratifying word a custom installer or Home Theater aficionado can hear after installing a system or giving a multi-channel demonstration is the word "WOW". This indicates a positive emotional response. Think about it for a moment. Without using an expletive, what word would you use when you see a beautiful car or person with whom you are attracted? WOW!
I became interested in trying to assemble a loudspeaker system that would provoke this "WOW", but not break the bank. Trying to find a loudspeaker system that can actually provide "WOW" is easier said than done. The system must meet the following four requirements to be considered.
First, the loudspeaker system needs to be dynamic. Dynamic is defined as the ability to reproduce soft subtle sounds like whispers or footsteps one minute and large high impact sounds like explosions the next minute without sounding compressed or strained.
Second, the speaker system needs to be revealing. It must be able to reproduce small details like footsteps, clothing rustle, or the sound of leather creaking with clarity (perception of Foley effects are a great way to measure this). Laid back or rolled off speakers tend to mask these sounds.
The third important factor that is most often overlooked when assembling a multi-channel loudspeaker system is system synergy. All of the loudspeakers in the system should have a very close sonic signature. This is very important for multi-channel music like DVD-A and SACD, as well as for multi-channel movie tracks. Sound effects that move from speaker to speaker (pans) should sound balanced and equal.
Lastly, the loudspeaker system needs to be able to play at high SPL levels with no audible distortion while not inducing listening fatigue at these levels.
Axiom Audio is a loudspeaker company located in the heartland of Canada. They have been building and designing loudspeakers for over twenty years. Axiom Audio is part of the growing wave of "consumer-direct" companies. The idea of buying direct from the manufacturer has advantages. Most notably, the price-to-performance ratio is increased substantially through elimination of a dealer network and reduced costs.
Getting more speaker for the dollar or bang-for-the-buck, along with all the positive comments that I have read about Axiom Audio speakers over the last several months, prompted me to order a complete system for evaluation and review. After a couple of phone calls to Axiom Audio advising them of my room size of 4000 cubic feet and my desire to build a system that would provide "WOW", I ordered the following speaker system in Boston Cherry finish with black grills:
Two M80ti tower speakers-front left and right
Two M80ti tower speakers-alternate surrounds (7.1 system)
One VP-150 center speaker for the 5.1 system (Two) to be used in the 7.1 system
Two QS-8 used for surrounds 5.1 system and EX channels in the 7.1 system
Two EP-600 subwoofers placed 1/3 in from sidewall
Other standard finish choices include Black, Beech and Light Maple.




Over 24 Custom Matte and Highgloss Finishes and 6 grill cloths are also available at an extra charge of $95-$350 USD per model; to a maximum of $275-$1000 USD per system in the same finish.