Triad Minimonitors Company Information and Cabinet Design
Triad Speakers is located in Portland, Oregon, home of some of the best microbrewery beers in the US.  Nestled between the numerous quality breweries, tucked away very close to downtown Portland is the home of a speaker manufacturer who applies craftsmanship and exceptional build quality to every speaker they make.  Perhaps one of Triad's most redeeming qualifications is that they do not covet their drivers with implied origins but instead proudly list the actual manufacturers and model numbers.  Their educated selections of quality midranges, woofers and tweeters range from companies such as Scan Speak, Seas and Peerless just to mention a few.  Triad integrates theses drivers into a crafted, tightly fabricated well braced cabinet for ample rigidity and optimum performance with numerous finishes including a special color match option.

Acoustic Suspension Cabinet Design
Triad boasts an acoustic suspension design which upon quick examination we found most intriguing.  I have to say that the Triad InRoom Gold MiniMonitors remain as one of the few speakers that I actually felt guilty about dissecting.  As I carefully began the process of removing the mounting screws from the mid-range and tweeter I could hear the faint sound of the gasket seal de-bonding from the driver/cabinet. Triad employed careful techniques to reduce any potential air leaks behind the drivers by forming a tight face seal.  I also noticed that the mounting screws had a higher than average torque and once removed I discovered that the rim of the driver was actually being used to compress the gasket.  Creating such a compressive force in an MDF cabinet requires using metal inserts and machine screws.  Triad was sure to implement this costly but beneficial method in their acoustically suspended cabinet in order to ensure sufficient loading on the gasket.
Triad Cabinet Construction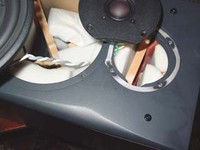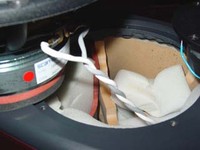 The InRoom Gold MiniMonitor drivers and dampening material were enclosed in a well braced 1 ¼" thick MDF cabinet that was skillfully manufactured on precision CNC machines and hand assembled. Once inside the cabinet I found internal bracing strategically placed in a complex array intertwined with two different dampening materials. The bottom of the cabinet and other strategic internal locations was home to a red, semi-rigid clay filled rubber. This rather costly acoustically dead material is known for its ability to significantly reduce cabinet resonance. To the casual listener, the benefit from this material may go unnoticed, but for the true audiophile seeking detail and nuances in their speakers, Triad implemented this enhancement. The second dampening material included white open cell foam packed throughout the cabinet. This open cell foam is used for both its acoustical and mechanical properties. Acoustically, it dampens reflections in the mid frequencies from hitting the cabinet sides, bouncing back and impinging on the rear of the speaker cone which can cause IMD . Mechanically, the material is more stable than poly-filled and will not settle or change shape over time thereby ensuring consistent performance over the life of the speaker.
The floating grill cloth grill was thin and unobtrusive to the cabinet, but it was not meant to be removed often. I found the framing of the grill to be too thin and once I removed from the cabinet I became cautious on how I handled this fragile assembly. My guess is that the only people who actually remove grills from speakers are those like me who conduct reviews. So if you're not overly inquisitive and feel you don't need to know what's behind the grill it shouldn't become a problem.

Drivers
  
It amazed me to fund such a stiff midrange/bass driver in an acoustically sealed cabinet as my intuition tells me that it would make the speaker extremely inefficient thereby requiring more power to drive them. My audition and subsequent measurements discussed later in this review proved that this was really not the case with the Triad InRoom Gold MiniMonitors. Triad's drivers of choice included the Seas 27-mm high definition pre-coated fabric dome 27TDFC tweeter and a Scan-Speak OEM supplied Revelator Mid/Woofer. The internal wiring was comprised of 14 AWG twisted pairs that were soldered to their appropriate driver similar to what we found in our review of the Canton Karat Reference 2DC Tower Loudspeakers.
Triad InRoom Gold MiniMonitor Setup
We began our audition of the Triad Gold MiniMonitors on an Onkyo TX-SR502 receiver. We then integrated them into Reference System 2 with our Parasound Halo A21 two channel Amplifier, Parasound Halo C 1 A/V Processor and Denon DVD-2900 Universal Player. On both systems, we auditioned the MiniMonitors with the front speakers set to "large" without the Triad InRoom Gold PowerSub and "small" with the PowerSub to compare the resulting performance.
Bookshelf - No PowerSub
I initially ran the Triads on the Onkyo receiver without the PowerSub and set to "large." At first, I had to verify that the PowerSub was actually turned off as the mid-bass performance seemed well above average for such a compact speaker. It became obvious that they were capable of providing invigorating, punchy tight bass well beyond other bookshelf speakers I have auditioned of similar size and shape. I was stunned with their performance on the modest Onkyo receiver but they truly had their shining moment when integrated in Reference System 2 on the Parasound Halo A21 amplifier and Parasound Halo C1 processor. I enjoyed several weeks entrenched in the delight of the MiniMonitors while I perused through most of my favorite CDs ranging from classic rock, new age, jazz and     classical. Though it only took me a few CD titles to consider that the Gold MiniMonitors were an exceptional performing speaker.
Perhaps what I found most appealing about the Gold MiniMonitors was their bass response. With little power, they were able to produce ultra tight, radiant mid-bass down to what seemed to be 70 to 90 Hz. The mid-range met with equal splendor as guitars and bass were reproduced with intent and accuracy. The Triads had the edge over other high end bookshelf speakers I've auditioned when it comes to bass extension and slam. After listening to the Triad Minis in several different theater rooms I found the Seas tweeter implemented in the Triad design performed commendably. Vocals and cymbals resonated with brilliance while the deep mids and bass balanced the overall performance. After exhausting my CD library and test tracks, I decided to go through them all over again, but this time I added the Triad InRoom Gold PowerSub.