Swans S200A Listening Tests and Conclusion
I was worried at first about how the imaging and soundstage would be affect by the vast separation of the speakers. These are meant to be on a desk, one presumes flanking a monitor. Luckily, my fears were in vain. I found the imaging to be very good. Even as I moved around normally (leaning forward, back, etc.), the soundstage never collapsed and the imaging was always rock solid. The other real issue that immediately came to mind was, of course, the bass response. In order to get a more accurate idea of what was useable, I popped in my Rives Test CD2. In researching for this review, I've read a number of different "low" figures – 100hz, 55hz, 50hz, and 47hz (which is what is on the Swans website so I included it in the specs). I played the test tones in the background and looked up when I noticed a sound. I couldn't believe it but I heard real bass as low as 50hz! There was a barely audible sound at 40hz but at 50hz I would say it was usable! Very impressive for speakers of this size.
But that doesn't give you an idea of how they sound. For that, I'll actually have to use the speakers.
Since I was running frequency sweeps anyhow, I went ahead and let the Rives Test CD2 play. There are quite a few tracks after the test tones that aren't full songs but do give you a number of minutes of higher quality recording to check out your speakers. There's a good mix of bass (of the standup bass guitar type), bells and chimes, and everything in between. Also, the tracks are chosen to highlight your speaker's ability to image and present a coherent soundstage.
I really shouldn't have been worried about these speakers imaging. Even in an untreated office (who has a "treated" office anyways?) with non-optimal placement, these little speakers constantly had me believing that the vocals were coming out of my monitor. Vocals were well located, instruments and sound effects found consistent and stable locations within the soundstage, and overall, everything sounded very lifelike. The bass was tight and controlled though the midrange did seem to get a bit sloppy at times (this may be a room issue). The highs were very well presented and the chimes and bells had that perfect metallic ring and holdover that I hear so often around here when my nine month old gets into the pots and pans… except not as painful… and loud… and annoying.
I wasn't going to talk about this album on yet another review, but I had to bring up one quick point. As I've mentioned, Track 5 – Junior B has a bass run that I like to use to test larger speakers and subs. I played his track on a whim and apparently it must start at about 50 Hz and work its way down. I heard the first note and then it quickly faded off. What was impressive was what I didn't hear – I didn't hear bottoming out (no matter how loud I turned it) and I didn't hear port chuffing. Now, when I turned the volume on the computer, the speaker, and the bass control all the way up, there was a bit of chuffing and buzzing, but it was inaudible from my seated potion (about 3-4 feet away). I literally had to get up and put my head behind the speaker to hear it.
Once again, I wondered how these speakers would perform if I didn't toe them in so heavily. Taking the opposite extreme, I pointed the speakers straight forward and played Track 14 Planet Dada (Flamboyant). I was amazed to find that, for the most part, the sound was unaffected. The highs were a bit muted and the mids seemed a bit more recessed but the imaging was nearly as good as the toed in configuration. These speakers seem extremely resistant to poor placement. Now standing up did make a big (detrimental) difference in the sound quality destroying the imaging and almost muting the highs... so, stay seated.
Bang & Olufsen Vol. XIII – The Sound of Perfection

During my visit with Bang & Olufsen, they handed out a demo CD for all the attendees. While it is all pretty high quality recordings, most of it is either boring, weird or, well, classical. The first track, however, has quickly become one of my favorite test songs. Bruce Guthro's "Beautiful Life" has a great mix of male vocals and piano. The track has an extremely low noise floor and lots of airy passages. The Swans S200A's did a good job of recreating this track complete with plenty of depth from the piano and a very rich presentation of the vocals. The fourth track on the CD, Maggie Reilly's "Close Your Eyes", starts off with an a capella female vocal with plenty of echo and a very high recording quality. By the time the acoustic guitar comes in (which is like 8 bars into the track), you're already engrossed. The Swans did a very nice job indeed.
One last point that needs to be mentioned is that the bass wasn't at all boomy. With the separate bass modules, I almost always found that I could hear more bass outside the room than in. This has the dubious effect of having the wife come in and ask me to turn it down when I'm listening at (what I believe to be) reasonable volume levels. With the Swans S200A's, the bass stayed in the room where it belonged. This means that I can almost turn the volume up twice as loud without having my wife complain! This alone is worth the price of admission.
Conclusions and Overall Perceptions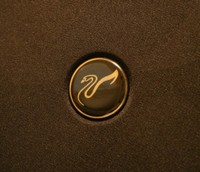 When I saw the Swans S200A speakers at CEDIA, I didn't know what to think. Oval shaped, woofer mounted above the tweeter, piano gloss finish… Can there really be hi-end computer speakers? Apparently, the answer to that question is a resounding 'yes'. These are by far the best computer speakers I've ever heard. They are also the most expensive I've ever heard. Even when compared to a separate amp and a set of bookshelves they hold their own well. They have a good amount of bass, a pleasant sound, and fantastic fit and finish. Some are going to balk at their size as they demand a bit of desk real estate. Personally, I found that these speakers were fairly placement-forgiving so you should have no problem integrating them into almost any setup.
Swans S200A Multimedia Speakers
MSRP: $679
Made by:
HiVi, Inc.; Hong Kong


US Importer:
The Audio Insider
Reno NV
800-992-7252
www.theaudioinsider.com
Special thanks to OZ Home Theater for providing the samples for this review.


About HiVi
HiVi is a leading manufacturer of stereophile quality audio systems. Employing some of the worlds' finest electro-acoustical technicians and craftsmen, the company established state-of-the art R+D facilities in Toronto, Canada in 1994 and was fueled by early successes with innovative driver designs. In 1997, HiVi merged with highly-regarded speaker manufacturer Swans Speaker Systems and opened corporate offices in Monterey Park, California. Respected audio designer Frank Hale, former president of Swans, continues to serve today as Chief Designer for HiVi Speaker Systems.
The Score Card
The scoring below is based on each piece of equipment doing the duty it is designed for. The numbers are weighed heavily with respect to the individual cost of each unit, thus giving a rating roughly equal to:
Performance × Price Factor/Value = Rating
Audioholics.com note: The ratings indicated below are based on subjective listening and objective testing of the product in question. The rating scale is based on performance/value ratio. If you notice better performing products in future reviews that have lower numbers in certain areas, be aware that the value factor is most likely the culprit. Other Audioholics reviewers may rate products solely based on performance, and each reviewer has his/her own system for ratings.
Audioholics Rating Scale
— Excellent
— Very Good
— Good
— Fair
— Poor
| Metric | Rating |
| --- | --- |
| Build Quality | |
| Appearance | |
| Treble Extension | |
| Treble Smoothness | |
| Midrange Accuracy | |
| Bass Extension | |
| Bass Accuracy | |
| Imaging | |
| Soundstage | |
| Dynamic Range | |
| Performance | |
| Value | |