Decimo Technology Overview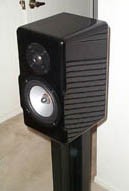 Speaker companies are a dime a dozen these days in a market flooded with gimmicky products that claim improved fidelity by having you, the consumer, loading sand in your cabinets or removing tweeter grills. In the audio industry today, It is a rarity to find a company that doesn't give into these tactics to market a substandard product. It is a refreshing experience however, when a pair of speakers are delivered to your door in an ordinary cardboard box, rather than having outrageous technical hyperbole silk-screened all over them (that when hooked to a good processor and amp, absolutely blow your mind to the point of returning them would be a crime). Enter the Status Acoustics Decimo's. These little giants are a product from the high-end division of a company in Layton, Utah named RBHsound. The Status line represents their finest offering of speakers, which are custom built and tailored for the most discriminating listeners.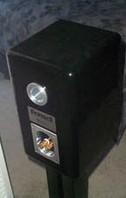 Are They Speakers or Nice Pieces of Furniture? Upon unboxing these speakers, I knew from a first glance that I was dealing with a world class product. Status Acoustics spared no expense at paying attention to detail and quality of workmanship when engineering this amazing product. I have never seen cabinets like these before. They are not made from typical MDF or any wood byproduct for that matter. Instead, Status chose to employ a much more costly, rigid and inert multi-fiber composite material enclosure. Using composite material prevents unwanted acoustic energy storage, greatly reducing any chances of audible cabinet coloration. The internal construction of these speakers is quite impressive. They have both vertical and horizontal cylindrical bracing beams and doubled up baffles (3/4" thick each totaling 1 1/2" thick on top and bottom of cabinets as well as the bottom areas on the sides). Not only are these cabinets superior to conventional MDF cabinets from an mechanical standpoint, but they are just about the most aesthetically pleasing I have ever come across! They appear to be more like a piece of furniture than a speaker. In fact, Status Acoustics marketing department would be wise if they came up with a nifty slogan like: "We don't make speakers, we make furniture that sounds good" or something to that effect. The Aluminum brushed port and backplate mount for the connectors gave a nice touch of class well deserved and befitting for a product of this caliber. The overall workmanship and appearance of these speakers left little to desire or criticize. OK, I've drooled over these speakers appearance long enough now. It's time to get to the most critical part of this review; the listening experience. After all, one does not buy a speaker based solely on its looks (at least I hope not). I put together a few rules (in bullets) that I feel help to define important factors in good loudspeaker design.
A properly designed loudspeaker system provides a reasonably flat frequency response within the audible bandwidth from 20Hz to 20KHz.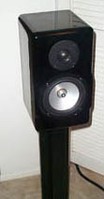 If the speaker is physically limited with respect to enclosure volume or driver radiating surface area, one would at least hope what the speaker does produce in the bass region is linear enough to blend well with a musical subwoofer, covering the full audible spectrum without introducing any unwanted coloration's. In this regard the Decimo's do not disappoint. These 2 way loudspeakers consisting of one 6 1/2" midrange/woofer and one 1" tweeter, with a mere footprint of 15" H x 10 1/2" D x 8 1/4" W, sound much larger than they appear. While they will not shake your room with deep bass extension, what they do produce in the bass region is extremely tight, accurate, and linear. The Decimo's bass extension is truly impressive for a speaker of its size. They do more than a fair job of producing bass frequencies in the upper 40 Hz range, which is low enough to seamlessly blend with a musical sub. Where these speakers truly shine is their tonal quality from 40Hz and up. The midrange is extremely articulate and uniform throughout the voice band (200Hz to 4KHz). I attribute the Decimo's superb midrange tonality and articulation to the following:
Status Acoustics Aluminum midrange driver with cast basket
* Hi quality aluminum cone midrange driver with phase plug . Using aluminum for the cone provides significant audible benefits because of the superior stiffness to weight ratio over conventional paper or plastic cones. As a result, the driver acts more like an ideal piston thus reducing tendencies of break up distortion and dynamic compression due to cone flexing. The phase plug essentially eliminates the need for a dust cap, which in turn, reduces cone mass, permitting extended frequency response. It allows more airflow through the motor structure, which improves cooling and thus increases power handling. A Phase plug also helps to reduce on-axis beaming by dispersing higher frequencies that the cone is producing.
Note : Beware, many loudspeaker manufacturers use a quasi phase plug which looks like a phase plug for marketing purposes, but does not physically separate from the cone of the driver. These "so called" phase plugs can do more harm than good as they provide an inconsistent surface area and they also increase mass of the cone yielding poorer frequency response and linearity.
High quality cabinetry . The build quality of the Decimo's is second to none. They are extremely inert, thanks to the dense material they are constructed from and the extensive amount of internal bracing and baffling. 3/4" thick composite set in resin. A rigid and inert cabinet such as the Decimo, permits maximum energy delivery of the drivers to be converted to sound resulting in a more detailed, and accurate tonality and increased dynamics.
Note : Beware, some loudspeaker companies include tiny compartments on the bottom of the cabinet where the user can add sand to supposedly make the cabinet more rigid. This is another marketing technique thrown at the consumer to make them believe they are custom tailoring their own sound, when in fact, in most cases, these cabinets are poorly constructed with no internal bracing and thus a few ounces of sand will make little or no audible difference. Bottom line, a properly constructed cabinet is a must!
Magnificent Scan Speak 9500 tweeter . This tweeter is one of the best on the market with respect to frequency response (on and off axis), and power handling. The Scan Speak tweeter plays low enough to integrate extremely well with the midrange driver resulting in a seamless interaction between the two. Regardless of how loud I cranked the Decimo's, the treble never sounded compressed or fatiguing such as lesser designs tend to. Quite frankly, I have never heard any loudspeaker convey such clean, uncompressed, detailed highs regardless of price.
High Quality crossovers . Status uses nothing but the best inductors, high tolerance resistors and film caps in their crossovers. Their crossovers are designed to insure optimal performance of each driver within its audible bandwidth, guaranteeing proper phase and frequency response of the speaker system. Decimo Cross-Over (Note the custom built Air Core Inductors, Film Caps, and Ceramic Resistors) Note : Beware, many loudspeaker companies use cheap electrolytic capacitors in series with the mid and tweeter drivers. Electrolytic capacitors are not very linear at high frequencies and thus should never be utilized in series for these crossover sections.

A speaker should have reasonably flat frequency response 30 degrees off axis. Let's face it. Think about where you sit in relation to your loudspeakers. Not everyone has the luxury of sitting center stage between the two speakers at equidistant points from each other. If a speaker has good off axis response, this will minimize the dependency of a "sweet spot" and thus the speaker system will image well regardless of where you orient yourself in the listening room. Having good off axis response really helps widen the soundstage and to reduce the boxy sound typical of many speakers with poor quality drivers and/or implementation. I walked around the listening room in amazement by how well the imaging and focus of the soundstage was so neatly preserved. Few speakers that I have had the luxury of listening to can compete with the Decimo's in this regard!