NHT Classic Two Build Quality and Listening Tests
It was time to crack open the NHT speakers and take a look inside. When opening the Two speakers, I noted how air-tight the seal was. After removing the screws I practically had to pry the woofer off to get inside. These speakers are well put together, and taking them apart gives you an appreciation for the fine quality of their build.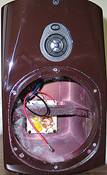 A looking inside of the Two's revealed the solid wood interior had costly baffle bracing as you can see here. The braces are quite solid, made as thick as the walls of the cabinet.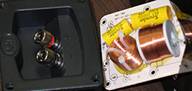 These are the crossover in the Two and speaker cable bindings. I'm no engineer, but I recognize the substantial components used. Air core inductors and polypropylene capacitors are all good ingredients for excellent crossover design.  They appeared to employ  2nd order parallel filter networks which are great for better power handling and better driver integration. The first image shows the binding posts, which had to be removed to gain access to the crossovers. Fat metal posts with well-fit metal screws, that even the thickest fingers will have no trouble gripping.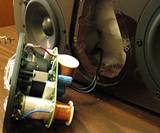 The Crossover on the aluminum dome tweeter / midrange "pod" of the Two C center channel.   Again quality components were employed throughout the entire crossover network.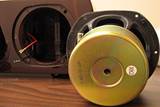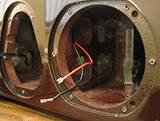 A look inside the Two C center channel speaker reveals the same significant structure as the Two speaker. The wood is solid, with no visible seams and full bracings between driver assemblies.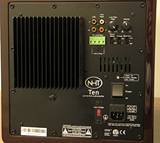 The Ten's 150 Watt power amp is sealed in plastic, mounted on the back of the sub with no less than 12 screws. Even the weight of the amp didn't cause it fall out when it was unfastened. The double-braced interior of the sub shows the NHT Classic line has uniform attention to a heavy duty build quality. These rigid speaker cabinets will reduce vibrations for a better acoustic experience.
NHT Classic Two: Listening Tests
Once calibration was over it was time to have some fun with this system - I still had yet to hear the speaker system in a room where it stood a chance of showing off some of its capabilities. Having always had a weakness for horror, and it being Halloween, I decided to test some of my favorite scary soundtracks. The bedroom TV is a spare 32" standard definition TV, having long since been replaced in the main room with HD. The old TV is rarely used anymore but its time had finally come.
First up - Blood: The Last Vampire.

This is one of the best little bits of Manga (lasting only about 45 minutes), with a fantastic 5.1 soundtrack. It takes place in a US Air Force base in Japan just prior to the Vietnam War. It seems the base was infiltrated by these shape-shifting, blood-sucking bat monsters that turn into anemic American school girls, and the only way they can be stopped is by a native Japanese school girl who also happens to be a sword wielding tough gal and a vampire to boot.
My gross oversimplification notwithstanding, it's actually a pretty good story, featuring characters that have distinct and complex personalities and plenty of shocking sounds. But the real reason to watch this spooky exercise in gore - besides the mixture of drawn and computer animation - is the 5.1 surround mix, which produces both subdued chills and sudden frights that'll make you jump out of your skin.
In the school Halloween Party scene, you're treated to Benny Goodman-style big band swing, which really stands out on a good quality system. Details in the sounds of instruments being tuned up just before a number were satisfying on their own; but then, as the band kicks in, the soundtrack opens up with some dazzling soundstage and very musical sonic imaging. You can actually place different instrument sounds coming from different areas in the room. The Ten sub gave this system a satisfying, "complete" sound in my very small room.
The opening scene in the movie takes place in a subway train, where the directional effects of the train whizzing by are enhanced in both the rear and front speakers. They can handle the loud, booming sounds of scenes occurring outside the train, and also the subtle rumbles of the action taking place inside. At the times in the film when it was necessary to really throw peaks into the room, the subwoofer seemed easily up to the task. 
Frank Zappa Halloween DVD Audio: This is a pretty straightforward
rock album, and is one of my favorite tests of mid, highs and mid-bass, as well as resolution, detail and soundstage. Frank Zappa did a series of concerts in the late 70's with a band consisting of some of the most talented performers of the day. It was the intention that the original recordings would be made into a quadraphonic release, but that never happened. However, it was easy for Dweezil Zappa (Frank's son in case you're not up on your Zappa genealogy) to re-master them for DVD Audio.
The results are stunning. The midrange detail and resolution offered by this speaker system rivaled (and probably exceeded) my own main system, which has the NHT ST-4s up front. A little more subtlety was apparent in Frank's Black Napkins / Deathless Horsie guitar work, and details lost on the ST-4s in the large room presented themselves with this setup in the closer quarters. But could it simply be the effect of being in a tighter environment? Smaller speakers playing closer to my ears may have contributed to perceived gains in upper frequency details.
My ST-4 speakers have played the same tracks many times and never failed to impress. But they are very smooth sounding speakers with laid back sound. The Two / Absolute Zero combination put the details a little more forward and of course lost some of the mid-bass. As expected with the smaller drivers, mid-bass was a little thin. I experimented with turning up the subwoofer's crossover to 100Hz and 140Hz (from its usual 80Hz setting) to try and compensate for lack of mid-bass. In some applications, like two channel music, I speculated I might get a bit more mid-bass from the sub. The speakers were set to "small" in the receiver, so anything 80Hz or lower was being diverted to the sub. I also tried to compensate for the system's mid-bass by dialing up the crossover, but it's just couldn't produce the same effect as larger speakers in a slightly bigger room.
I was impressed with the mid and high frequency detail of the Two / Absolute Zero combo; it rivaled and even exceeded at times the detail and imaging of my own big room system.  The Ten offers tight bass response, perfect for music. For a bass head like me - I feel movie soundtracks would benefit from a Twelve providing a little extra oomph in the LFE. In my 10' x 15' listening room, the Ten was potent enough; but if the room got up to 20' x 25' with an eight foot ceiling and a couch, I would recommend a subwoofer upgrade.
The Ten is rated to go down to only 31 Hz though this is a reasonable design compromise since the Ten is only designed for smaller rooms. Many sub manufacturers feel they must reach 20Hz, but NHT's philosophy is: It's not how low you go but how well you go low. A budget sub that can hit 20Hz is liable to rob the higher bass frequencies of some dynamic range or linearity. It's difficult to design a sub that keeps constant sound pressure levels as frequency drops. Human ear sensitivity diminishes at decreased frequencies, so a 20Hz signal has to be louder than a 40Hz to be perceived as loudly. The cost of a sub dropping to 20Hz is either its dynamic range or a tremendous amount of amplification, cone area, excursion and/or all of the above.  The Ten was clearly designed for a small room.  In larger rooms, I highly recommend two Ten subwoofers for added headroom, better modal control and a wider bass consistent listening area.  Better yet, bass heads should upgrade to a Twelve or two for the ultimate bass impact.
Next stop in my listening tour of the NHT Classic Two 5.1 speaker system was a movie near to my heart on Halloween: Corpse Bride. 
At this point I had the volume on the sub up to ¾, which I would never do on my main system. The scene where Victor Van Dort (Johnny Depp) first unknowingly puts the ring on the Corpse Bride is a good test of any subwoofer rumble. I must say the scene was not a disappointment. The only recent thing I have to compare to the rumble made as the corpse bride rises from her grave is how it sounds in a 20x30' room with two 12" subs. It's not a comparison that works favorably for the Ten, but all alone in a smaller room the Ten exceeded my expectations. When the soundtrack required LFE rumble, the Ten delivered adequately. However, I am not confident it would hold up in a much larger room, considering the volume was already turned up.
The scene that follows after the meeting with the Corpse Bride is the skeletal jazz band musical number in the underground lair of undead. The performance was amazing – every playful detail was brought out, and was masterfully executed with slightly more forward highs than I'm used to on the ST-4s.
I cherry-picked scenes from other haunting films, like the THX version of Suspiria - a favorite this time of year, that makes as good a test of video as it does audio. Sadly it's only half as good at 480i. The sounds of Goblin's horror art rock were as detailed as ever, but confirmed that the system could use a bit more mid-bass. Another selection, Iron Maiden's Death on the Road concert, was recorded at Westfalenhalle Arena in Dortmund, Germany. One note on this choice is it has horrible video production. The video flashes from one scene to another in quick succession like a strobe light. It's as if they're trying to induce an epileptic fit. But, as a saving grace, it sounded excellent with only a few small compromises. I had to turn up the sub a little louder than I was comfortable with to add some boom, and I also again found a slight lack in mid-bass.
For a final test of the speaker's sound, I picked out something I knew would use plenty of deep bass. It was time for the metal / techno sounds of Linkin Park, and the DVD Audio Reanimation (a collection of remixes that uses bass and drum machines liberally).
Linkin Park's remix of Points of Authority, called Pts.Of. Athrty, features a video that looks like a scene from a video game. It's also got enough bass to really test the subwoofer in a room like mine. Some describe a subwoofer as "musical" or fast, in that it can respond to changes in bass tempo without getting boomy. This is the Ten's forte with its very quick bass response. In my smallish room at 10'x15', it was loud enough at ¾ volume to fulfill my guilty pleasure of a little too much bass.