Monitor Audio GR-10 Build Quality & Conclusion
As usual, I could not resist dissecting these speakers to find out what makes them tick. I had to search for a special hexagon screwdriver in my garage to remove the screws from the woofers and tweeters. I suppose Monitor Audio choose to make this chore a little more difficult than normal to prevent people like me from what I was doing. In any event, I took great care in removing the drivers, and I don't recommend trying this at home.
Monitor Audio GR-10 Woofer (left pic) & Tweeter (Right Pic)

I was quite taken by the build quality of the midbass RST C-Cam driver. It incorporated a heavy powerful motor structure and extremely rigid non ferrous metallic basket. The cone material employed was perhaps the most rigid I have ever seen remaining extremely stiff while I gently pressed the edge of the cone from the back of the driver with my finger. Most cones of lesser design flex considerably when I apply this test.
The signature Gold Dome tweeter appeared to be very similar to the one used in the Studio series, although David informed me that some tweaking has been done to enhance performance further.
The cross-over network is of a more sophisticated design that I am used to seeing from Monitor Audio. It is not just a conventional LC network. Some shelving circuits and attenuation pads have been added to better blend the drivers. All components are of high quality of course (IE. Air Core inductors, Metallized Polyester Capacitors, etc)
Monitor Audio used high quality silver speaker wire to connect the drivers and cross-overs. This is just another example that they paid very close attention to detail with this design.
Conclusion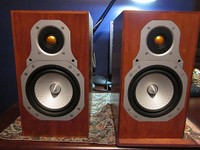 Monitor Audio offers a very impressive package with the new GR-10 bookshelf speakers. I have had extensive listening experience with other Monitor Audio products for over a decade and feel that these are their best sounding and most visually appealing series. Monitor Audio has managed to create an excellent sounding, finely crafted, and relatively affordable bookshelf speaker system that rivals many of their more costly competitors solutions. My only minor gripe is mostly a cosmetic one. I wish they would have rounded off the corners of the cabinets as I feel it would have made these speakers even more visually pleasing and possibly added a tad bit better imaging of the tweeters by reducing lateral baffle surface area and reducing tweeter diffraction. In any event, the GR-10's are a must audition if a small, attractive and high performance bookshelf speaker system is what you are after. They are an excellent successor to their flagship discontinued Studio Series and should provide countless years of musical enjoyment to even the most critical listeners.
For more information, Visit: Monitor Audio USA

The Score Card
The scoring below is based on each piece of equipment doing the duty it is designed for. The numbers are weighed heavily with respect to the individual cost of each unit, thus giving a rating roughly equal to:
Performance × Price Factor/Value = Rating
Audioholics.com note: The ratings indicated below are based on subjective listening and objective testing of the product in question. The rating scale is based on performance/value ratio. If you notice better performing products in future reviews that have lower numbers in certain areas, be aware that the value factor is most likely the culprit. Other Audioholics reviewers may rate products solely based on performance, and each reviewer has his/her own system for ratings.
Audioholics Rating Scale
— Excellent
— Very Good
— Good
— Fair
— Poor
| Metric | Rating |
| --- | --- |
| Build Quality | |
| Appearance | |
| Treble Extension | |
| Treble Smoothness | |
| Midrange Accuracy | |
| Bass Extension | |
| Bass Accuracy | |
| Imaging | |
| Soundstage | |
| Dynamic Range | |
| Fit and Finish | |
| Performance | |
| Value | |
See also: