Mi-Horn VHT Technology Overview
Musical Industry (MI) was founded November, 2002. Their objective is the pursuit of lower cost sound improvements in hi-end audio. Upon a quick glance at their site, I must admit to a high level of skepticism. Being the objectivist I am, I simply find little value in ancillary devices or tweaks that have little basis in provable sciences. But, there are those audiophiles that would care less one way or the other so long as higher fidelity is promised, even if its not delivered, they will think they can hear it and be happy nonetheless.
When reviewing inexpensive home theater equipment, it is often a difficult challenge for a reviewer to put the product into perspective and judge it based on what it is intended to do, while keeping in mind all of the designer trade offs the manufacturer had to make to hit a particular price point. When Mi-Horn introduced us to their Mi-Horn device, I almost wrote it off as snake oil until I pondered its application. It is an accessory device to be placed onto a speaker system to increase efficiency and control dispersion. In most cases, it's usually inadvisable for a consumer to modify their speaker design with some aftermarket part, but Mi-Horn makes this process relatively painless. Depending on your application, it may or may not be a worthwhile endeavor to consider. In the case of their DAC1.5 bookshelf speaker and DAC1.5C center channel speaker, it's an easy decision since the speakers come with the Mi-Horn devices as an optional installable accessory. These speakers are produced by a company called Unisound which are relatively unknown among audio enthusiasts. However, they are known by savvy retailers as producing high value products and OEM solutions.
Installing the Mi-Horn devices requires a Phillips head screw driver and a few minutes of twisting action to get all of the horns installed via fastening them to the drivers with screws. Mi-Horn offers Velcro adhesive alternatives for speaker systems incompatible with this installation option. In fact, these speakers came with the Velcro hook-ups for the tweeter sections. After getting the Mi-Horns installed, I couldn't help but reminisce of the days where scratch collars were a must for my pet poodle who always suffered from ear infections. The Mi-Horns aren't quite big enough for a dog or cat, but hamsters and gerbils rejoice, for there is salvation to your itchy ears at last ;-)
They even have a pictorial "how to" informational on their site at:
http://mihorn.com/velcroinstall.htm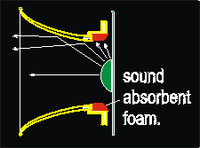 The theory behind Mi-Horn technology is to minimize reflected sound caused by the room so that the first arrival sound is more clearly identified by the listener. This is nothing new. Companies have been using horn loaded driver technology since the dawn of loudspeakers. The big names such as JBL and Klipsch have popularized these designs, especially in concert and movie venues. The advantages of horns are two fold, increased efficiency, controlled dispersion. These are all attributes that in my opinion best suite outdoor concert venues or large arenas, though some audiophiles prefer horns in their hifi systems. I for one am not a horn lover. I prefer the less compressed, more open and spacious sound of conventional cone and dome driver designs, at least for home audio and theater. But that's neither here or there since the focus of this review is on a horn technology meant to enhance budget speaker systems.