Intimus 5B Set-up & Listening Tests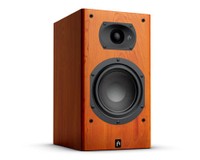 I tested the Intimus 5Bs in two scenarios:
Office - as a nearfield monitor on my computer desktop (10' x 6' office)
Theater room - two-channel utilizing the reference gear and premier listening space in the Audioholics Showcase home
In the first scenario, I used my Headroom micro preamp and DAC connected to a Panasonic SA-XR50 class D 5.1 receiver. In my opinion, this is actually a poorly executed product but I bought it as a reference for how bad Class D can be if not designed properly. It does manage to work fairly well to power computer speakers and I now use it for that function normally since its low profile and efficient.
For the second scenario, I placed the 5B's on my 30" sand-filled Plateau speaker stands which puts the tweeter right at about ear level on my Continental theater seats. The speakers were positioned about 5ft from sidewalls and around 8ft from the back walls and spread apart about 10ft from each other which was about two feet shy of the distance from my primary listening position. After experimenting, I found they sounded their best with minimal to NO toe-in for reasons I will get to later in the review. I used my Denon AVR-5805mkii 10-channel A/V receiver to power them and my Yamaha MCX-2000 digital server as the source. All interconnects were furnished by Blue Jeans Cables (1694A Coax) and Kimber 8PR speaker cables with WBT compression banana plugs.
Listening Tests
Unless otherwise stated, all listening tests were conducted without a subwoofer in two-channel configuration with the Intimus 5Bs set to "large" in the A/V receivers bass management.
Office Room utilizing Pandora.com
To start off my listening tests, I began with the setup in my main office where I do all related works for Audioholics. I usually write my articles with music playing in the background courtesy of the FREE services of Pandora.com. With that, I captured some of my listening experiences with the following source materials.
Eagles – I Can't Tell You Why
The guitar coming from the left speaker sounded so expansive that it went beyond the lateral plane of the speakers. This was my first hint that the Aperion's were ready to show off their ability to image. This is a trait I love about small bookshelf speakers that large towers usually never come close to matching.
Crosby Stills & Nash - Just a Song Before I Go
I had the same experience as the Eagles. The guitars seemed more expansive than I anticipated. Sound was very relaxed and inviting much more so than the JBL Pro III speakers I normally use on my desktop. I enjoyed the sonic chops the 5B's were displaying so much that I didn't skip this song when Pandora chose it for me despite I am not a huge fan.
Beatles – Come Together
This was the re-mastered mix used for Cirque du Soleil . The Intimus 5Bs exhibited excellent stereo imaging with the cymbals pushed all the way to the right speaker while the guitars beamed from both speakers in unison.
Riverside – Conceiving You
If you're a Progressive Rock fan like I am and never heard of this band, run to Pandora (after reading this review of course) and create a channel to start listening. The Bass was a bit thin coming from the 5Bs, but cymbals were clean and the vocals were very natural sounding, not conveying that "cupped" sound so commonly exhibited by small speakers.
Riverside -Voices in My Head
The stereo guitar effects at the beginning of this track were chilling. The 5Bs did a great job rendering some of the low bass tones cleanly although tactile response was severely lacking to accurately reproduce it. A powered sub would have really helped here.
U.K. – Nevermore
Bill Bruford's tom rolls, and cymbals sounded excellent. Wetton's voice came through concisely and was tonally very accurate.
U.K. – Dead of Night
Another great tune from a band long forgotten by most, this song displays Bill Bruford's genius on the drums. They just don't make rock music like this anymore. Cymbal crashes were clear and distinct and stereo separation again was excellent.
Joes Pass – Blues for Fred
The jazz guitar snuck up on my with its realism. Very pleasant listening experience, just one man and his guitar. The twang sound from the guitar and the reverb came in very clearly exhibiting the 5Bs ability to extract all of the detail from a recording..
Steely Dan – Any Major Dude Will Tell You
I really loved the way the acoustic guitars sounded on the Intimus 5Bs. The cymbals were crisp and tonally the 5Bs were a bit top heavy but everything sounded very pleasing nonetheless. Donald Fagen's vocals sounded great reminding me just how excellent Steely Dan recordings sound when played back on good equipment.
Theater Room
CD: Special EFX – Collection

This is a must-have CD when doing A-B testing for revealing sonic differences of electronics or speakers. It's a must-have in my opinion. It's excellent accessible jazz and Chieli Minucci is simply a fabulous and inspirational guitarist.
Track #2 "Jamaica, Jamaica" showed off the 5B's excellent ability to extract all of the details within the recording. Bass was a bit anemic and really could have used supplementation with a subwoofer. The rainsticks were a bit more narrowly focused then I've heard on other systems but they were just as detailed.
Track #4 "Summers End" displayed the 5B's ability to portray soundstage depth beyond the plane of the speakers with the very detailed top end response. There is so much going on in this song via various layers of percussion, vocal harmonics and electric guitar. The Intimus 5B's didn't mush it all together like I've heard on lesser designed systems. Instead they did a bang up job of preserving the separation rewarding my ears with the rich complex and tantalizing sounds of Special EFX.
CD: Pat Metheny / John Scofield – I Can See your House from Here
This is one of my favorite Jazz CD's featuring two guitar greats playing real jazz you won't hear on the so called "smooth jazz" radio stations that are more akin to playing what I refer to as "jazzac". Track #7 "Say the Brothers Name" is the highlight track on this CD for me at least. On a good speaker system, it transports you into a cozy jazz club sipping a dry martini. The Intimus 5Bs put me in that mindset for the most part but bass was again a bit lacking. The cymbal decays were well sustained like I've heard on the very best systems. Most speakers simply don't reveal all of the subtleties this well, score one for the Aperions. The trumpets sounded much larger than expected coming from such a diminutively sized speaker system. Scofield's guitar beamed at me from the left side of the room while Metheny's melodic playing on the right set the ambience persuading me to continue listening to more cuts from this CD. Dynamic passages played back at high listening levels proved too much for the little 5 ¼" woofers of the 5Bs which was not only evident with audible cone break up but also loud popping sounds when the woofer bottomed out. Crossing these speakers over at 80Hz and engaging one of my Velodyne DD15s helped to eliminate this issue, increase system dynamics and restore the bass that the 5B's just weren't capable of producing. These speakers proved to be far more rewarding when bass managed and played in concert with a quality subwoofer.
CD: Dianne Reeves Never Too Far
Yes I use this disc often but I know exactly what to listen for when I pop it in so expect to see me continually using it as a reference, especially for loudspeaker reviews. In track #2, "Never too Far", the chorus sounded pleasantly expansive but not quite as much as I've heard on larger systems. I had to bass manage the 5Bs when played at loud levels in my theater room as the woofers simply couldn't handle the bass on this disc. The Intimus 5B's showed off their uncanny ability to image on Track #3 "Come In'. The rim shoots really stood out more than I seemed to remember when listening on other speakers. This is yet another tribute to the 5B's very good tweeter design.
Although this CD is a bit bright sounding, I did notice the 5B's seemed to really bring this out a bit more than I preferred. Mating these speakers with a sub really helped to better balance the sound but on bright recordings, I wouldn't be afraid to knock the treble control down a dB or two to achieve more neutral sound.
See also:
Matt34 posts on August 02, 2009 22:39
I'd like to see a review dedicated just to their Bravus line of subs.
Lordoftherings posts on August 01, 2009 08:16
64met;604256
Hey Browning; glad to c u over here too! +1 on the Aperions; amazing product with even better customer support!
That's a great company that makes excellent sounding and looking speakers.
Good build quality too. Love them.
* Good morning 64met. I missed you. Hope you're doing great, and that your surround sound system and your family are providing you with all the joy in life.
Best regards,
Bob
64met posts on August 01, 2009 07:46
browninggold;604254
Aperion does make a excellent product. Customer service is top notch. Warranties and in home trial is the icing on the cake. I have 4 5 series speakers for surrounds and they sound great. When I play 7 channel stereo during music playback it sounds amazing.
Hey Browning; glad to c u over here too! +1 on the Aperions; amazing product with even better customer support!
browninggold posts on August 01, 2009 07:11
Aperion does make a excellent product. Customer service is top notch. Warranties and in home trial is the icing on the cake. I have 4 5 series speakers for surrounds and they sound great. When I play 7 channel stereo during music playback it sounds amazing.
Robof83 posts on July 31, 2009 22:26
Thanks for the nice review.