Infinity P162 Listening and Conclusion
As always, the first thing I do with a new set of speakers is it test out their low end response. Infinity claims the P162s reach down to a fairly impressive 49Hz. Grabbing my trusty Rives Audio Test CD II, I tested out their claims. At my listening position, using the Radio Shack SPL corrected tones, I found that the response didn't really kick in until closer to 80Hz. At 40Hz and 50Hz I was getting output, but it was 10dB or more lower than the 80Hz response in my room. At 100Hz, the response jumped even a little more though much of that could be due to room effects. I don't know where Infinity got that 49Hz number from, but it seems a bit generous to me (in a corner-loaded way). In my room I crossed these speakers over no lower than 80Hz. Based on the measurements above, a more lively room might be able to stretch that to 60Hz.
I always like to use yello's the eye when setting up a pair of speakers. While it isn't the greatest album for "natural" sound, it does have a lot of phase shifting, low bass sweeps, and pans. This album gives even the best stereo speakers a run for their money. In this instance, I wasn't so worried about sound quality evaluation as I was about placement. Once I determined the toe-in (just a hair toward me), I was impressed with the P162's ability to provide a convincing side-to-side pan and a wide soundstage. With a pair of bookshelfs as large as the P162s (they aren't huge by any stretch but they are big), you'd expect a big sound. The P162s don't disappoint.
Bang & Olufsen Vol. XIII - The Sound of Perfection
The first thing I noticed with the B&O demo CD was the rock solid center image. The Infinity P162s easily and effortlessly anchored the vocals directly between them and never wavered. This is the sort of thing I love to hear in budget bookshelf speakers. While the P162s are not exactly at a true "entry level" price, they are well within reach of even the most budget minded enthusiasts. Nothing is more impressive to a significant other that had doubts about a speaker purchase than asking which speakers are playing, having them point at the mains and the center, and then watching the look on their face as you tell them only the mains are playing. It's the first thing I did when I bought my Axioms way back when and I expect a lot of first time buyers investing in the P162s will do the same.
Morecheeba - Big Calm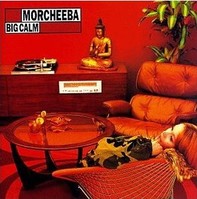 One of the things about the my Denon AVR-2307CI is that when you switch speaker sizes (large/small) for the mains, it resets the two channel mode to "no sub" mode. This is fine most of the time as I run full range mains but I occasionally forget to check that setting when I install a review pair of speakers. I spent the first track or two of this listening session without the sub (something I would have done on purpose eventually). The P162s had a very respectable bass response, even sans the support of the Axiom EP500 sub. While my direct (i.e. Rives Test CD) experience with the P162s showed a lack of bass in my room, the bass it did have was very linear and pleasant even run full range. While a sub is warranted for movies and some music, you're probably going to be very pleased with your purchase without one. Just don't go borrowing a friend's sub for a night - not knowing what you're missing is probably best.
The biggest problem I experienced with these speakers was the high end. Fatigue quickly set in with extended listening sessions. While I didn't find myself wincing or in any sort of physical discomfort, I did find that I didn't really enjoy spending much time with the P162s at higher volumes for any prolonged length of time. This effect was only exacerbated by running the P162s without a sub. As I've found with other speakers, a full bottom end will sometimes mask high end problems. It doesn't solve them, but it will distract you long enough so that you don't notice them at first. Of course, if you're not planning on spending a lot of time with them at high volumes, this issue might be moot for you. This is really a limitation of a smaller tweeter like the one used in the Primus P162 which is likely going into extreme thermal compression and distortion at higher volume levels.
Rusted Root - When I Woke

With the amount and variety of musical instruments that are used in When I Woke, I often feel like a Rusted Root concert would have to have a huge stage for all the instruments - or risk looking like a Saturday Night Live "cram them all in there" set. The Infinity P162s provided a very nice and wide soundstage. While I wouldn't call it deep, the width was definitely there. Again, when looking at a budget pair of speakers, width is surely preferable to depth in that it is quickly identifiable. Center image was again solid. For the most part, the left/right was very good - something I'd noticed with the B&O demo disc. However, with Rusted Root, it seemed that the farther to the side it was supposed to be anchored, the better differentiated it sounded. As the sound moved toward the center, it tended to blend in with the center image. This is in no way a slight - just an observation. At just over $300 a pair (much less on sale), this is to be expected.
Conclusion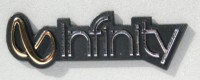 If I was designing a set of budget bookshelf speakers and I wanted them to sell themselves, I'd focus on a few things: Great center image, wide soundstage, and the lowest response I could muster. Well, Infinity hit the nail on the head with this one. It is easy to see how people are excited about these speakers - they do the stuff that is most noticeable well. The aesthetics are a bit ho-hum for my tastes and I found the highs to be more fatiguing than I'd like. The fact that the sweetspot for listening is low on the speaker (below the woofer) means you'll probably need some fairly high stands (minimum 30 inches). But it also indicates something else - these are the perfect entry level speakers.
Infinity Primus P162
$159 (each)
Infinity Systems
250 Crossways Park Drive
Woodbury, NY 11797
516.674.4INF
About Infinity Systems
Infinity Systems is a unit of Harman International Industries, Incorporated (www.harman.com). Harman International designs, manufactures and markets a wide range of audio and infotainment products for the automotive, consumer and professional markets, and maintains a strong presence in the Americas, Europe and Asia, employing more than 11,000 people worldwide.
The Score Card
The scoring below is based on each piece of equipment doing the duty it is designed for. The numbers are weighed heavily with respect to the individual cost of each unit, thus giving a rating roughly equal to:
Performance × Price Factor/Value = Rating
Audioholics.com note: The ratings indicated below are based on subjective listening and objective testing of the product in question. The rating scale is based on performance/value ratio. If you notice better performing products in future reviews that have lower numbers in certain areas, be aware that the value factor is most likely the culprit. Other Audioholics reviewers may rate products solely based on performance, and each reviewer has his/her own system for ratings.
Audioholics Rating Scale
— Excellent
— Very Good
— Good
— Fair
— Poor
| Metric | Rating |
| --- | --- |
| Build Quality | |
| Appearance | |
| Treble Extension | |
| Treble Smoothness | |
| Midrange Accuracy | |
| Bass Extension | |
| Bass Accuracy | |
| Imaging | |
| Soundstage | |
| Dynamic Range | |
| Fit and Finish | |
| Performance | |
| Value | |

lsiberian posts on April 27, 2009 11:00
GOYA;558728
There is a glaring omission in the P162 review: allowance for a break-in period. Maybe the reviewer did allow for this but the noted harsh highs and decreased bass extension could very well be a result of out-of-the-box performance.



As an owner of these speakers I can atest to the improvement of the speakers performance after 10-14 days of moderate use.
This isn't a glaring omission.
http://www.audioholics.com/education/loudspeaker-basics/speaker-break-in-fact-or-fiction/
[audioholics.com]
Read the above article for further education on the subject.
I will summarize by saying break-in is time it takes for you ears to tolerate bad sound or to adjust to good sound after years of bad sound.
This is why FR is probably your best measure of loudspeaker quality. However do to several factors most manufacturers compromise something to fit size constraints. Listening helps a person to determine what they can tolerate.
GOYA posts on April 27, 2009 10:23
There is a glaring omission in the P162 review: allowance for a break-in period. Maybe the reviewer did allow for this but the noted harsh highs and decreased bass extension could very well be a result of out-of-the-box performance.
As always, the first thing I do with a new set of speakers is it test out their low end response.
As an owner of these speakers I can atest to the improvement of the speakers performance after 10-14 days of moderate use.
redman_43 posts on April 15, 2009 16:50
I couldn't agree with the review more. I've got a pair in my system for the fronts and will be moving them to the rear for surround duty when I upgrade to towers up front. Awesome little (relatively speaking, of course) speakers for not much dough.

Thumbs up to Infinity for a job well done.
Alex2507 posts on April 14, 2009 23:22
tbergman;553063
Yeah, pretty sure I'm going to pick up the P142's sometime. I'm really liking the betas and these should be a good match for some surrounds that won't cost too much and will do for my system until I get out of school.
Get the 152's. Then you can cross everything over at 80Hz as opposed to the 100Hz for the 142's and they are not much more money. The best place to get them is here:
http://stores.shop.ebay.com/Harman-Audio__W0QQ_armrsZ1
[stores.shop.ebay.com]
Full warranty at auction prices blah blah blah. Something is wrong with the site at the moment but they'll get it sorted out.
Rock on Dude.
allargon posts on April 14, 2009 22:54
No site is the definitive end-all be all. I read various websites and research any product I plan to purchase as much as possible. Audioholics is pretty good. They are among the best. Are they perfect? Of course not. Gene just said Consumer Reports likes Bose. Bose and CR don't have the best history.

Consumer Reports has been off on cars, appliances, electronics, lawn equipment, etc. They're not perfect, either.

I am an Infinity Primus owner. I like my Primus'. They're fine for the budget I paid for them. Are they fatiguing? Well, I hate my center channel. However, I don't find them fatiguing. Tom found the bookshelves fatiguing. Well, that's Tom. He's a professional reviewer whom I trust. However, it's subjective. I despise bright speakers. I won't go near Klipsch or Polk. However, others love them. Different folks (even reviewers) have different preferences.