Fluance XLHTB 5.0 Speaker System Preview
Summary
Product Name: XLHTB
Manufacturer: Fluance
Review Date: February 28, 2013 21:05
MSRP: $799.99
First Impression:

Pretty Cool

Specifications

XL7F Floorstanding Speakers (read our review) $499.99/pair

Tweeter: 1"

Neodymium

Balanced Silk Dome Ferrofluid Cooled
Midrange: Dual 6.5" Polymer Treated Butyl Rubber Surrounds Separate Enclosures
Subwoofer: Isolated Down-firing 8" Polymer Treated High Excursion with Butyl Rubber Surround
18 gauge internal lead wire to reduce signal degradation
Magnetically shielded to avoid interference with other video products
Floorstanding main configuration for full-range sound in any application
Power Handling: 80 - 200

Watts

Frequency Response: 45Hz - 20000Hz
Sensitivity: 89 dB
Crossover Frequency: 800/3500 Hz Phase Coherent - PCB Mounted Circuitry
Impedance: 4~8 Ohms
Cabinet: Precision Crafted

MDF

Internally Braced
Enclosure: Tuned Rear Port Bass Reflex Tower Design
Dimensions: 45.8 X 8.5 X 13.4 inches (H x W x D)
Weight: 45.2 pounds/speaker


XL7C Center Channel Speaker - $119.99/each

System Type: 2 Way - 3 Driver Center

Channel

(Wall Mountable)
Tweeter: 1"

Neodymium

Balanced Silk Dome Ferrofluid Cooled
Midrange: Dual 5" Polymer Treated Butyl Rubber Surrounds
Power Handling: 30 - 120

Watts

Frequency Response:60 - 20K Hz
Sensitivity: 85dB
Crossover Frequency:3600 Hz
Impedance:8 Ohms
Enclosure:Vented Bass-reflex Design
Dimensions: 6.9 X 18.5 X 9.0 inches (H x W x D)
Weight: 13.8 pounds


XL7S Surround Sound Speakers - $179.99/pair

System Type: 2 Way - 2

Driver

Surround Speaker (Wall Mountable)
Tweeter: 1"

Neodymium

Balanced Silk Dome Ferrofluid Cooled
Midrange: 5" Polymer Treated Butyl Rubber Surround
Power Handling: 25 - 120

Watts

Frequency Response:60 - 20K Hz
Sensitivity: 84dB
Crossover Frequency:6000 Hz
Impedance: 8 Ohms
Enclosure: Vented Bass Reflex Design

Dimensions: 9.0 X 11.4 X 8.1 inches (H x W x D)

Weight: 8.6 pounds/speaker


What's Included

Two mahogany floorstanding main speakers, one mahogany center channel speaker, two mahogany rear surround satellite speakers, eight 1" isolation floor spikes for use on hardwood or carpeted areas, full lifetime parts and labor manufacturer's direct warranty.
Executive Overview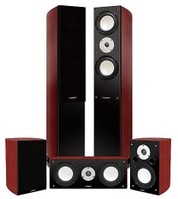 A while back we reviewed the Fluance XL7F floorstanding speakers and declared them a great bang for buck option for entry level home theaters (read the full review here). When Fluance decided to round out the XL offerings with a pair of bookshelf speakers and a center channel, we were interested. We are always on the lookout for budget recommendations. The XL7F speakers impressed us enough to give them a "Highly Recommended" rating so the full system is really a no-brainer to add to our short list. As long as the rest of the speakers hold up to the quality of the floorstanding speakers.
The first addition to the Fluance XL line of speakers is the center channel. The XL7C retails for $119.99 each and sports the same 1" Neodymium Balanced Silk Dome Ferrofluid Cooled tweeter as the XL7F floorstanding speaker. Rather than the larger 6.5" woofers, the center has dual 5" Polymer Treated drivers in the ever-popular MTM configuration. This 2-way speaker is rated down to 60Hz with a 85dB sensitivity making it slightly harder to drive than the 89dB sensitive XL7F speakers. It is an 8ohm speaker, however, which won't create a very hard load for even budget receivers. The XL7C has a bass-reflex design with two, small, rear-facing ports. This is an odd choice for the port locations considering the XL7C includes wall mounts (and many of the stock photos on Fluance's website shows the XL7C wall mounted). This could mean that Fluance designed the XL7C with boundary reinforcement of the bass response in mind. This is a likely situation for the XL7C as those on a budget often either wall mount their speakers or, much more commonly, stick them in a cabinet.
The XL7C is 13.8 pounds and is a fairly large 6.9" by 18.5" by 9" (HxWxD). It is the 18.5" width that most has us concerned. While not large by Internet Direct speaker standards, the XL7F certainly isn't a diminutive speaker by any sense. The 7" height should play nice with many stock home theater cabinets but the width may be a problem so order accordingly. Like all the rest of the XL speakers, the XL7C has a gloss black front with a mahogany finish around the rest of the speaker. The cabinets are constructed out of MDF (an industry standard) and the rear has two keyhole mounts for wall mounting. If the XL7C follows the XL7F construction, the sidewalls will be 0.6" with the front baffle doubled (though we can't confirm this without opening up the speaker).
The XL7S surround speakers are a bit misleading. We usually think of "surround" speakers as wall-mounted di or bi-pole speakers. The SL7S is really a bookshelf speaker. While we prefer, in our own setups, dedicated surround speakers, it makes more sense for budget offerings to be in the form-factor of bookshelf speakers. First, some users will not want (or have a room/spouse that will support) floorstanding front speakers. This allows the fronts to be swapped out with the smaller bookshelf speakers. Even for those that can have floorstanding fronts, surround speakers that must be wall mounted are not always an option but bookshelf speakers that can be wall mounted can fit just about any environment.
Like the XL7C center, the XL7S surround speakers sport the 1" tweeter and smaller, 5" woofers. These speakers are also ported but the dual ports are located on the front making placement near a boundary much less troublesome. The XL7S speakers have a single keyhole bracket on the back along with the gold-plated binding posts (they look to be the same, high-quality ones that impressed us on the XL7F speakers). The speakers have similar specs to the XL7C center are rated down to 60 Hz just like the center channel making crossing over with a subwoofer very easy. Fluance has the speakers listed as 8.6 pounds each and 9" high, 11.4" wide, and 8.1" deep but we think they got the height and width measurements switched on their site when they pasted the spec sheet over from the center channel page. The one oddity with these speakers is that they ship with floor spikes. They specify that they are for use on carpeted hardwood floors but, again, we think this is a copy/paste error (this time from the floorstanding page).
The XL package retails for $799.99 which is a great price for a 5.0 speaker system of this quality. Usually when a company packages a number of speakers together but also sells them separately, the packaged deal is a bit cheaper. With Fluance, that isn't the case. If you add up the price of the individual speakers, you would save 2 pennies adding them to your cart separately rather than clicking on the package deal. Obviously not a big deal, but it was sort of funny when when did the math. The message that Fluance is sending to their customers is clear - we can't price these any lower. And if they priced them at $799.97, people would wonder why.
Conclusion
Given our experiences with the Fluance XL7F floorstanding speakers, we believe the XL7S surround (bookshelf) speakers and XL7C center speaker will be quality products. For those looking to make their first foray in home theater, looking for a present for a budding home theater nut, or just looking for a second system for their home, the Fluance XL Series speakers will easily fit the bill. Being able to mix and match the bookshelf, floorstanding, and center channel means that, no matter your room, you can find a configuration that you, and your spouse, can live with. And at $799.99 (or $799.97 for those that can't stand the thought of spending more money than absolutely necessary), they won't break the bank.
For more information, please visit www.fluance.com.
See also:
agarwalro posts on March 06, 2013 11:52
The budget options have become so good lately!

The only thing that raised my eyebrow was that the XL7C Center Speaker is rear ported and has wall mounting brackets. Does Fluance offer port plugs (bundled or optional) for using the XL7C on wall?