Elemental Designs A6-6T6 Center Channel Speaker First Look
Summary
Product Name:

A6-6T6 Center

Manufacturer:

Elemental Designs

Review Date:

August 28, 2009 05:00

MSRP: $400
First Impression:

Mildly Interesting

Specifications

| | |
| --- | --- |
| Max Power Handling | 225 |
| Minimum Power Input | 30 |
| Nominal System Resistance | 6 |
| Tweeter Size | 1.3" |
| Tweeter Type | Silk |
| Tweeter Model | O-635.R |
| Crossover Model | ER-6X.3 |
| Midrange Size | 162mm |
| Midrange Material | Poly |
| Number of Midrange Drivers | 4 |
| Cabinet Type | Ported |
| Weight | 45lb |
| Frequency Response | 45-22Khz +/- 3dB |
| System Sensitivity | 89.9 |
| Height | 10" |
| Width | 40" |
| Depth | 9.75" W/grill |
Executive Overview
When you are a smaller company, you have a few luxuries. One of those is being responsive. While Elemental Designs (eD) has been growing, they still have the ability (and desire) to do custom work. Sometimes, when they produce something custom, they end up liking it enough to turn it out as a production model. While this might take larger companies years, eD can do it much more quickly - and they have.
The request was for a larger center channel for a front projection system. Everyone knows that 90% of the dialogue is transmitted by the center channel for movies. We've actually had an HDTV channel broadcast in 5.1 just to see the local affiliate re-transmit that program stream in stereo. This means that all of the dedicated center channel information is essentially lost. You'd be shocked at how much of your favorite shows are transmitted almost solely through the center (unplug yours someday and try it out for yourself).
We can certainly understand the desire for a better, stronger center channel. With a front projection system, you have certain luxuries that most people do not. Specifically, you aren't worried about fitting a center into a cabinet nor are you concerned about blocking the IR receiver usually placed near the bottom of displays. You can mount the center to the wall under or behind the screen or you can place it on top of a cabinet where a flat panel television would normally sit.
With this in mind, the eD A6-6T6 Center is a very unique speaker and you're going to have to know that it will work for you before you make a purchase. At 10" high it is actually taller (by an inch and a half) than the flagship Denon AVP-A1HDCI processor (or any of their other receivers for that matter). The depth is just shy of 10" which would be considered normal to smallish for a bookshelf (probably larger for a center). The real problem, however, the width. At 40", you haven't got a chance at putting it into any cabinet we've ever heard of. At best you can put it on top but you'll either have to wall mount your display or raise it up so that the IR receiver will clear the 10" height.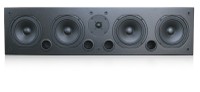 The A6-6T6 Center sports a 1.3" silk dome tweeter and four 6.25" poly coned woofers. The speaker has a pair of 5-way binding posts on the back but the pictures don't show any sort of provision for wall mounting (we expect that it's simply too heavy for keyhole mounts). We can only think that users are supposed to use a shelf as we'd hope that eD doesn't expect customers to drill into their new speaker. Near the bottom of the front baffle are 4 small ports which will simplify placement as rear ports would make near-wall placement unwise.
The advantage of a larger center is power handling and extension. This is a speaker that isn't going to bottom out as you turn it up - or at least it shouldn't. This isn't a speaker that's going to have problems integrating with a sub. This is a speaker that is really, in a lot of ways, much more than you need for a center channel. It is rated down to 45Hz which means you can lower your crossover for those with larger front speakers and a global crossover. This is a speaker that you'll be able to add an amp to and most likely see a benefit (where you're probably wasting it on a normal center). This is also a speaker that isn't likely to be outdone by your mains. When someone talks, you're going to hear them. The large size should also increase the sweetspot in multichannel playback.
eD has committed to the environmentally friendly EFS material for all their speakers and the A6-6T6 Center is no different. Users can look forward to the same extensive internal bracing we've come to expect from eD plus the density of the material is contributing to the weight of the speaker significantly. The drivers in the A6-6T6 Center are shielded for carefree placement near legacy CRTs (can you imagine one of these perched on top of a 32" Toshiba?) and hard drive equipped devices. The trademark hand painted finish from eD is present as well.
Conclusion
The A6-6T6 is a speaker for the few, the proud... you get the picture. With its 40" width and 10" height, you're going to want to make sure you can fit it in your setup. But if you are looking for a major kick from your center, this might not be a bad choice. Unfortunately, for most, the dimensions are going to preclude them from even considering it. But if you can, you are promised vocals and center information with an authority that smaller centers just can't touch.
For more information, please visit www.edesignaudio.com.
snowhiteboiler posts on September 03, 2009 11:27
They built me a similar one of these but with 4 100mm mid-ranges and a 1" tweeter so that it would fit on top of my low entertainment center and not block my flat panel (I'm in an apt. right now and didn't want to mount my tv). I couldn't use their standard center for this reason.

Mine is about as wide but not nearly as tall or deep as this one. It fills in the sound gaps that I had between my eD towers and really brings out the dialogue in everything from television programs to movies.
Soundman posts on August 28, 2009 13:08
It would be interesting to see how this speaker compares to other larger center channel speakers like "Bigfoot" for example. The weight and extension are about the same.
AVRat posts on August 28, 2009 10:48
It's in the specs, 30-225W
GlocksRock posts on August 28, 2009 09:44
I saw that in an email from them recently, it looks pretty interesting, I would love to hear how it sounds. What is the power handling on it?