52-SE First Impressions, Setup, and Tests
Over the years I have heard many great things about Dynaudio speakers, particularly the quality of their drivers which up till this point I only knew that they looked really good and were very expensive. You could imagine my level of enthusiasm when Dynaudio decided to send me a pair of their speakers for review. Enter the Audience 52-SE. These speakers were based on the original 52 design, but with upgrades in crossover components and drive units.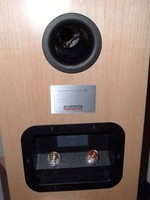 The Dynaudio 52 SE's are a two-way bookshelf, rear ported design. The binding posts were WBT with a little notch at the bottom to accommodate European style connectors. I found the spacing between the (+) and (-) terminals a bit perplexing and frankly inconvenient when trying to connect most manufactured speaker cables that keep the (+) and (-) conductors as closely spaced as possible to minimize inductance. I found that I had to physically separate the conductors at the end of the cable near the connectors in order to connect to these speakers.
Note: Standard spacing for years has been ¾" to accept dual banana plugs. However we learned in the past when reviewing the Canton DC 2 Loudspeakers that European products generally conform to this wider spacing arrangement to prevent consumers from accidentally plugging their appliances into them.

Inside the 52 SE resides a crossover network endowed with costly air core inductors, polypropylene capacitors and ceramic resistors.

The cabinet was well insulated as a whole, lined with bitumen to minimize cabinet resonance, and the front baffle was almost 1" thick, but I was mildly surprised to find the cabinet was absent of baffling or vertical bracing.

The mid/woofer driver was a rather unusual design with such a large vented pole piece and voice coil and cast frame. It was obvious that this driver was a serious contender for producing bass, but it remained to be seen if it would serve midrange duties with equal favor. The tweeter also contained a large motor structure and sealed rear chamber indicating it could handle large amounts of power and play extendedly low compared to most conventional designs.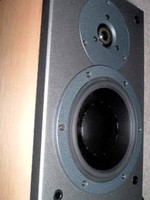 I was startled to see the woofer was not recessed into the baffle. I find it bad practice not to do so and remain puzzled why a few loudspeaker companies fail to realize the merits of the diffraction reducing benefits. The same could be said about the cabinet shape itself. In high performance loudspeaker design, every little bit helps, including rounding off the corners, again a good diffraction reducing technique that doesn't cost a whole lot in production, but can go a long way in fidelity enhancement.
Set-Up
I mounted the 52 SE's on my 30" sand filled metal stands where my reference bookshelf speakers normally reside. The 52 SE's are physically similar in size, thus made these stands very suitable for these speakers since they allowed for the speaker's tweeters to be at ear level in the seated position. I found placing these speakers a few feet from side and back walls with slight toe-in yielded the most optimal sound in my listening environment. The speaker separation was about 8 feet and my seated position was about 10 feet away. The associated audio gear used for this review was the Onix A120 Mk.II integrated amplifier, Audience modded Sony SCD-CE775 SACD changer, RBH 1010-SEP subwoofer, RE Designs Interconnects and Cardas Crosslink 1S speaker cables with banana plugs. Dynaudio was adamant about breaking these speakers in prior to critical listening tests so I kindly asked them to do it to save me some time.
Listening Tests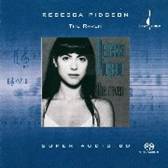 I began with Rebecca Pidgeon's - The Raven SACD. Both the normal CD and SACD layers are excellent recordings that will reward you with sonic bliss if your system and room are capable of unlocking its potential. I chose this recording because it really demonstrates how well a speaker can convey vocals. Rebecca's voice came through on the Dynaudio 52-SE's with full body and presence, but seemed to lack the articulation and intimacy I was so familiar with on similarly priced systems. While these speakers were no slouch in this category, they just simply were not exemplary either. I would say thus far my impression of female vocals on these speakers was par. However, what made me stand at attention was the excellent bass extension and response I was hearing from these speakers. When listening to "Spanish Harlem", I was most impressed. I swore there was a subwoofer playing during this song, and felt the 52-SE's delivered beyond their call of duty in this instance.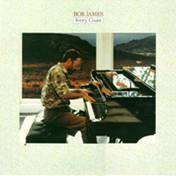 Bob James - Ivory Coast is one of my all time Jazz CD favorites simply because they just don't make music like this anymore. It's melodic, its fluid, it's relaxing, and surreal; atypical in today's smooth jazz genre. Right off the bat, I liked what I was hearing on the Dynaudio's. The imaging was good, soundstage deep, the high end - extended and smooth as it should be, and again the bass - well extended. I wasn't sure if the first order crossover topology or combination of robust driver design was responsible for the very realistic, almost lifelike sound I was hearing, but on this CD, the Dynaudio's all but disappeared and what I was left with was Bob's excellent piano ballads and accompanying instruments. I found myself listening to this CD in its entirety with the lights dimmed and a nice glass of red wine. At this point in my listening tests, I would categorize the Dynaudio's as recessed and slightly closed-in midrange, deep blossoming bass, and sibilance free, clairvoyantly transparent highs. I was beginning to realize these speakers leaned more towards the jazz and percussion listener than they did towards one who preferred the more vocal side of music.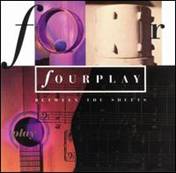 Just when I was about to declare the Dynaudio Audience 52-SE's the definitive bass master of bookshelf speakers, I was thrown a curve ball. Fourplay's - Between the Sheets title track "Chant" is not for the wimpy speakers at heart. In fact, Fourplay should add a disclaimer to this CD - " We don't warranty against blown woofers, listen with care ". I was eager to hear the bass response of this song on the Dyne's and fired it up. Instead I heard a shockingly loud popping sound predominantly out of the right speaker each time the bass drum hit at the song's intro. Thinking there must be a defect in the woofers voice coil assembly, I immediately turned the music down, disconnected the right speaker and re-listened with just the left one. The popping sound surfaced again, but I had to inch the volume up just a tad for it to be as loud as it was heard on the right speaker. What I was hearing was the woofer bottoming out. I was astonished to hear this in a modern day speaker, especially since most drivers now employee a shorting ring on the bottom of the pole piece to prevent the voice coil from going out of the gap.
My recommendation here is either to use the volume control sparingly during bass-intense music listening sessions, or cross them over between 60 - 80 Hz or so, and supplement them with a subwoofer. The latter is the preferred choice, especially in a home theater environment. I found this worked very well and allowed me to turn the volume up to maximum levels I could comfortably listen too.
I continued listening to familiar source material that I run most loudspeakers through to get a good understanding of the performance capabilities of these speakers. At the end of my evaluation I was left with the conclusion that these speakers truly shined with percussion / jazz type music, but lacked the ultimate elements of intimacy in the midrange arena to convince me I was listening to a singer and not a speaker. Their Achilles heal perhaps was the bass / midrange driver with its long throw, large 3" diameter voice coil and oversized dust cap which seemed more suited for midbass duties than it did for a dedicated midrange. Perhaps a 3-way variant of this speaker would have been more appropriate and something we should check out in the future. Don't take this as a major blow against this speaker however. The Audience 52 SE's did a great job on instrumental music and classical. I think this is partly attributed to the excellent tweeter design and quality of crossover components employed. There were moments when I listened to this speaker that I thoroughly enjoyed them and you may wallow in them as well if they suit your musical tastes.