Mentor 1 Measurements and Analysis
Measurements & Analysis
Impedance / Phase Measurements of the Mentor 1
DALI lived true to their claim that their loudspeakers are a "Amplifier Friendly" loudspeaker system – in my book this earns them big brownie points. System tuning appears to be around 45Hz as indicated by the impedance minima between the two saddle points. The impedance never dips below 5 ohms and most importantly, their phase response is very uniform maintaining –30 to 0 deg from 100Hz up to 20kHz. Any decent home theater receiver should be able to drive these speakers without incident and from my testing they do sound very uniform whether I tested them on an inexpensive receiver or the very impressive and inexpensive Reference Series separates system from Emotiva.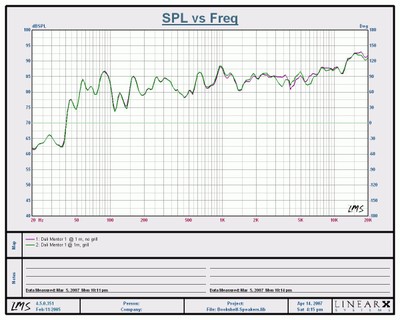 In Room 1 Meter Frequency Response Grills On/Off of the Mentor 1
I couldn't measure any appreciable frequency response variation with the grill on versus being off other than the -2dB notch between 3-4kHz with the grill on which may partly explain why I subjectively felt that the Mentor 1's sounded best with their grills off just as all very revealing speakers tend to.
In Room 1 Meter Frequency Response On / Off Axis of Mentor 1
This graph perhaps reveals why I found the Mentor 1's to be a bit hot in the top end. Overall the graph looks quite linear up until around 12kHz where we see a bump of 5dB out to 20kHz. Incidentally this is where the tweeter rolls off and the ribbon cuts in. It would have been nice if DALI offered a POT adjustment to tone the ribbon tweeter down for those whom prefer a warmer, less aggressive sound. The response of these speakers look best 30 degrees off axis, hence why I recommend little to no toe-in.