Bowers & Wilkins PM-1 Bookshelf Speaker First Look
Summary
Product Name:

PM-1

Manufacturer:

Bowers & Wilkins

Review Date:

June 10, 2011 11:20

MSRP: $2,800/pair (stands $550/pair)
First Impression:

Pretty Cool

Specifications

Model
PM1
Description
2-way vented-box system
Technical features
Nautilus™ tube loaded tweeter with carbon fibre reinforced aluminium dome
Kevlar® brand fibre cone bass / midrange
Flowport™
Drive units
1x ø25mm (1in) reinforced aluminium dome high-frequency
1x ø130mm (5 in) woven Kevlar® cone bass / midrange
Frequency response
48Hz - 22kHz ±3dB on reference axis
Frequency range
-6dB at 42Hz and 60kHz
Dispersion
48Hz - 22kHz ±3dB on reference axis
Horizontal: over 60º arc
Vertical: over 10º arc
Sensitivity
84dB spl (2.83V, 1m)
Harmonic distortion
2nd and 3rd harmonics (90dB, 1m)
<1% 110Hz - 22kHz
Nominal impedance
8Ω (minimum 5.1Ω)

Crossover frequency
4kHz
Recommended amplifier power
30W - 100W into 8Ω on unclipped programme
Max. recommended cable impedance
0.1Ω
Net weight
9.3kg (20.5lb)
Finishes
Cabinet
Real wood veneers
Mocha Gloss
Grille
Black
Height
620.5mm (25.6in) excluding spikes
Width
268mm (10.6in)
Depth
300mm (11.8in)
Executive Overview
The new Prestige Monitor 1 (PM-1) from Bowers & Wilkins (B&W) is designed to fill the void formed when the 800 series was changed to diamond status. This left the $2,500-$3,500 price point without a product. Knowing that they still had consumers with those budgets, B&W took this as an opportunity to really innovate and come out with not just another "me too" speaker, but something very different.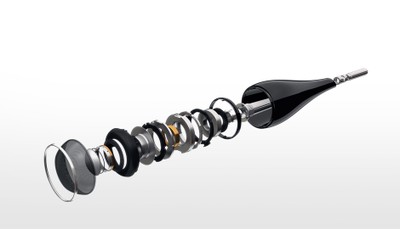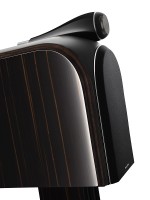 The PM-1 bookshelf speaker sports B&W's new Carbon Braced Tweeter. This tweeter, iconically mounted on top of the speaker, doesn't break up at 20kHz, or even 30kHz (like the Diamond speakers), but at 40kHz. This is well above the human range of hearing. This is done by bracing the 1" aluminum dome with a ring of filament-wound carbon fiber (technically Ultra High Modulus Pitch based carbon fiber). The tweeter enclosure, while similar to one in the 800 series, is a slightly different shape. The effect, however, is the same. The enclosure is self contained and is in the shape of a tapering tube to dissipate unwanted backward radiation.
The 5" midbass driver has been upgraded as well with a new Foam Damping Cap (FDC). This is the dust cap in the center and B&W has found that it can be the weak point of the driver. They've fitted the FDC tightly inside the voice coil former. It has been designed to stop the voice coil former from deviating from round under the influence of cone break-up modes. When a driver cone (midbass or otherwise) breaks up, it is distorting under the strain of recreating the sound. This adds distortion and can muddy the sound.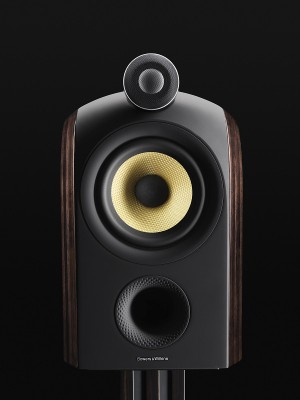 The crossover, of course, had to be matched with this new components. B&W uses oxygen-free copper and Mundorf M-Cap Supreme Oil capacitors in a crossover described as "minimalist." They say they can use minimalist crossovers because their speakers and drivers are so well designed and constructed. The 25.6" high, 10.6" wide, 11.8" deep cabinet uses Matrix interlocking panels to create extreme rigidity and reduces mechanical vibration down to infinitesimal levels. The speakers weigh in at 20.5 pounds and are rating 48Hz - 22kHz ±3dB on axis (-6dB at 42Hz and 60kHz). They have and efficiency of 84dB spl (2.83V, 1m) and a 8 ohm nominal impedance (5.1 minimum). While they technically shouldn't be a hard speaker to drive, we'd probably recommend an amp, especially for larger rooms.
Conclusion
So, what does this all translate to? Well, an MSRP of $2,800 a pair. In all honesty, that isn't out of the range of what we'd expect for this level of technology and fit and finish. The matching stands at $550 seem a bit pricy (and bulky) but we're sure new owners will want them. The speakers come in real wood veneers or the Mocha Gloss shown in the pictures. The sub 50Hz low point means that the speakers should play well with subs but can stand on their own for content without a ton of low bass. All in all, a very nice speaker at a reasonable (in audiophile terms) price point.
For more information, please visitwww.bowers-wilkins.com.
bellevegasj posts on June 10, 2011 19:22
I'm not crazy about the design, but I bet they sound wonderful. B&W put crazy R&D into their products.
dalumberjack posts on June 10, 2011 18:04
For a "brick and mortar" brand speaker, I think B&W sound great. Its just the price that kills.

Example, their 800 diamonds cost 25,000 msrp. Imagine the speaker set up and gear you could get with that. For example, maybe Klipsch's THX Ultra II setup with 11 speakers + 4 Funkywaves 18.3 subs. That would still be cheaper and look what you get. It may not be top of the line, but with room treatments etc... It would sound close.