RBH Signature 61-SE Setup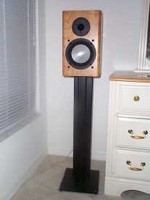 Over the past year or so, I have really taken a liking towards small speakers, and its not just because of the small footprint they occupy or because they are easy to move around. I like bookshelf type speakers because they have a much smaller baffle than conventional large towers and thus they tend to image better and disappear. Such was the case with the Decimo's, which is why I loved those speakers so much. My experience with those speakers left such a strong lasting impression on me that I still have not fully recovered from it. To this day I judge speakers by how they fair against the Decimo's.

OK, enough about the Decimo's, its time to move on.

Set-Up
Initially, I was planning on placing the 61-SE's on wall brackets until I realized their physical depth as well as the rear firing port. I 86'ed that notion and positioned them on metal stands courtesy of Plateau. After everything was set up in my listening room, I loaded the FL-8350 with 5 of my favorite test CD's and sat in the sweet spot of the room in anticipation...


1st Impressions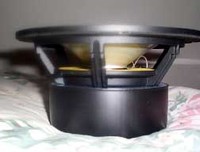 While listening to the 1st few chords from Santana's "Put Your Lights On" track, I found myself looking around the room for a hidden subwoofer. I asked myself, how could such small speakers produce such clean and authoritative bass?

I verified that the tone controls and loudness buttons were defeated on the AVI200iMKII and continued listening in awe. I waited for the track to finish, as I couldn't hold my curiosity in any longer about the internals of these speakers. Within minutes I had the screws removed from the woofer to take a peek inside.