RBH 61-SE Technology Overview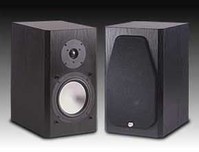 Aluminum must be bullet proof. At least that has been my experience when dealing with speakers from RBH Sound, Inc. My first impression of this company was made when I demoed the fabulous 1010-SEP subwoofer from their Signature series. I remember saying to myself, how can (2) two 10 inch woofers play so much clean, articulate, deep musical bass? The answer lies in the excellent proprietary aluminum cone woofers with powerful motor structures developed by RBH Sound. Such is the case with the new Signature 61-SE bookshelf loudspeakers.

The 61-SE model loudspeaker shares many of the virtues from their high end Status Acoustics line, namely the Decimo's. The 61-SE's house a 6 1/2-inch proprietary aluminum cone woofer with cast basket and a 1-inch silk dome tweeter. They measure in at 14 1/2 inches high by 8 3/4 inches wide by 11 1/4 inches deep and weigh a hefty 22lbs each. The cabinets are constructed of Medium Density Fiber (MDF) and are internally braced and insulated. They pass the knuckle wrap test with ease demonstrating their inert character and fine build quality. The samples sent to us for review came in a beautiful cherry finish with rounded corners. The upgrade for premium finish will cost you about $200/pair, but in my opinion it is money well spent because of the sheer beauty alone. RBH engineering also claims that the rounded corners on models with premium finish help to diffuse refraction from the tweeter.