B&W Flagship In-Wall CI800 Speakers Preview
Summary
Product Name:

CI800 Series

Manufacturer:

Bowers & Wilkins

Review Date:

September 26, 2012 12:05

MSRP: $800 - $3,000
First Impression:

Pretty Cool

Specifications

CWM8.3

Description: 3-way in-wall loudspeaker
Drive units: 1x 25mm (1in) Aluminium Carbon Braced Tweeter with Nautilus Tube™
1x 130mm (5in) woven blue Kevlar cone FST midrange driver
2 x 180mm (7in) Carbon Fibre Rohacell Bass drivers
Frequency range: 30Hz - 40kHz
Power handling: 200W
Sensitivity : 89dB
Impedance : 8Ω (minimum 5Ω)
Frame outer: 880mm x 254mm (34.6 in x 10in)
Cut-out: 240mm x 240mm (9.4 in x 9.4in)
Cut-out allowance: 8mm (0.31in)
Protrusion: 8mm (0.31in)
Back box: 1328mm x 350mm 90mm (52.28 in x 13.78 in x 3.54in)




CWM8.5

Description: 2-way in-wall loudspeaker
Drive units : 1x 25mm (1in) Aluminum Carbon Braced Tweeter with Nautilus Tube™
1x 180mm (7in) woven blue Kevlar cone bass/midrange driver with anti-resonance plug
Frequency range: 35Hz - 40kHz
Power handling: 120W
Sensitivity: 89dB
Impedance : 8Ω (minimum 5Ω)
Frame outer: 411mm x 247mm (16.2 in x 9.72in)
Cut-out: 395mm x 231mm (15.5 in x 9.09in)
Cut-out allowance: 8mm (0.31in)
Protrusion: 8mm (0.31in)
Back box: 1088mm x 350mm 90mm (42.8 in x 13.6 in x 3.54in)

CCM8.5

Description: 2-way in ceiling loudspeaker
Drive units: 1x 25mm (1in) Aluminum Carbon Braced Tweeter with Nautilus Tube™
1x 180mm (7in) woven blue Kevlar cone bass/midrange driver with anti-resonance plug
Frequency range: 35Hz - 40kHz
Power handling: 120W
Sensitivity: 88dB
Impedance: 8Ω (minimum 3.3Ω)
Frame outer: 351mm x 351mm (13.8 in x 13.8in)
Cut-out: 331mm x 331mm (13 in x 13in)
Cut-out allowance: 8mm (0.31in)
Protrusion: 8mm (0.31in)
Back box: 701mm x 343mm x 177mm (27.6 in x 13.5 in x 6.9in)
Executive Overview
Bowers and Wilkins has always received a lot of positive attention about their 800 series speakers, and now they are bringing that performance and technology to 3 new in-wall speakers. The CI800 series includes one in-ceiling model, the CCM8.5, and two in-wall models, the CWM 8.5 and CWM 8.3.
B&W has spent the last two years developing the CI800 line with the hopes of delivering similar quality to their 800 Series Diamond speakers. They incorporated a relatively new Carbon Braced Tweeter that was previously only found on their PM1 bookshelf speaker. The Carbon Braced Tweeter extends break up to 40KHz, which B&W claims "has a dramatic effect on the audible frequencies below 20KHz". All CI800 series speakers also include B&W's famous Nautilus Tube Loaded design, which is decoupled from the rest of the speaker.
The midrange drivers are the standard Kevlar design that B&W uses in many of their speakers, but the Kevlar is dyed blue rather than yellow to blend in better. As opposed to a typical dust cap, each driver employs an Anti-Resonance Plug, a type of phase plug as it is commonly called. Each speaker is also ported for added bass response.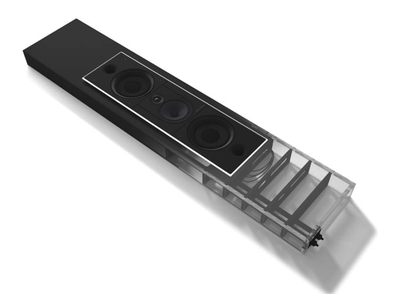 B&W CWM 8.3
In order to overcome the space limitations of in-wall/in-ceiling speakers, B&W designed large back boxes/enclosures for each speaker. The enclosures are designed using Matrix bracing technology and are made of highly glass-filled thermoset resin for added rigidity. The enclosure must be purchased separately for with each speaker, as they can be installed with or without it. If possible, it is best to use the enclosure but they are so large that they have to be installed before the wall is finished. If the CWM 8.5 or 8.3 are being installed horizontally, the studs will need to be modified to accommodate the enclosure. For existing walls or retrofit installations, the speakers can be installed without an enclosure.
The CCM 8.5 in-ceiling speaker is a rectangular design, which is atypical for in-ceiling speakers. A 1" tweeter and 7" midrange driver are recessed at a 30–45 degree angle, allowing for the speaker to be pointed towards the listening position. It is generously rated down to 35Hz and 120W power handling. The sensitivity is relatively low at 88db, but we doubt anyone will buy this level of speaker and try to power them with an under-powered amp.
The CWM8.5 sports a single 1" tweeter and 7" woofer, is rated down to 35Hz and has a power handling of 120W. The CWM 8.3 sports one 1" tweet, one 5" midrange driver, and two 7" bass drivers, is rated down to 30Hz and has a power handling of 200W. The bass drivers in the CWM 8.3 are made of carbon-reinforced Rohacell, as found on the 800 Series Diamond. Both speakers have an 89db sensitivity. All of the CI800 speakers have an 8Ω (minimum 5Ω) impedance.
So, how much would you pay for B&W's top of the line in-wall/in-ceiling products? Well, the speakers seem quite reasonably priced considering they are supposed to match the quality of the 800 Diamond series. The CCM 8.5 in-ceiling speaker in $1,400 ea. And the enclosure is $600. The CWM8.5 is $800 with a $600 enclosure and the top of the line CWM 8.3 is $2,200 with an $800 enclosure
Conclusion
If you, or a client of yours, is looking for extremely high quality performance but is not able to accommodate free standing speaker, the new CI800 series speakers might be your ticket. The 800 Diamond Series is very highly regarded, and if B&W managed to get close to that performance with these speaker then we are sure these will a hit in the high-end custom install market.
For more information, visit Bowers and Wilkins
gene posts on September 28, 2012 15:20
eugenee326;910372
Has anyone been able to listen to these yet? and what were they driven by? I seriously considering these as an in-wall option in a large room and would love o hear some critical feedback.
Thanks
they aren't shipping for another month or so and we are gonna try to do a review of them.
eugenee326 posts on September 28, 2012 15:15
Has anyone been able to listen to these yet? and what were they driven by? I seriously considering these as an in-wall option in a large room and would love o hear some critical feedback.
Thanks