60-SM Measurements and Analysis
Impedance / Phase Measurements of the Paradigm 60-SM

The single wired impedance of the Paradigm 60-SMs is roughly 8 ohms while the two wired impedance is (as expected) ½ of that – 4 ohms. These speakers are a tad more reactive than the Boston Acoustics RK6T2s I previously reviewed, maintaining a +30/-45 degree phase within the entire audio spectrum though never below 4 ohms (two wire connection) at any frequency. This demonstrates deliberate and careful crossover design to ensure these speakers will work well with a wide variety of amplifiers. I still recommend using only the single wired connection to a common amplifier output since I found very little sonic benefits of running them dual wired to each amplifier channel and it only needlessly stresses that particular amplifier more than it needs to. Reserve the two wired connection scheme as per the installation diagrams provided by Paradigm previously mentioned in this review.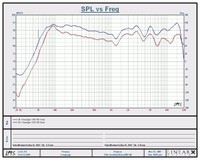 In Room Nearfield Frequency Response (1/12th octave smoothed) of the Paradigm 60-SM

I measured these speakers in the Audioholics showcase theater room placed on the floor with the mic 1 ft away and up slightly above the acoustical center of the speaker. The results were generally very good, with a -3dB point roughly around 60Hz and measuring +-3dB from 100Hz to 10kHz (ignoring the 1.2kHz dip which is likely a measurement anomaly). Though my measurement shows a slight recession in the mid frequencies, I didn't find the vocals to be too laid back but instead perhaps lacked a bit of body when directly compared against the more expensive RK-6T2s. As you can see, the two wired connection did yield an increase in SPL output at the same given volume control level but I would again caution the user to stick with the single wire connection per amplifier channel or follow the manufacturers alternative connection schemes that best suite your application. To get some additional bass impact, I recommend placing these speakers against the wall of your house but of course do listening tests before deciding on their final location and staking them into the ground.
See also:
Dan Banquer posts on November 30, 2007 07:45
"The Paradigm 60-SM Rock Monitors are all around solid performers"
Yes Gene, but are they solid as a rock performers?
Sorry about that, I just couldn't resist.
d.b.