60-SM Listening Tests
I was fortunate to receive two pairs of some of the industries coolest rock speakers at the same time for review; the Boston Acoustics Voyager RK6T2s and the Paradigm Rock Monitor 60-SMs. While they aren't exactly in the same price or size class, they are of similar design and function and both products proved to exceed my expectations of what speakers of this genre could deliver sonically. I spent several weeks listening to these speakers, soaking them with plenty of sun shine and letting the Florida rain pour down on them during our frequent storms. Over the time period my enjoyment of the listening sessions never faltered on either product. Both were clearly proving their "weather resistant" capabilities weren't just a buzz word but an actual reality.
CD: Larry Carlton & Lee Ritenour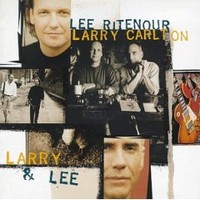 I had this CD in my collection for a number of years but never added it to my reference set list until recently. This is one well recorded CD by two of the industries finest guitarists. I started with Track #1 "Crosstown Kids" and began turning the volume up. The Paradigm 60-SMs were rocking right from the get-go as evident by the clear delineation between Lee Ritenoir's and Larry Carlton's guitars I was hearing. There was plenty of reverb and decay in their instruments giving you that "live" sound experience and the bass was pronounced, deep and tight. While the 60-SMs didn't sound quite as grand as the RK6T2s nor have nearly as much low-end bass extension, they seemed a bit more focused in their delivery. I heard very good imaging and stereo separation typically only found in competently designed bookshelf speakers. When I stood up and walked around my yard, the sound was very consistent as long as long as I was between the two speakers. To increase the listening area, I could really appreciate the benefit of pairing four of these speakers mono wired as in Figure 4. Placing the speakers up against the wall of my house did help with bass reinforcement a bit and they certainly looked great positioned there.
I tried track #3 "L.A.Underground" to see just how loud I could play these speakers before they bottomed out. Many of the speakers in our last face-off article would choke on this song at loud listening levels. The 60-SMs never bottomed and took the power from my Emotiva MPS-1 quite well. At extremely loud listening levels I started to hear woofer strain and compression, but this was at levels I'd never sustain in my yard unless I was having a block party for which these speakers (nor any rock speakers for that matter) are intended to be used for.
CD: Steely Dan – Two Against Nature
I like to listen to pretty much any album from Steely Dan while outdoors working on the yard, but Two Against Nature tickled my fancy this day. Track #7 "Cousin Dupree" showed me just what the 60-SMs were capable of: clean dynamic sound that didn't draw attention to itself but instead filled the area like a good outdoor speaker should. The vocals were tonally neutral, not sounding overly bright or recessed, while the highs were detailed and clean. I typically skip over Track #9 "West of Hollywood" as it isn't a particular favorite of mine, but I was really digging this tune outside while listening to it on the Paradigms. The high hats in this track had a good bite to them without sounding overly bright. The Paradigms sonic deliverance persuaded me to veg out and enjoy the rare cold front we were having on this particular weekend making me realize it was days like these that really make it worth living in Florida. When I hear music playing outside, I typically don't analyze the sonic attributes but the Paradigms caused me to raise my expectations and take notice.
CD: Genesis – 2007 North American Tour Boston, MA
About a year ago, long time progressive rock band Genesis announced their coming together to play a "selection of shows" in Europe and North America. Fans like myself, still glowing from the news, rushed out to buy their tickets and sure enough all of the shows sold out. Sadly, they didn't tour in my neck of the woods, but they did make all of their concerts available in a two box CD set straight from the mixing boards. I picked up a copy of their September 11, 2007 performance in Boston mostly because my brother attended that show and also because that was the location of their first tour in the USA over 30 years ago. I loaded the first disc into my player and as I began putting up the Christmas lights, I listened while I worked. The opening of "Firth of Fifth" exploded with a brief drum solo which had loads of reverb and sounded live. The fact I was listening outdoors only exaggerated this effect which I was really digging especially when standing 8ft up on my ladder hanging icicle lights on my roof. The 60-SMs did quite admirably when I turned up the volume filling my front yard with the sounds of one of the best progressive rock bands of all time. The instrumentals from "In the Cage" caused me to take a break from my work and stand in attention. Despite the fact I wasn't listening to the speakers front and center, they still did a great job of filling my area with ambient sound all around. I found within the time frame of listening to both CD's I got the majority of my Christmas lights up and the time literally flew by from the pure fun I was having listening to some of my favorite tunes on respectable speakers outdoors.
See also:
Dan Banquer posts on November 30, 2007 07:45
"The Paradigm 60-SM Rock Monitors are all around solid performers"
Yes Gene, but are they solid as a rock performers?
Sorry about that, I just couldn't resist.
d.b.