RBH MC-6AW Measurements and Conclusion
The measurements that were taken were very basic. First a frequency response was taken at 1 Watt at 1 meter and then the off axis response was taken I didn't perform a room response because I didn't see any added value by providing it. Using TrueRTA's quick sweep function reveals quite amazing linearity in the response curves.
The on-axis frequency response of the MC-6AW is nearly ruler flat above a few 100Hz.. On the low end remember that there will be some gain when mounted on a wall which will provide better spectral balance.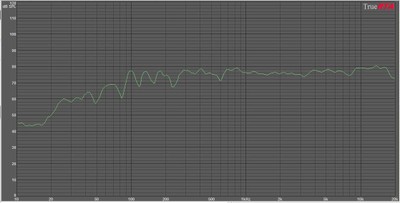 Near field Frequency Response
The off axis response is mainly used to determine how well the speaker's reflections will sound. If the shape of the off axis responses are the same as the on axis response wall reflections from these speakers should sound okay if they are vastly different then some absorption material should be used. In the case of the MC-6AW's the response barely fell off showing excellent dispersion. This design is excellent; RBH knew that these would be mounted under ceilings or eaves and accounted for that in the response.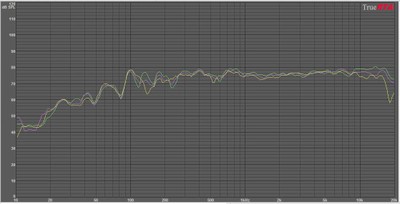 Off Axis Response - 0º, 30º, 60º
Conclusion
The RBH MC-6AW speakers didn't have the all the qualities of my large reference speakers but they shared many of their sonic virtues. As a moderately priced indoor/outdoor 2-way speaker they sounded phenomenally well. As I listened, over and over I kept forgetting that these were small indoor/outdoor speakers and kept thinking they sounded better than some speakers I've reviewed from more prestigious brands costing several thousands of dollars. The MC-6AW's can be used in multiple environments. They would be great mounted on the wall next to an on-wall television in either a bedroom or a family room. You could also class up your pool parties by using them on your pool deck or any patio. The MC-6AW's are a relatively high efficiency speaker system that will play well on inexpensive A/V receivers, but don't be afraid to feed them some quality power as they will reward you with rich dynamic sound. Now finally having a formal RBH Sound review under my belt, I must take great care in choosing the next product I review for them as I fear it could result in trading my beloved reference speakers.
RBH Sound MC-6AW Loudspeaker Review
MSRP: $450/pair
Mailing Address
RBH Sound
382 Marshall Way
Layton, Utah 84041

General phone & FAX
Toll-free: (800) 543-2205
Local: (801) 543-2200
FAX: (801) 543-3300


The Score Card
The scoring below is based on each piece of equipment doing the duty it is designed for. The numbers are weighed heavily with respect to the individual cost of each unit, thus giving a rating roughly equal to:
Performance × Price Factor/Value = Rating
Audioholics.com note: The ratings indicated below are based on subjective listening and objective testing of the product in question. The rating scale is based on performance/value ratio. If you notice better performing products in future reviews that have lower numbers in certain areas, be aware that the value factor is most likely the culprit. Other Audioholics reviewers may rate products solely based on performance, and each reviewer has his/her own system for ratings.
Audioholics Rating Scale
— Excellent
— Very Good
— Good
— Fair
— Poor
| Metric | Rating |
| --- | --- |
| Build Quality | |
| Appearance | |
| Bass Extension | |
| Bass Accuracy | |
| Dynamic Range | |
| Performance | |
| Value | |

gliz posts on June 17, 2009 11:22
helping a friend set up a second zone and these look like just the thing! great read