RBH MC-6AW Configuration and Setup
Based on the numerous glowing reviews of RBH Sound products on this website, it is easy for a casual reader to draw the wrong conclusion that fellow Audioholics are overly enthusiastic about this company's products. Had it not been for the fact that I've heard and marveled over their products first hand, I'd probably turn a sympathetic ear to that concern. The reason I'm saying this is because although I've listened to various RBH speakers at different places, I've never reviewed a pair nor have I had a pair set up in my reference system. I won't make you wait for a surprise conclusion at the end of this review. I was extremely impressed with the RBH MC-6AW speakers especially because they are only a small indoor/outdoor two-way system. At first I was mainly thinking of these as patio speakers but read further to see the outcome of the "indoor" possibilities.
Description and Inspection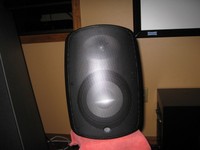 Well I didn't take the MC-6AW's apart and inspect them as I normally do because they are made with molded plastic and sealed for outdoor use. Physically, they appear to be a fairly standard design for an outdoor speaker but upon closer inspection, they are not. They have an aluminum woofer, an aluminum tweeter and a mineral loaded polypropylene box. I typically do not prefer aluminum tweeters but this speaker is changing my mind. The speakers came with one bracket that can only swivel one direction, left and right unless you mount them on their side which I typically wouldn't recommend. We found out from RBH that if they are placed high up on the wall with the tweeters on the outside it could allow for good dispersion characteristics between the speakers and this would allow them to be angled downwards towards the listening position. There is also a threaded insert in the center on the back of the speaker to attach a different bracket so both directions of movement could be achieved. These speakers must be bracket mounted as they are not meant to stand on their own (although I did it temporarily for reviewing purposes). The manual is very basic and straight forward, showing the user how to install the bracket and set the speakers up for optimal sound. I think it is always good to read the manual even if installation and set up is intuitive because there maybe something the manufacturer wants you to know to optimize the product.
Configuration and Setup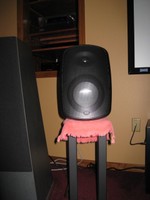 I set these speakers up two different ways and conducted a unique listening session for each. The first thing I did was temporarily put them on stands in my reference system just on the inside and a bit forward of my reference speakers. Ideally they should have been mounted on the wall like they were designed for which adds the proper low end gain to the overall response. I didn't want to go to the trouble of mounting them in my reference system for obvious reasons. But I did want to give the MC-6AW's the opportunity to perform with my best equipment in a nearly ideal acoustical environment. Let me reiterate, these speakers are not meant for stands. They will easily tip over. I set my processor to "small" with an 80Hz crossover and except for a brief listen in "Direct" mode I had the subwoofers on during my listening sessions. If these speakers are to be used indoors they would surely need to have a subwoofer to go with them.

The other setup I did when testing these speakers was to mount them on my patio for outdoor listening. I mounted them near the ceiling and here is where I wished the speakers had a bracket that swiveled up and down so I could point them down slightly. I used my family room equipment which consists of an old Yamaha receiver and Panasonic DVD player. This was quite a step down in component quality compared to my reference system but not bad especially for outdoor purposes. There is no subwoofer on the patio. The installation was quite easy. I have block walls so I just used a couple of Tapcons, put the brackets on and mounted the speakers. The installation was as easy as it sounded. Of course I left out the wiring which is always the hardest part when you want to hide them.
gliz posts on June 17, 2009 11:22
helping a friend set up a second zone and these look like just the thing! great read