MartinLogan Motion SLM Slim Speakers Preview
Summary
Product Name:

Motion SLM Slim Speakers

Manufacturer:

MartinLogan

MSRP: $499.95
First Impression:

Pretty Cool

Executive Overview
MartinLogan is gracing the Venetian halls of CES 2012 with its new slender Motion SLM, a new speaker that can be used as either a wall-hanging or a free standing LCR speaker. The new SLM speakers (SLM = "Slim", get it?) are made so that they can serve as mains, or as supplemental surround speakers to a pair of floor standing MartinLogans. These are the newest models from MartinLogan's Motion Series line and the Motion SLMs features dual four-inch, ultra-slim fiber cone woofers and dual four-inch high-velocity passive bass radiators. These drivers are paired with a Folded Motion tweeter and packaged in an ultra-slim profile designed to complement for super-thin TVs.
Clearly, the Motion SLM speakers are going to dominate in an environment where underpowered, unnatural sounding TV speakers fall on their face and the customer or consumer wants a solid speaker that is also aesthetically-pleasing. The high-gloss black SLM cabinet is less than an inch and a half (1-1/2") thick. When mounted, it is only 1.83-inches from the wall, including when used with the included magnetic grille.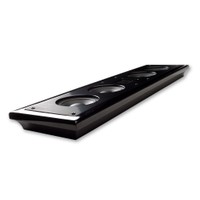 The advanced resolution Folded Motion tweeter is designed to product quick transient response and a surface area eight-times that of a typical 1" dome tweeter. The MartinLogan Motion SLM's can be placed just about anywhere and keyhole slots on the speaker's back panel allow the speakers to attach easily to the included wall bracket. Of course, the curved black-glass base also means you can sit the speaker vertically on a shelf or entertainment center. It can also be set horizontally, thanks to an 80° x 80° dispersion pattern. This makes them ideal for Left-Center-Right (LCR) applications and each Motion SLM includes "kick-stand" brackets that attach to the back of the cabinet, allowing them to free-stand for horizontal center channel applications. Not leaving off a thing, even the MartinLogan grille logo is magnetic and can move and rotate to the proper atheistically pleasing location in any orientation.
The Motion SLM speaker is priced at $499.95 each and is shipping worldwide to MartinLogan dealers. For more information on the new Motion SLM from MartinLogan, please visit their website at: www.martinlogan.com/motion.