EMP EW30 Build Quality
Introduction
Streamlined. High Wife Acceptance Factor (WAF). These are buzz words often thrown around in our industry to determine whether or not a particular product, usually a speaker or subwoofer, will win big points in the aesthetics department for those looking to integrate a home theater system into their living or family rooms without hindering precious floor space or the room's décor. More often than not, people tend to compromise sound quality over looks making the #1 most common mistake of using all in-ceiling speakers or worse "cubed" speakers which are definite NONO's for sacrificing quality audio reproduction simply because it looks better. But what if you could have your cake and eat it too? What IF you can have a speaker system that is BIG on performance but also scores high WAF? Enter EMP – a new speaker company whose products are crafted by our friends at RBH Sound and sold exclusively online. In this review, we put EMP's EW30 on-wall speakes to the test to determine if they have the sonic chops to match their "streamlined" appearance.
Build Quality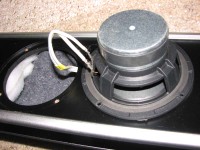 Constructed from extruded aluminum, these speakers convey serious enclosure quality. I am a big fan of these cabinet types as they not only look great, but often offer superior control of cabinet resonance compared to conventional MDF designs. Tapping on the cabinet revels a consistently dead sound throughout. In fact, I peered inside the cabinet by removing the grill and popping out one of the drivers. I was pleased to find the cabinet was well insulated and EMP spared no expense at using real cast drivers instead of cheap stamped baskets like so many competitor products tend to do to cut corners. The carbon fiber woofers are basically treated paper similar to drivers I've seen from a reputable companies such as Peerless. The tweeter is a 1" silk dome with a conventional motor structure. Note that these speakers are not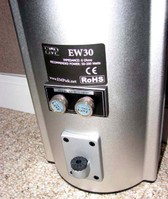 magnetically shielded but it shouldn't present a problem unless you are using them in close proximity to a CRT based display or anything with a hard drive (keep them away from your DVR). In that case, I suggest some good old 1970's big box Lafayette specials.
The backside of the EW30s sport hefty mounting plates top and bottom and silver terminal nuts which you must unscrew to push the speaker wire through. They dressed the speaker up nicely but extra care must be taken to observe polarity since it's marked behind the terminal cap and not clearly visible on the speaker cabinet itself. Upon first glance, I almost missed it. It would have been good measure for EMP to include color coded terminal caps to match the color polarity on the threaded connectors mounted on the back casing.
Set-Up
Changeable Grill Covers
Before installing the EW30s you must first consider a couple of things such as your preference for grill cover color, the location you wish to mount them, and by what method. The EW30s come preinstalled with the black grills but they provide you the optional gray grill cover to better match your plasma display should the casing be non black such as the older Panasonics. Taking off the grill cover was much easier than replacing it. You start by removing the 4 hex screws on the top and bottom panels of the speaker. Then you gently flex the grill while lifting it out on one end and slowly following through to the other. Next replace the grill with the optional silver one, carefully ensuring it is centered before replacing the top and bottom panels of the speakers. The manual recommends you insert one side into the grill track and then gently bend the other one to fit it in place. Of course I couldn't accomplish that in one or two tries so thinking I was clever, I slid the grill in from one side which was going fairly easy until I reached the halfway point and noticed rubber shavings on one side. At that point, not even my kung fu grip could pry it lose. I was committed to stay the course realizing once I did get the grill cover back on, it would never be a "removable" grill cover again. Luckily I stuck with the black cover which is what I wanted and began muscling the cover to get it in place. That lasted a good 3 or 4 seconds as I reached for the rubber mallet to get the job done. This was an experience I don't want to repeat and I strongly encourage you to either follow the guidelines in the manual or leave well enough alone. Just because you can change out the grill cover doesn't necessarily follow that you must change it out.
Mounting the Speakers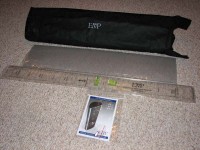 The EW30s come complete with a Directional Mounting Template (DMT) to determine and mark your desired speaker location. It features a bubble type leveling system to help out guys like me that can't eyeball it or draw a straight line with a ruler. The manual stresses that the installer utilizes the centering cross hair marks on the template if you are installing the EW30s and not the marks for the EW25's or 35's. Based on my recent debacle with the grills, I'd suggest following the manual guidelines very closely. After you mark off the four mounting holes with a pencil for the upper and lower brackets, you must decide on the method of mounting them. If you are driving into studs, then use the supplied screws. If you are driving into drywall that you need to use the supplied drywall anchors to support the heft of these speakers. Pay careful attention to the bite direction when installing the wall brackets. Next connect the speaker wire to the speakers (note polarity). Finally, follow the mounting directions in the manual and ensure you properly tighten the hex nuts until the speaker can no longer pivot. Be very careful to ensure you have a solid installation as you don't want these metal monsters crashing down on an end table, or worse a loved one or pet.
Editorial Note: Placement Guidelines

When installing on-wall speakers, I suggest you take mental note of coverage area and the best way to achieve a direct path of sound to that area. Placing speakers too high will reduce the fidelity and weaken the high frequency reproduction as you will be listening to the speaker too far off axis. This is one of many reasons I NEVER recommend in-ceiling speakers for the front three channels. Ideally the tweeter should be as close to seated ear level as possible in the listening area.

Try to place these speakers further apart than just the width of the display (if your significant other will allow it). In order to get the biggest possible soundstage and best imaging, they should be about 50-60% apart as the distance between their central plane and the listening area (IE. if you are sitting 10ft from the display, the speakers should be about 6-7 feet apart).
Speaker Break-In – may I have some cheese?
Like so many loudspeaker companies these days touting that their speakers need an ungodly amount of time for break in (usually longer than the retailers return policy) to sound their best., EMP jumped on that bandwagon, but a bit more conservatively by recommending a good 18-24 hours of play. This would still amount to over a month of time if the average listener uses their audio system 5 hours per week. Don't get too caught up in number as we've found speakers require far less break in time than is generally reported by manufacturers and its most notable on subwoofers NOT tweeters or midbass units. Bottom line is if you don't like the sound of your speakers out of the box, you may likely never like them and instead only get "used" to them to rationalize your purchasing decision. Never wait to play out the speakers for the manufacturer recommended break in times to determine if the speakers are keepers.
Equipment Used
Since I didn't want to mark up my walls for this review, I instead chose to mount these speakers on my Plateau 30" stands directly up against my wall. I tested these speakers in my acoustically treated dedicated theater room and also my family room systems using a variety of equipment such as the Emotiva Reference Theater Series preamp and two channel power amp, Yamaha RX-V2700 A/V receiver and the Denon DVD-5910CI as the source. All cables were furnished by Impact Acoustics (Sonicwave TOSLink) and Bluejeans Cable (10AWG speaker cable and analog interconnects). Whenever relevant, I compared the sound of the EW30s directly with my Axiom Audio W3 on-wall speakers both setup in similar locations and up against the front wall.
ozmedia posts on August 24, 2009 11:46
TOADSKI;371993
I have to say listing to audio at various levels in all stereo mode there isn't any real difference in sound quality.

If you are comparing the 35" EMP to the 30" EMP, I will agree whole heartedly, but as for comparing the EMP to the RBH (if that's what you had meant), they are not comparable at all.



If you have heard EMP's beside WM's from RBH, you'd have to be alll but completely tone deaf to not hear the massive, IMMENSE difference in sound etween teh two. They are nto even remotely similar osunding in ANy way at all.
I have both right behind my in my soundroom, the 24" RBH dances circles around the 35" EMP in every aspect of sound reproduction.

To be fair they are also not even comparable in price though, with a pair of EMP's now being sold for less than the cost of one RBH on wall. The EMP's are nice for a budget priced, entry level on-wall that has a fantastic mouting kit and supplied bubble level. They are a great value for money considering some of the junk available in retail outlets today, but they are not even in the same league as RBH, EMP is the little sister to RBH, designed for affordable, online sales.
ozmedia posts on August 24, 2009 11:39
gsendek;415251
I was looking for in wall speakers they are all CRAP
No they are not all crap at all, perhaps the ones you found in local retailer's were but in-walls can be as good as freestanding models when properly built.
http://rbhsound.com/mc884.shtml
[rbhsound.com]
http://www.rbhsound.com/si6000r.shtml
[rbhsound.com]
Mind you, you do need quite the budget for Signature Reference Series but the MC series is more than affordale and backed with a 25 YEAR warranty, top that with a floorstanding model.
ozmedia posts on August 24, 2009 11:26
jnmfox;327338
These appear to be very similar to the RBH WM-24. The WMs have four 4" aluminum drivers and the EW have two 5.25" carbon fiber drivers. I know they are both built by RBH and two different people did the reviews but what other differences are there between the two? Specifically would one be recommended over the other and why or why not?

Thanks
The EMP's are a decent, entry/mid level product, in fact I think the best part is the installation level they include that NOBODY else does. It makes them a breeze to mount in just a couple of minutes.
As for sound, there really is no comparisson at all, between RBH and the EMP onwalls, especially when it comes to price.
The EMP's sound great when balanced with a decent sub, like even the small MS8.1 from RBH. But as far as actual tonal difference, the RBH offer much better lower midrange and are much more spacious.
Mind you, when you compare price, with EMP blowing out the whole W line at ridiculously low prices, they areoffering a fantastic value fo rmoney.
EMP is putting out a nice product with an installation package that isn't even included with top end on-wall products.
ChunkyDark posts on May 23, 2008 10:14
gsendek;415251
so are the emp 30's as good or better than the axiom audio w3's. As my search for wall speakers goes on, I have been looking for 2 years, and before i hack big holes in my walls that have new dry wall on them i have to make sure. I was looking for in wall speakers they are all CRAP, so i want on wall, if any one can help, thank you geo
I recently bought some RBH WM-30 (they make emp). During the break in I just left them unmounted until I was sure I liked them enough to start drilling holes.
The manual says 8 holes per speaker, so not too big of a mess.
http://www.emptek.com/EW_Manual.pdf
[emptek.com]
gsendek posts on May 22, 2008 14:15
gene;327509
The RBM WM24's are likely a better speaker overall, though they are considerably more expensive ($999/pair vs $640/pair for the EMP EW30s which will be available at our e-store soon). The RBH's are more efficient, making them an easier load for a receiver to drive at high SPL levels and also likely have better tonal balance in the midrange. But, both speakers do quite well for what they are so its really a matter of taste, aesthetics and budget.
so are the emp 30's as good or better than the axiom audio w3's. As my search for wall speakers goes on, I have been looking for 2 years, and before i hack big holes in my walls that have new dry wall on them i have to make sure. I was looking for in wall speakers they are all CRAP, so i want on wall, if any one can help, thank you geo