Aperion Intimus 6 In-wall and In-ceiling Speakers
Summary
Product Name: Intimus 6-IW, 6-IC
Manufacturer: Aperion
Review Date: August 20, 2009 08:00
MSRP: $149/each
First Impression:

Pretty Cool

Specifications

Intimus 6-IW In-Wall Speaker

| | |
| --- | --- |
| Frequency Response | 70 Hz-22 kHz |
| Impedance | 8 Ohms |
| Sensitivity | 88 dB |
| Recommended Power | 20-200 Watts |
| Amplifier Power | N/A |
| Tweeter | 1" Silk Tweeter |
| Midrange | 6.5" fiberglass cone voice coil #1 |
| Woofer | 6.5" fiberglass cone voice coil #1 + #2 |
| Driver Configuration | 2 1/2-Way |
| Enclosure Type | In-Wall |
| Dimensions | 8.75" Wide X 12" Tall x 3 1/4" Deep |
| Weight | 4 lbs |

Intimus 6-IC In-Ceiling Speaker

| | |
| --- | --- |
| Frequency Response | 50 Hz-22,000 kHz |
| Impedance | 8 Ohms |
| Sensitivity | 88 dB |
| Recommended Power | 20-200 Watts |
| Amplifier Power | N/A |
| Tweeter | 1" Silk Tweeter |
| Midrange | N/A |
| Woofer | 6.5" Dual Voice Coil Woven Fiberglass Mid-Woofer |
| Driver Configuration | 2-Way |
| Enclosure Type | Infinite Baffle Design |
| Dimensions | 9" Diameter x 5" Deep |
| Weight | 4 lbs |
Executive Overview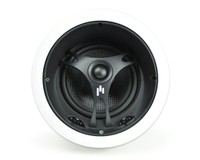 It's one thing to spend thousands of dollars on speakers for your home theater. Those are speakers that have a very specific purpose and will be listened to very critically. But when you are planning a distributed audio setup, you often look for price over performance. Honestly, it's mostly going to be background music for parties and gatherings, you don't really need audiophile-grade speakers for that, do you?
Aperion Audio thinks you do.
Aperion Audio has just released an upgrade to their existing in-wall, in-ceiling speaker line, the Intimus 6 line. The new speakers feature an audiophile-grade, aimable, silk dome tweeter plus a bass and treble adjustment switch. Often, the biggest problems with in-wall/in-ceiling speakers is that they are in the wall. This limits placement considerably and studs and other considerations may make even marginal placements impossible. What you end up with is a speaker that may or may not be anywhere near where you thought you'd place it. This may put it too close or too far away from a wall, way off to one side, or with speakers unequal distance from your "sweet spot."
This is where bass and treble switches and aimable tweeters come in. Aimable tweeters allow the user to direct the sound if the speaker can't be placed optimally. This would be akin to toeing in a freestanding speaker. The bass and treble switches allow the user to either boost or cut the bass or treble by 3dB. If a speaker is placed too close to a barrier, the bass may be unnaturally bloated. A speaker placed too far away or with some something in front of it may need a boost on the treble. These are options we expect to see on many high-priced in-wall speakers. Aperion Audio just happens to be offering them on a $149 speaker.
Of course all of the normal accouterments are available with the Intimus 6 line. Paintable grills and frames, gold-plated binding posts, and dog-ear style drywall mounts are all in the mix. This allows you to absolutely integrate your speaker purchase into your home decor. This, of course, is one the main advantages of in-wall speakers is that they become practically invisible.
The Aperion Audio 6 line all sport 6.5" woven fiberglass coned woofers and a 1" silk dome tweeter. There are actually two voice coils on the woofers to facilitate the bass boost/cut feature. Aperion has opted for an open back design on these speakers with spring-type binding posts. Aperion has had a long standing policy of 30 day in home audition with free shipping both ways. In fact, the $149 price tag includes shipping. While you are unlikely to rip out in-wall/in-ceiling speakers and go with a different brand, they do offer lifetime support if you have any problems in the future. The Intimus 6-IW and IC speakers are voice matched with the other in-wall and outdoor offerings from Aperion so you can mix and match as your need.
Conclusion
The real attractive part of the Aperion Audio Intimus 6-IW and IC is the price. For a bit under $300 shipped, you get a very good set of speakers that should be fantastic (maybe even overkill) for distributed audio and could easily proved sound quality good enough to do rear or surround duties in a home theater setup. At the price, they are sure to be a big hit.
For more info on the Intimus 6-IW speakers, please click here.
For more info on the Intimus 6-IC speakers, please click here.